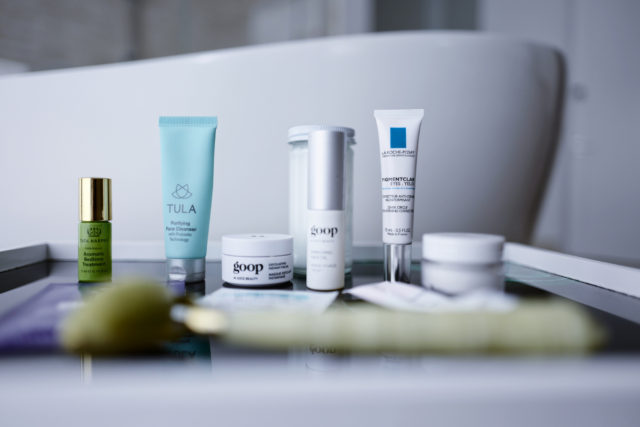 I have a thing for routines.
I've shared my morning & night routines, as well as 'work mode' rituals here before. But it occurred to me this weekend that I've never shared my post-flight routine.
It's one of my favorites, so that's a shame.
I unpack my bag immediately upon arriving anywhere – dresses hung, pajamas and clean undergarments placed on top of the dresser, and toiletries neatly arranged on the counter. I set up my chargers at the nearest plug point. I immediately take a shower (because ew, planes), slather coconut oil on my skin, and put on a cozy robe.
Then I order room service (in the case of my SXSW trip, chips & queso and a glass of prosecco).
While I'm waiting for my food, I fire up my steamer and begin my favorite travel ritual – the post-flight facial.
I cleanse with the TULA Purifying Cleanser, and roll this jade roller all over my face and neck – I have no idea if it actually does anything, but it feels really nice. The steamer is, well, steaming, and I put a hand towel over my head and crouch so my face is about 9 inches in front of the steamer. I maintain this awkward position for a minute or two, letting the steam seep into my skin and open up my pores.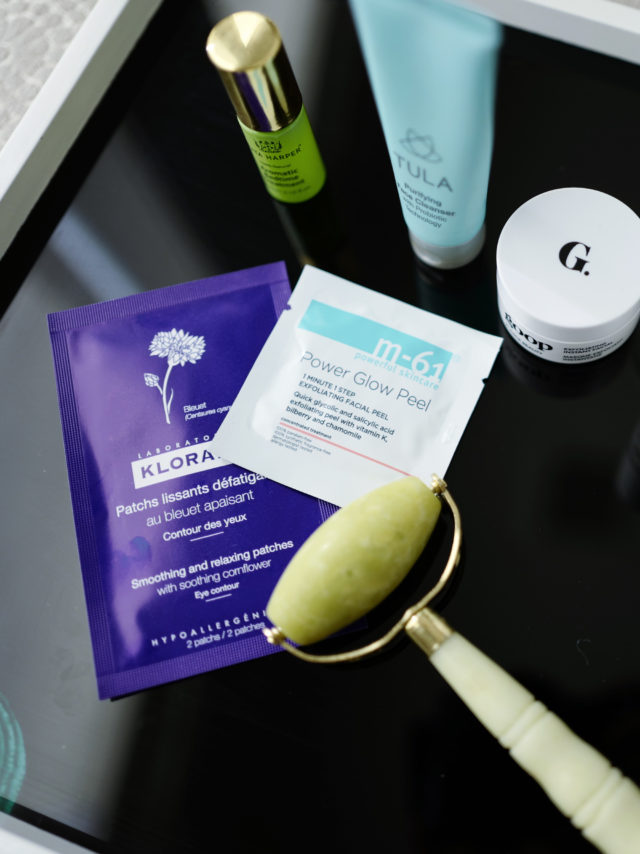 Once I stand (and stretch a bit), I apply the Goop Exfoliating Instant Facial liberally all over my face. And since the steamer's still going strong, I use it on its intended target – my clothing. By the time I've dewrinkled my clothing, it's time to wash off the mask and pat my face dry with a clean washcloth.
I swipe a m61 Power Gow Peel all over my face with quick strokes, and then stick Klorane eye patches under my eyes.
Knock knock knock.
Room service! I enjoy my meal to whatever's on HBO (on this night, it was The Silver Linings Playbook). I like to give the peel and eye patches a good 10 minutes to sink in my skin, which gives me just enough time to inhale my food.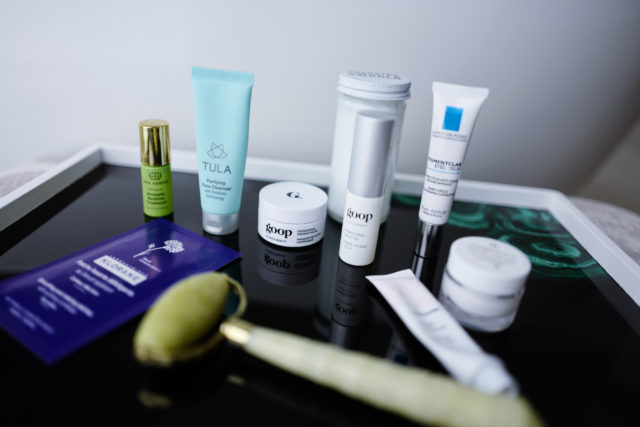 I pat the Goop Face Oil all over my face and neck, and follow it with Charlotte Tilbury's Magic Cream. I dab La Roche Posay's Pigmentclar eye cream underneath my eye, the metal applicator feeling so nice. I finish with a liberal dabbing of Glossier's balm on my lips and any dry patches on my face. And I drink the rest of the water pitcher I requested.
I do this same routine when I get home as well, though admittedly with whatever cleansers, serums, oils, and lotions I'm testing out at the minute. I'll be sharing my current skincare routine in an upcoming post, so stay tuned for that!
Do you have any quirks or rituals you follow when you travel? COMMENT below and let me know!
P.S – why I love Glossier and Wander Beauty for travel, and a look inside my toiletry bag.
SHOP THE POST
(CLICK HERE to save this post on Pinterest!)