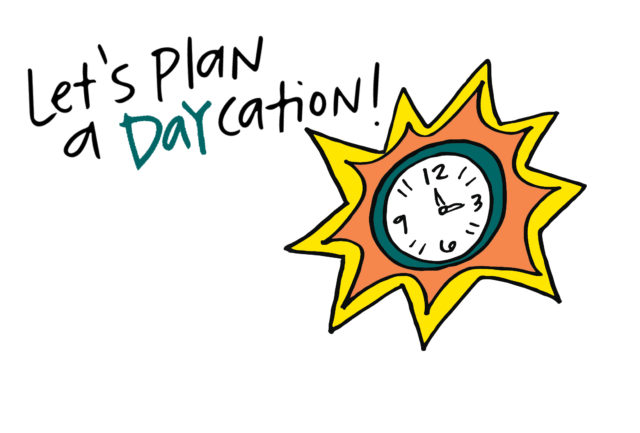 I'm not a summer fan.
Being hot and sweaty annoys me to no end. Nothing about the beach sounds fun to me – sand gets everywhere, I'm scared of the ocean, and it's so crowded. And I find it annoying to have to shave so frequently.
I've spent this entire summer at home. And it has largely been GLORIOUS.
But…I'm getting a little itch to get out and explore. Just a bit.
Enter – the day trip. Over brunch with one of our favorite couples, we began plotting a day trip out East. Phones were whipped out. A date was set. The grandparents' APB went out for babysitting.
And this Saturday, we're headed out to the Hamptons for a nice little daycation.
The agenda – wine tasting, eating, and relaxing. The attire – casual. Transportation – my husband driving our car there and back (with the carseat banished to the trunk).
It could end up raining. Traffic could be awful. But I'm hopeful (and prepared!) for a relaxed day. And as little of a hangover with the amount of rosé I plan to consume.
#YOLO? Are the kids still saying that?
3 tips for planning a summer day trip
MINIMIZE YOUR TRAVEL STRESS
The more time you're en route, the less you have 'daycationing'. I prefer to limit transit times to 90 minutes, and scheduled during off-peak times. The more time you spend traveling, the less you have to relax and enjoy. Long car rides are NOT my husband's and my thing, with 2 hours being our limit. If anything is longer, we'd likely take the train or fly. Be sure to factor both the transit time and the mode of transportation to find your perfect way of getting there (and back!).
PLAN IT OUT
While you don't need a minute-by-minute agenda, it's a good idea to block out a few hours for a specific activity. I'm a fan of having an indoor backup plan (movies, a museum, or a long leisurely meal) on deck in case the weather doesn't cooperate. Always err on the side of more when selecting what to do, and make a few reservations so you're guaranteed a table when hunger strikes (a mistake I learned the hard way). But don't be a stickler for the schedule. Throw it right out of the metaphorical window if your day takes you in an unexpected direction. Adventures are awesome.
LET'S TALK MONEY, HONEY
Again – you don't need a tricked out spreadsheet, but set an overall budget for the trip. First, factor in the transportation costs (gas vs. train tickets), and then break down your remaining funds into a few categories – food, entertainment, things to bring home. If you're planning on eating your way through the Hudson Valley, you can skip any museums or non-food shopping. Headed out for a wine tasting afternoon? Prepare to buy some extra bottles and pay for tastings, and bring along a picnic to enjoy while sipping on your new favorite red.
Come back Monday for a breakdown of our exact itinerary – and what worked/didn't. I'll be pulling tips from Julia, Grace, Amanda, and Jessica.
Got any tips for planning a summer day trip, or Hamptons recommendations? COMMENT below and share the wealth.
Illustrations by Laura Palmer