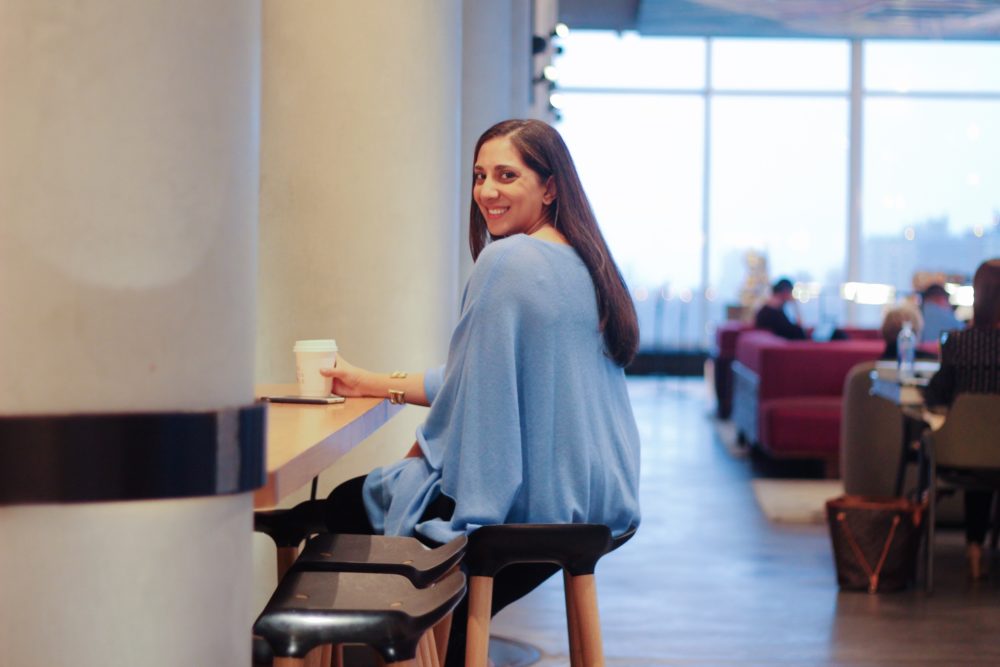 sponsored by IHG and ShopStyle
I find myself downtown more and more these days.
My co-working space just opened up a Soho location. Some of my best friends live down here. And I can't go a week without my Jajaja fix.
It's worth the 40 minute subway ride (or car ride, for that matter). But when IHG offered me a staycation at one of their New York properties, I jumped at the opportunity to spend a night at the Hotel Indigo in the Lower East Side.
An uninterrupted night's sleep AND a chance to indulge in my downtown favorites? Sign me up.
Here's what a perfect day in the LES looks like.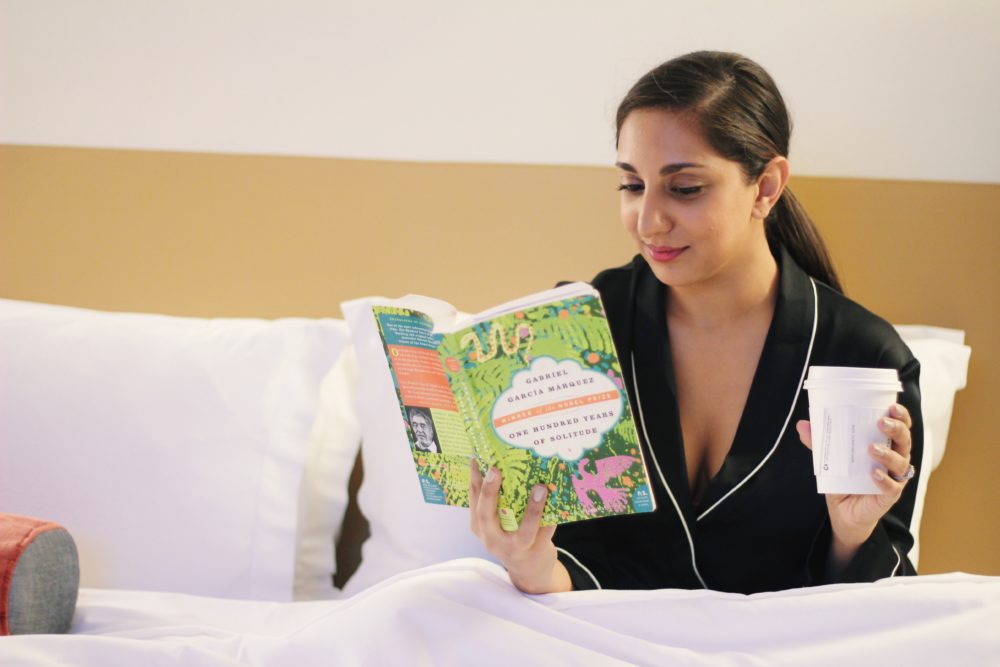 I have a hard time sleeping away from my own bed these days. It kind of sucks.
But I slept like a baby at the Hotel Indigo in the Lower East Side. The bed was like a cloud, the curtains blocked out the light entirely, and it was strangely quiet (given how popular the neighborhood is at night).
I ordered an almond milk latte from room service and slipped back in bed, trying to read a book but mostly scrolling through Instagram and my Feedly reader.
*knock knock*
Coffee's here, and it's piping hot. I get back in bed and sip it leisurely. I go through a mini-version of my morning routine (meditate, Five Minute Journal via app) and get ready for the day.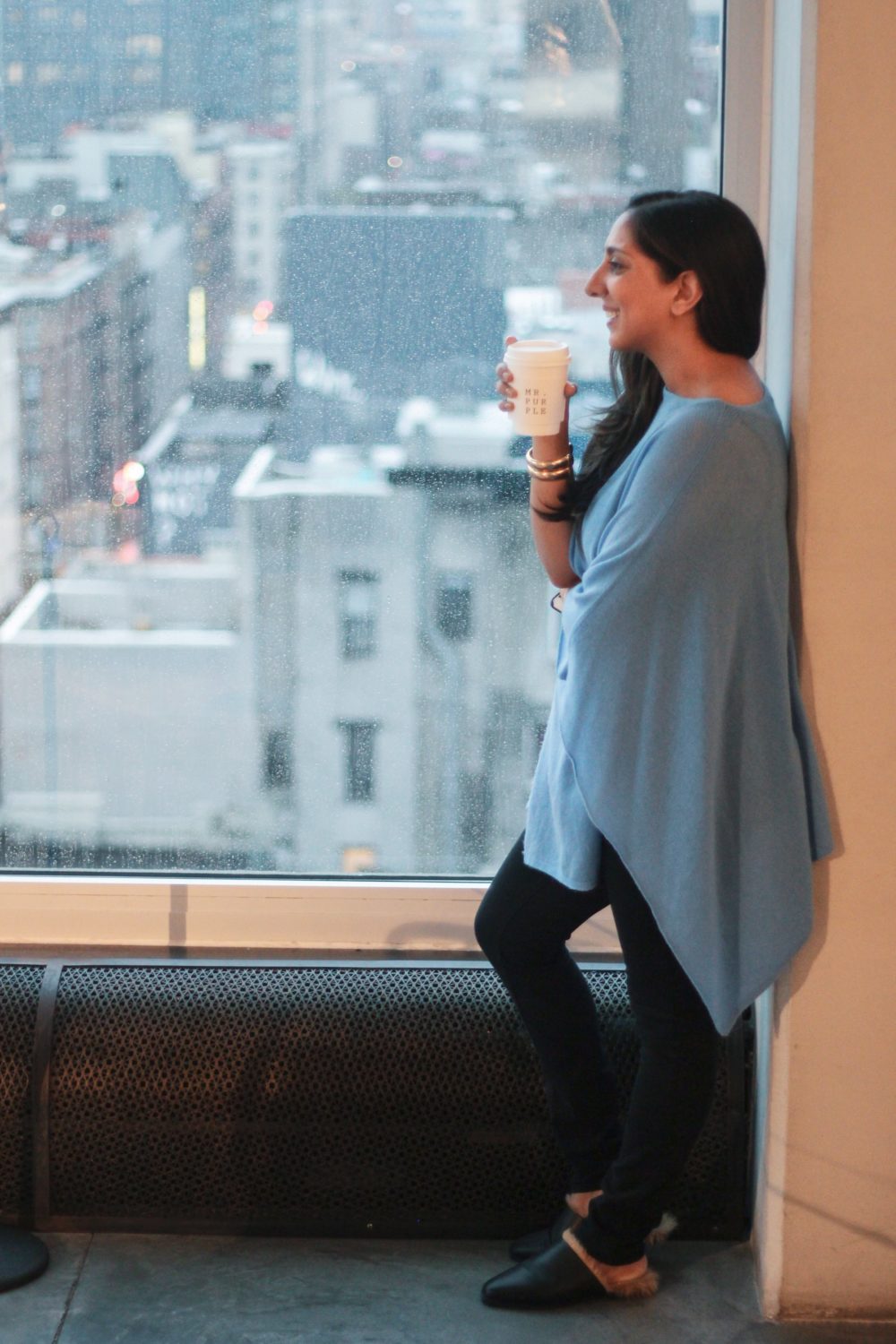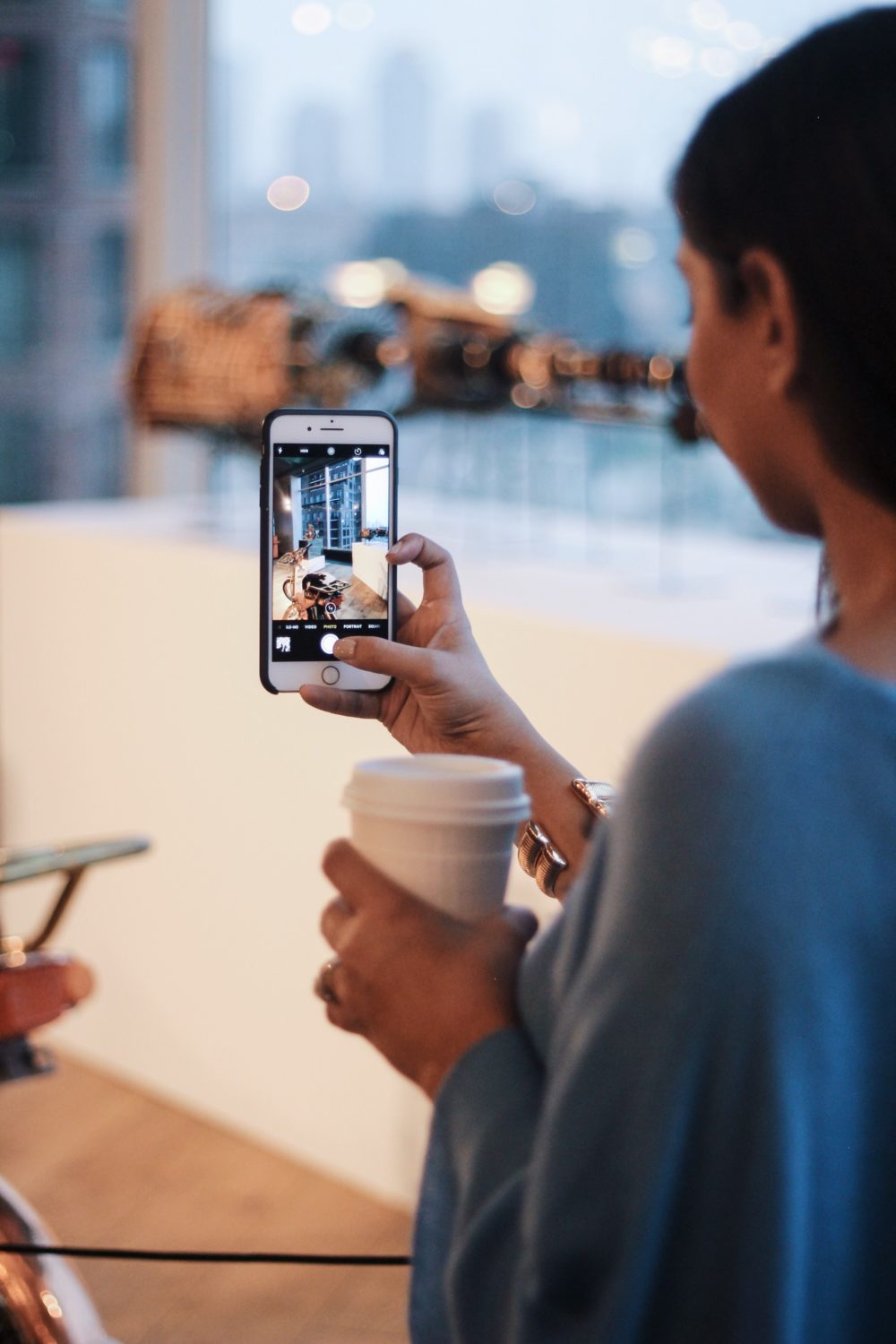 I head to the lobby for more coffee and a quick breakfast. I take in the incredible view, the modern art, and another strong latte. I order my coffee (another almond milk latte) and the breakfast wrap, and take a seat facing the windows. I scroll through my e-mail and Twitter, but my eyes keep getting drawn to the view. Even though it's cold and gloomy, it's still beautiful. I walk around and examine the art. There's a cool installation of vintage typewriters and books arranged around a giant heart, and the mural on the ceiling by Lee Quinones. I snap a picture of the gilded motorcycles, toss out my coffee cup, and head out.

Chillhouse is such a cool concept – a coffee shop, a nail salon, and a massage parlor. They also do the best manicures in New York, lasting up to 10 days.
I opt for a manicure and a turmeric latte, put in my headphones and fire up the latest episode of Hellbent, and close my eyes.
Note to self – my next business should be an updated manicure chair – one that reclines but makes it easy for the nail artists to do your nails. Hmmmm…
Nails are freshly painted with Essie's Sand Tropez. I sit in the lobby and finish my latte (good call on the turmeric one – I don't need more caffeine) and scroll through Instagram.
I really need to stop spending so much time on social media.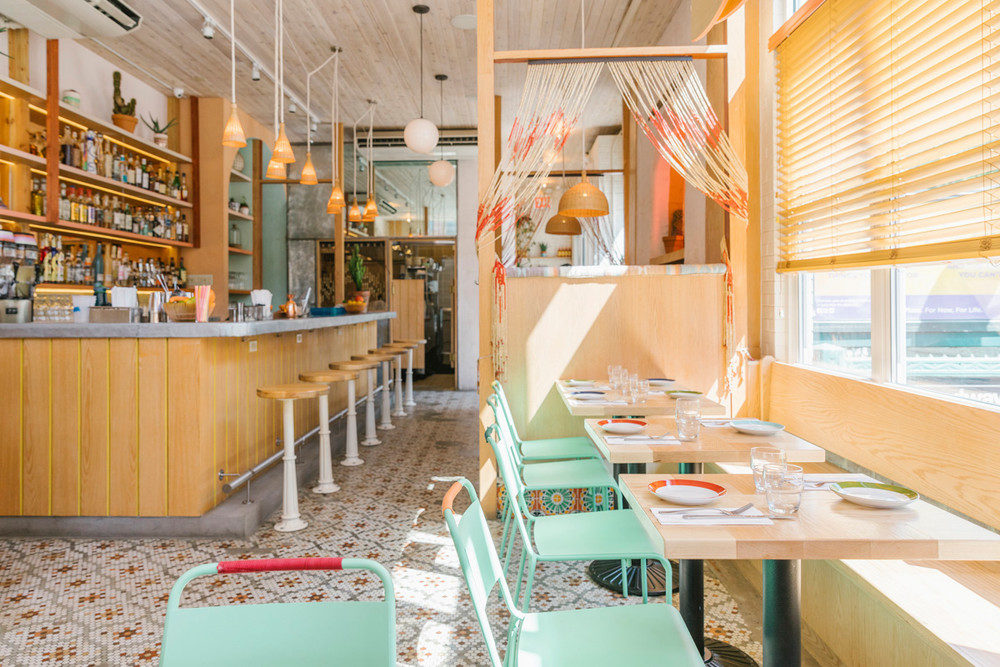 My happy place. Jajaja, which opened earlier this year by my friend Koorosh, is in my top New York City restaurants lists.
Plant-based Mexican, that tastes as good (if not better) than their original counterparts. What's not to love?
I tuck into the burrito (the chorizo made from jackfruit), a side of refried beans, and a Pomegranate y Jalapeno.
Because what says staycation like a margarita with lunch?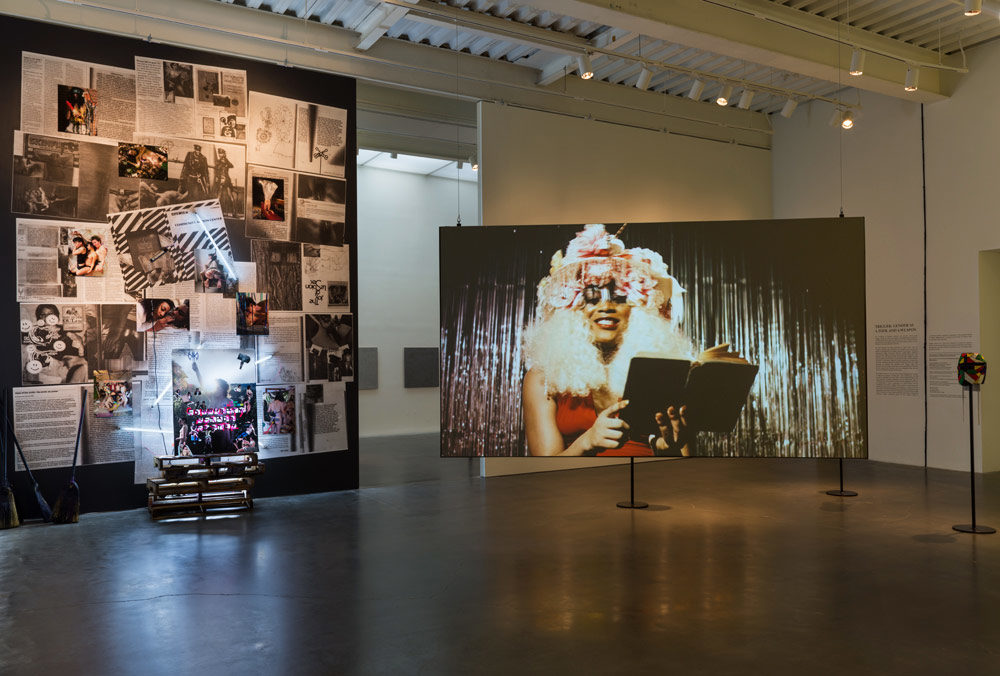 The New Museum has been on my list of places to check out since I moved to New York.
That was almost 7 years ago.
I wander through the rooms, the art and media popping off the stark white walls and black floors. 'Trigger' was the most compelling exhibit, an examination of gender's role in politics, power, and how it's influenced (and been influenced by) culture. Appropriate, given the times. I make a note to schedule a weekend day downtown with Sri and Rho to repeat my afternoon thus far.
Tacos and museums? Sounds perfect to me.
Alisha meets me for afternoon tea at our new favorite spot. Janam Tea, which operates in Garfunkel's during the day, offers up a traditional service – hand-picked teas from India and a selection of sandwiches and pastries, all made by the owner, Amy. We decide to splurge and enjoy a glass of champagne along with our tea. Mine's a beautiful, floral one from Assam, and the little curry chicken tarts are addictive. I eat mine and Alisha's, while she enjoys my scone and hers.
We're happy. And full.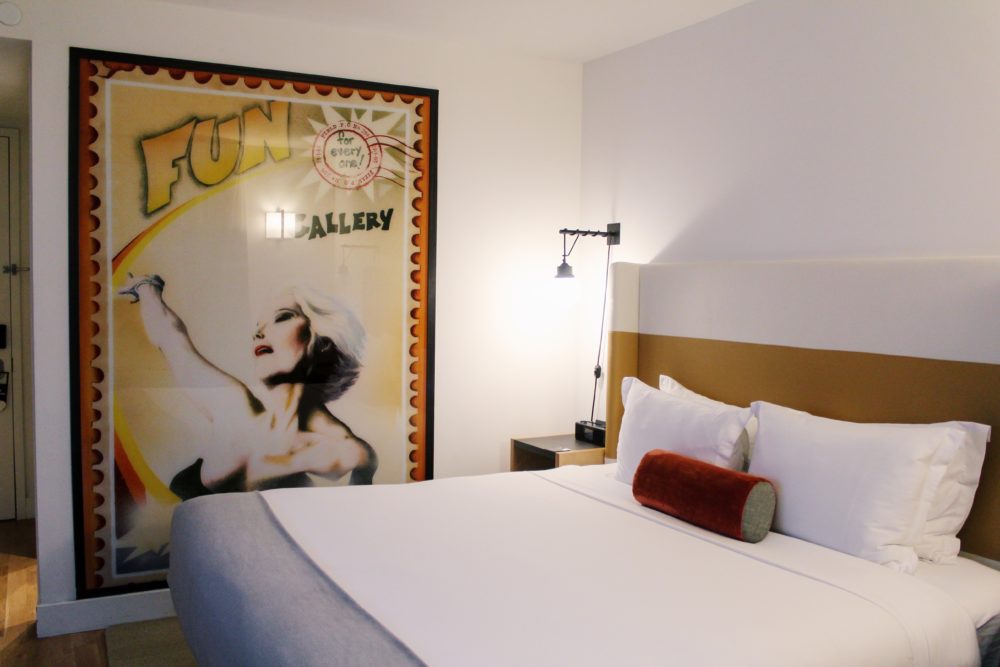 I head back to the hotel and straight to my room. I slip back into my pajamas and into bed for a quick nap – just 30 minutes. Between sleep, taking the day off, and a hot shower, I feel like a new woman.
I also really love this room. The bathroom offers perfect lighting and a cheery tiled floor, the mural in the room is very me, and only the rain is stopping me from enjoying the balcony attached.
I call the front desk and request housekeeping service, pack up my belongings, and make my way out.

And now it's time for wine.
Alisha apparently had the same plan as I did, given that she's wearing a brand new outfit as well. We each order a glass of pinot noir and french fries. I also order the grilled cheese.
It's a little thing I have. No matter what hotel I'm in, I secretly judge it on its grilled cheese sandwiches. Hotel Indigo aces it – the bread is golden and crispy, the cheese is perfectly melted, and I inhale the entire thing.
"You can stay here another night, you know," Alisha says. I was gifted the room for two nights.
"I know."
I'm tempted. But I miss my kid and my husband too much.
We'll just have to do a staycation here as a family.
—–
I'm incredibly lucky – to have a wonderful husband and nanny to watch Rho while I take a day off, the flexibility to take said day off from work and recharge, and for experiences such as these.
I can't tell you how restorative that day was – in the middle of the busiest month I've had ever – to rest, indulge, and just take care of myself. No plowing through e-mails, no back-to-back meetings.
Okay, Alisha and I did talk about work briefly over tea. But just briefly.
A night or two away can be exactly what you need. And it's more affordable than you think.
Right now, IHG is offering 15-30% off to its Rewards Club members through November 29th.
And they have a lot of hotels to choose from – the contemporary Hotel Indigo, the elegant Intercontinental, or the wellness-minded EVEN Hotels.
All you have to do is sign up for the IHG Rewards Club (which is free), and search for your destination here.
And, you know, request the necessary PTO and queue up the child care.
I promise you, it's worth it.
Especially if you decide to enjoy my Perfect Day in the LES.
I'm wearing MM.LaFleur pajamas, J.McLaughlin poncho, rag & bone black pants (on sale!), Sol Sana slides, Shoshanna dress, and a NastyGal leather jacket.