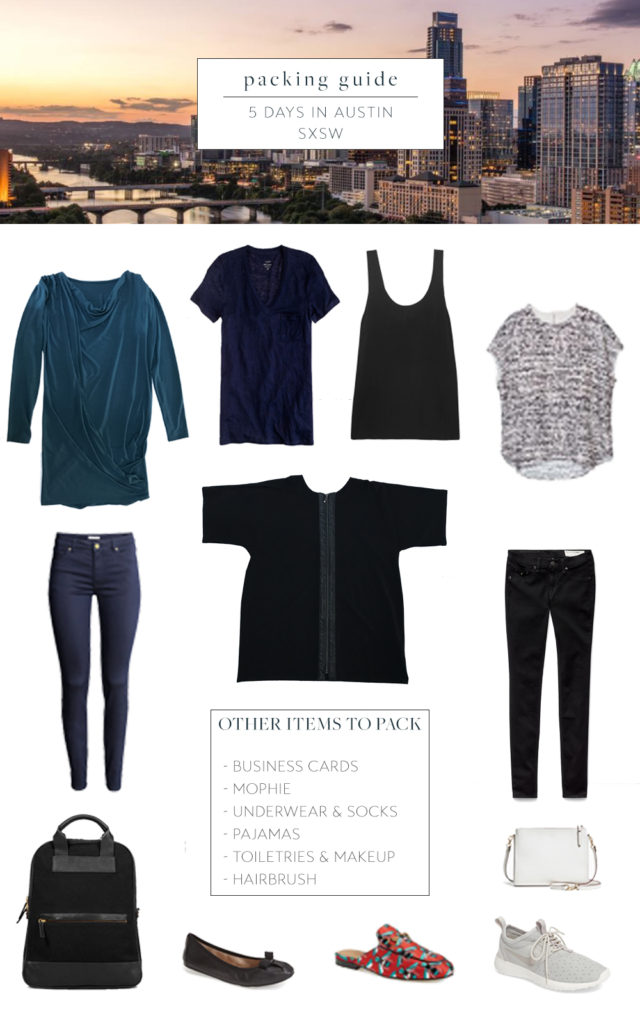 It's kind of a big weekend.
It's Rho's second birthday. And it's also my first time going to SXSW.
It's kind of a tricky event to pack for. The dress code is casual, but you'll want to be dressed to impress. It involves a LOT of walking (hello, flats) and layers to balance the air conditioning with Austin's warm weather.
Here's a look inside my SxSW suitcase (not shown – about 10 copies of How To Pack)

PANTS
These J.McLaughlin pants are downright magical – polished, comfortable, and make your legs look great. They are pricey, but well worth the investment. The Rag & Bone plush legging jeans are basically pajamas that don't look like it. Both pants go with all the tops I've selected for this trip and hold their shape after multiple wears (and daily queso and BBQ meals).
TOPS
Like the pants, I'm sticking with a blue/black family with most of my tops. The MM.LaFleur Didion (mine's an older print) has the comfort of a t-shirt but the polish of a blouse. The Everlane silk tank adds a touch of formality to skinny jeans and a black topper. A linen-blend t-shirt is the perfect travel shirt (just refresh it with this spray between wears). And this Encircled tunic adds a much-needed dose of color (in my signature teal), and with pants during the day and alone at night as a minidress.
OUTERWEAR
I just ordered this piece and haven't stopped wearing it. It is perfect – as a dress with the zipper in the back, and worn open on top of a blouse and pants. It's soft as a cloud  and the leather details give it a bit of edge. It's perfect. You need it.
SHOES
I'm ditching the heels and packing my most comfortable shoes for SxSW. These ballet flats feel like I'm walking on clouds, and these statement slides add instant style to any basic outfit. My Nike Juvenate sneakers have become my favorite sneakers to travel with (stylish and can handle a workout). My new gray pair goes with every outfit I have planned, in case my feet need a break.
BAGS
I'll be carrying a few copies of my book in addition to my daily essentials, so my Bartaile bag is perfect for holding everything comfortably. I'm opting for my Lo & Sons Pearl (I splurged on this white one for this trip and for our Greece vacation this summer), given that I'll have more than my basic essentials during the conference. The white bag is a nice complement to my dark outfits.
SxSW ESSENTIALS
Mophie & 2 Firewire/USB cables – no explanation necessary.
Smoke & Mirrors sunglasses – there's a lot of sun in the forecast and walking around downtown Austin during SxSW. These sleek ones are perfect.
Baby wipes – my favorite #momhack is that baby wipes are the best instant stain remover. I always keep a pack of these wipes in my bag, and will be throwing in a fresh pack in my suitcase.
The Laundress spray – this is always in my liquids bag, and with good reason. A few sprays will refresh my clothes and have them ready to be worn again. And again.
Are you headed to SXSW? If so, let me know! 
P.S – what I pack for a business trip, and the one item I always pack
P.P.S – have you ordered your copy of How To Pack yet? If so, please leave a review on Amazon or Goodreads and let me know what you think!