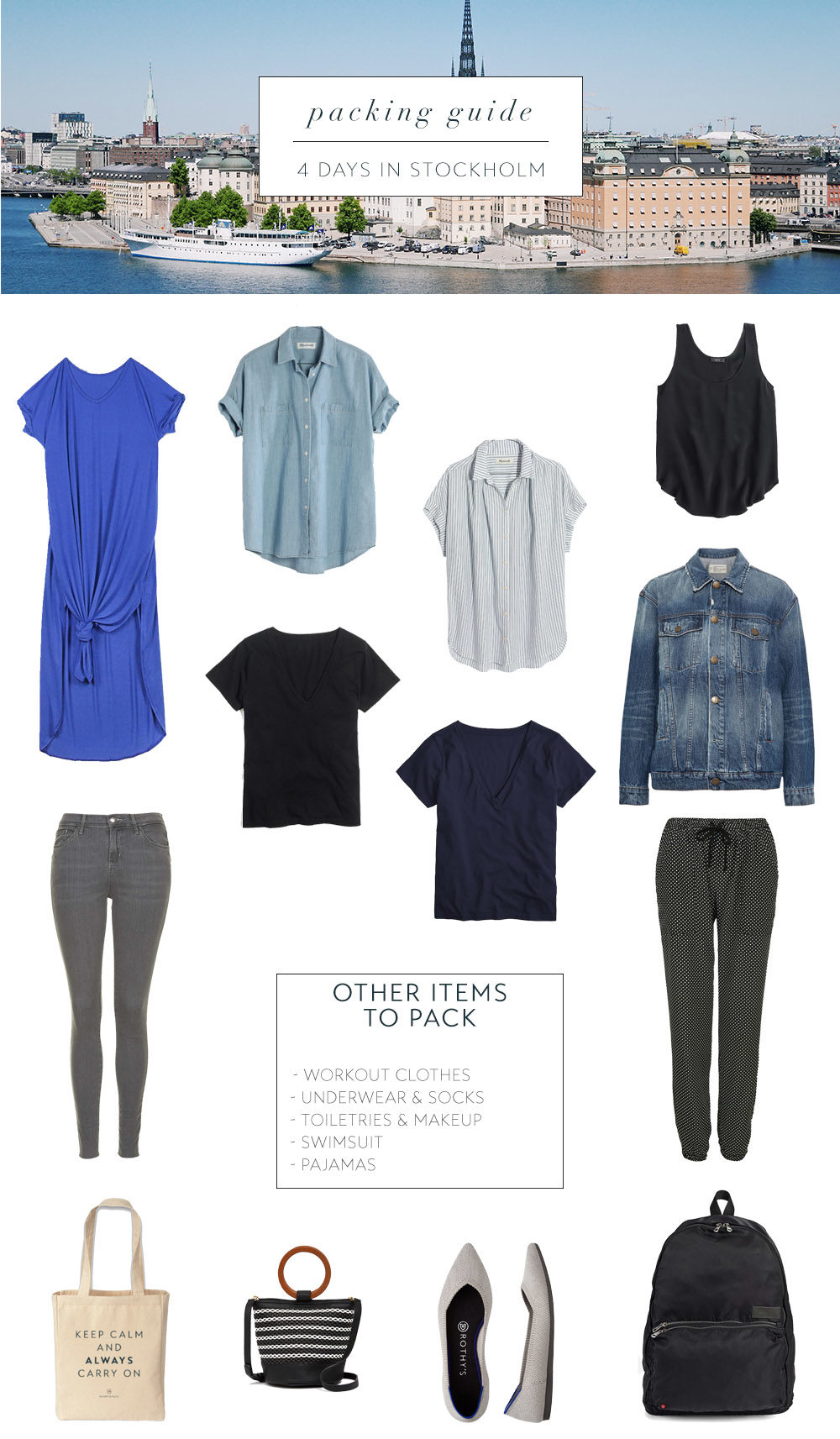 We got lucky.
Our trip to Stockholm happened at the last minute, but everything worked out for it to happen.
My husband was asked to travel there for work. My in-laws were happy to watch Rho. My calendar was surprisingly open.
And the weather was spectacular.
The sun was out every day, and the weather was a perfect mid-70 degrees, sometimes creeping into the 80s.
It was an easy trip to pack for. Here's what I packed and wore in Stockholm.

Outerwear
A denim jacket is the only outerwear you need for a summer trip. I love this one from Treasure & Bond – it's soft and the slightly oversized fit is flattering. Truth be told, I only wore this during the flight and two evenings where we happened to stay out later. A light field jacket or cropped trench would also be ideal.
Tops
Old Navy is killing it right now. I brought my beloved old chambray (similar) and my striped tie-front blouse for daytime looks, and their Ultra-Light v-neck t-shirts for travel and workouts that never happened. The t-shirts are the perfect summer travel piece – they wick away sweat, but have the cut and feel of your favorite shirt. A silk tank was ideal for our final dinner, paired with my star print joggers and some extra jewelry.
Bottoms
Our itinerary was a food-filled one, and I packed accordingly. My gray Leigh jeans from Topshop are miraculous in having the perfect stretch as my waistline grew, and these star-print joggers from BURU White Label were ideal for the final day and for the flights there and back.
Dresses
This cobalt maxi dress was the perfect choice for our first evening in Stockholm. It felt like wearing pajamas, but looked chic when paired with my denim jacket and some jewelry.
Shoes
The only shoes I wore during this trip were my Rothy's pointed-toe flats. I wore them during our flights, while exploring Stockholm by foot all day, and in the evenings. I did pack my Nike Flyknits for the odd workout or if my feet needed a change, but I never wore them. The Rothy's were perfect.
Bags
My STATE Bags backpack is slightly roomier than Dagne Dover one, and carried everything I needed for the red-eye flight to Stockholm – my noise-cancelling headphones, neck pillow, eye mask, in-flight skincare essentials, cozy socks, and my travel blanket. While in Stockholm, I used a cotton tote for my day's essentials, and this boho wood-handled bag in the evenings.
What I packed the last time I was in Scandinavia, for two weeks in Greece, and for a long weekend in Charleston. You can find all my packing guides here.
I share a travel post on Thursdays. You can find (and sort through!) all of them here.