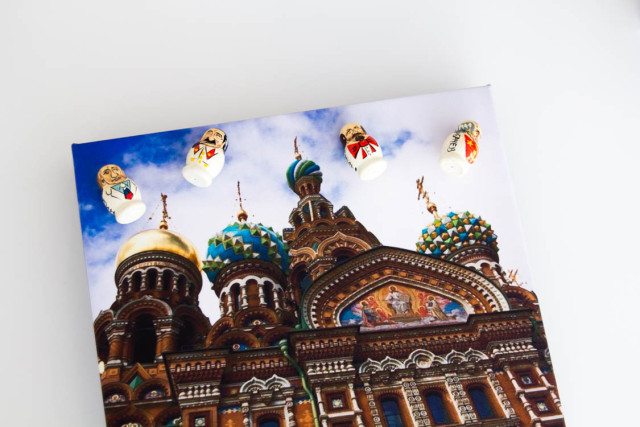 It wasn't love at first sight, Russia and I. But it's been a long affair.
It started in 8th grade. I had just moved to London. And  I was about to be delivered the biggest shock of my academic career.
A 69% on my first history exam. The topic – early Russian history.
For an avid history student who had never earned less than an A in the subject, it was a blow to my ego. Personally, the grade stung as I had thoroughly enjoyed the subject matter.
Refusing to admit defeat, I began a diligent self-study on the country of tsars, artistic excellence, and political tumult. And the more I read, the more fascinated I became with Russia. The history, the culture, the current events. Even the Cyrillic alphabet (credit goes to the Bulgarians on that front, who created it in the first place) was cool.
My history grades did eventually return to normal. But a long-term affair, marked by 3 trips and countless books read, was born.
Sidebar – this post, in no way, is an endorsement of Russia's latest political moves. I do not condone Putin's aggression in Ukraine, nor his anti-gay policies. It saddens me that a country that is on the cutting edge of many fronts (culture, fashion, athletics) is so regressive politically. 
Anton Chekov
You can't talk about culture in Russia without naming one of their premier writers. And while the works of Pushkin, Dostoyevsky, and Tolstoy are frequently lauded, my heart lies with Chekov. His observation of the world around him, coupled with his dry wit, make for excellent reading. If you're dipping your toe in the Russian classics, Chekov is the way to go.
The Americans
It's the end of the Cold War. KGB agents live among us in secret. How two agents, brilliantly played by Kerri Russell and Matthew Rhys, balance their American lives with their Russian responsibilities, make for compelling television. It's worth binging on.
Allegiance
Same premise as The Americans (modern day Russian spies living among us), but SO different. A family helmed by a defense technology executive and a Russian immigrant mother are forced to recruit their CIA analyst son to spy for the SVR (the KGB by its modern name). Said son is a savant of sorts. All while Russia is plotting a massive attack against the United States, with the intel of the attack is missing from a newly executed agent. Only 2 episodes have aired, but I am HOOKED. #pleasedontcancelthisshow
Ballerina
One of my favorite documentaries on Netflix, Ballerina follows 5 dancers through their final year in Russia's most prestigious dance academies as they prepare for company auditions. The dancing – outstanding. The stories of each dancer – compelling.
The Bronze Horseman
While this trilogy is worth reading, the first book (and the best, in my opinion) takes place in one of my favorite cities, Saint Petersburg. The Soviet Union has just entered the war, and burgeoning love story between Tatiana and Alexander is set among the barricading of the city, death, struggle, and ultimately survival. If you want to gain a better understanding of the Russian character, this book is the one to read. (h/t to Viviana for the recommendation!)
The Charm School
Where did these KGB agents learned how to speak, think, and act like Americans? The Charm School. Could. Not. Put. This. Book. Down.
Red Sparrow
My latest KGB-CIA thriller addiction, and one of the best. Agents trying to turn each other into assets. Agencies looking for moles in their own organizations. A female character that you want to be. I was sad to finish this book. Thankfully, the sequel is released in early June.
Russian Ark
Just a treat for your eyes. A history of the Hermitage, one of the world's leading art institutions, shot in a single frame. Eye candy galore, especially for history and art buffs. (And yes – The Hermitage really is the best)
Any fellow Russia addicts out there? What are your favorite books, movies, shows, anything about this fascinating country? COMMENT below and let me know!
More of my random nerdy obsession here.