It's quite clear that I f*$&ing love politics. I also love to throw a party.
Bring them together, and my nerdy heart explodes with happiness.
Given that I threw a party for the very first primary debate, it felt fitting to host some friends over for tacos, chili, and wine for the final showdown before the election.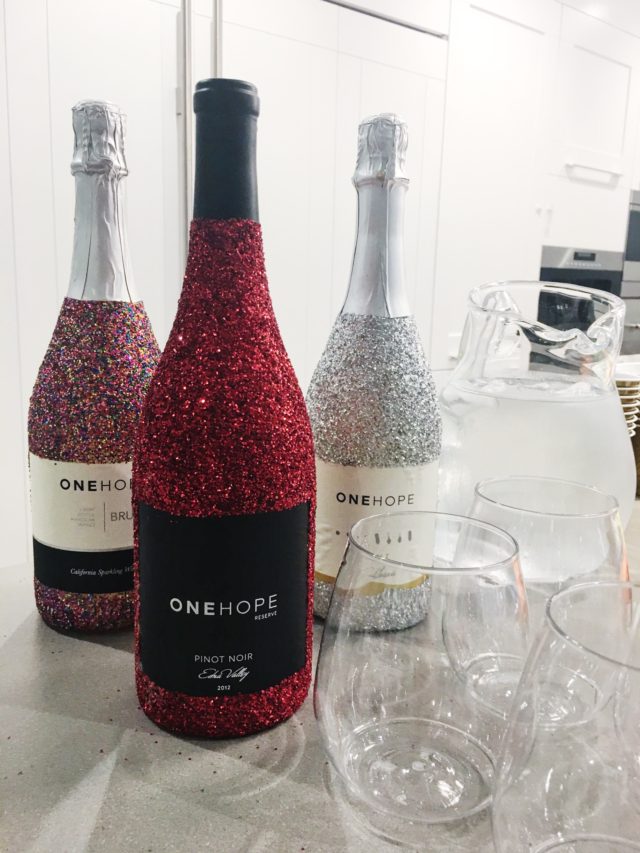 LOTS of wine. Ordering a case of special glitter edition of ONEHOPE wine is the way to go – especially given that the winery is committed to giving back in a big way.
Which means you can feel better about opening that third (or tenth) bottle, as every bottle sold gives back in a specific way – educating a family of five on the risk of heart disease, providing 45 meals to children in need, or funding an hour of the Trevor Project's lifeline.
Drink up. It's literally making the world a better place.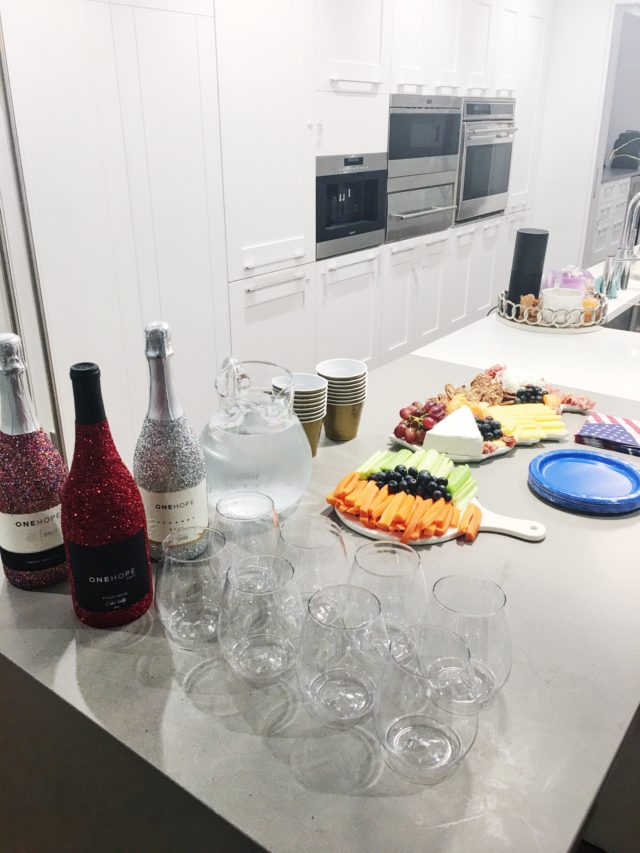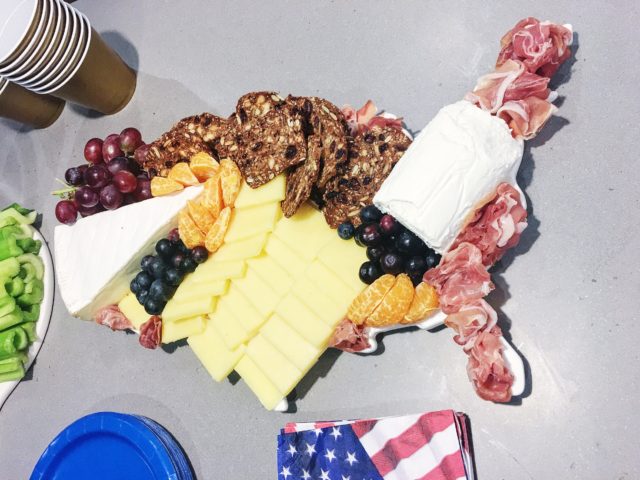 Fact – I did not buy this platter for this party (in all honesty, I can't remember when or where I bought it), but it was pretty perfect. I set up a cheese & meat plate on it, along with a platter of vegetables, for early guests to nibble on before dinner was served.
I really don't know where I purchased my planner, but here's another beautiful option.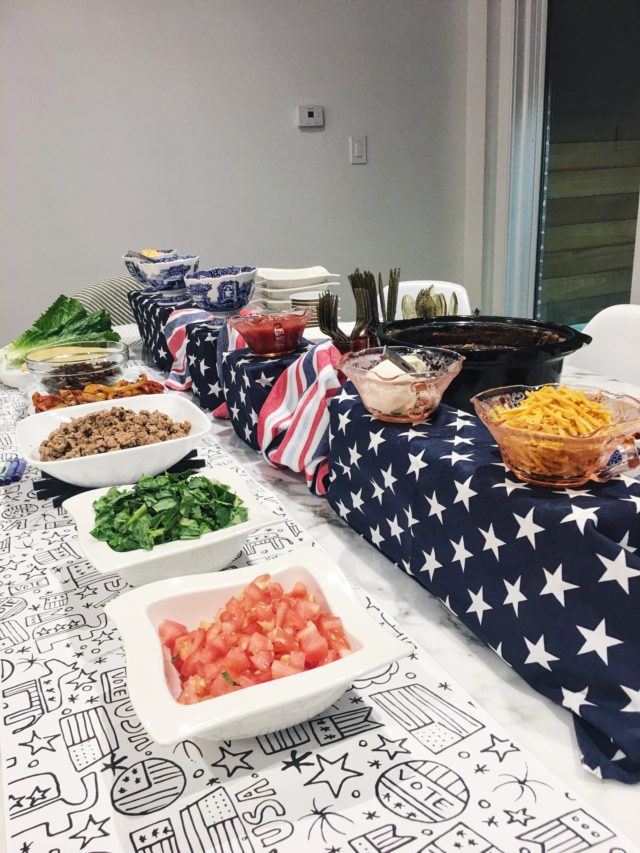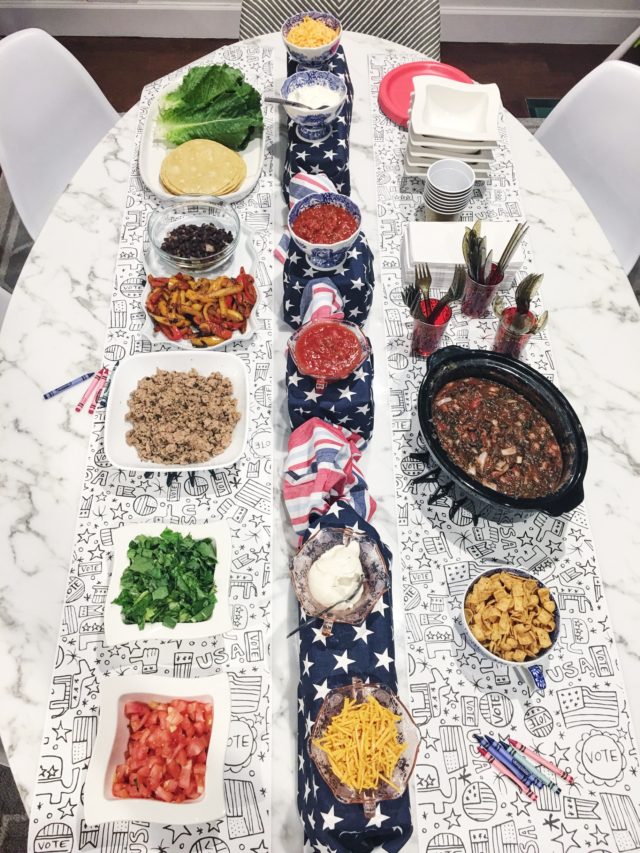 My entertaining style is very casual, and I love a build-your-own-meal bar. I don't think there's any meal more perfect than tacos and chili, separated by a wall of toppings.
Hello, my name is Hitha and I'm an unapologetic, undeniable nerd.
I "built" the wall with leftover boxes and square vases and covered them with star napkins. On one side, I set up the tacos (with corn tortillas and romaine leaves for wraps, ground turkey, sautéed peppers and black beans). On the other side went the chili (recipe below), along with plates and flatware for everyone to serve themselves.
The cherry on the sundae? All the toppings arranged on top of the wall – cheese and sour cream (vegan and non) and salsa (mild and spicy).
SLOW COOKER VEGAN CHILI
INGREDIENTS
1 large can of crushed, fire-roasted tomatoes
1 can of pinto beans
1 can of black beans
1 can of refried beans
1 onion
1-3 jalapeños, depending on your spice preference
1-2 tablespoons of cumin
1-3 tablespoons of cayenne
Salt & pepper, to taste
1 pinch of cinnamon
Juice of half a lime
DIRECTIONS
Add two tablespoons to the slow cooker pot, coating the bottom evenly. Add onions and jalapeños.
Rinse and drain the black and pinto beans, and add them to the crockpot
Add the refried beans and crushed tomatoes, and stir until ingredients are well-mixed.
Add the spices and stir once more.
Cover the pot and set on high for 2 hours or low for 4 hours. Stir the chili every hour.
When finished, add the lime juice and stir well.
Serve with your preferred toppings – I like Fritos, shredded cheddar, sour cream, and hot sauce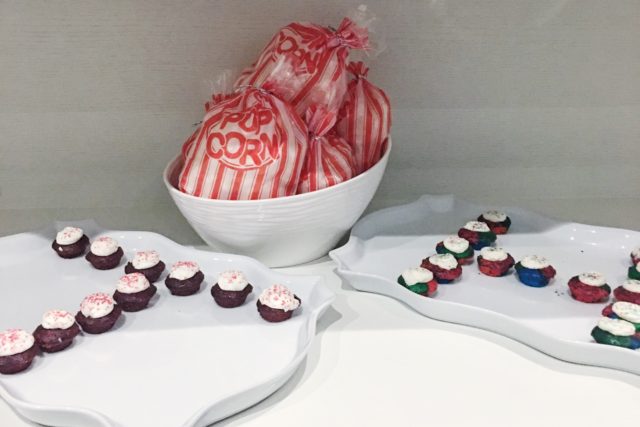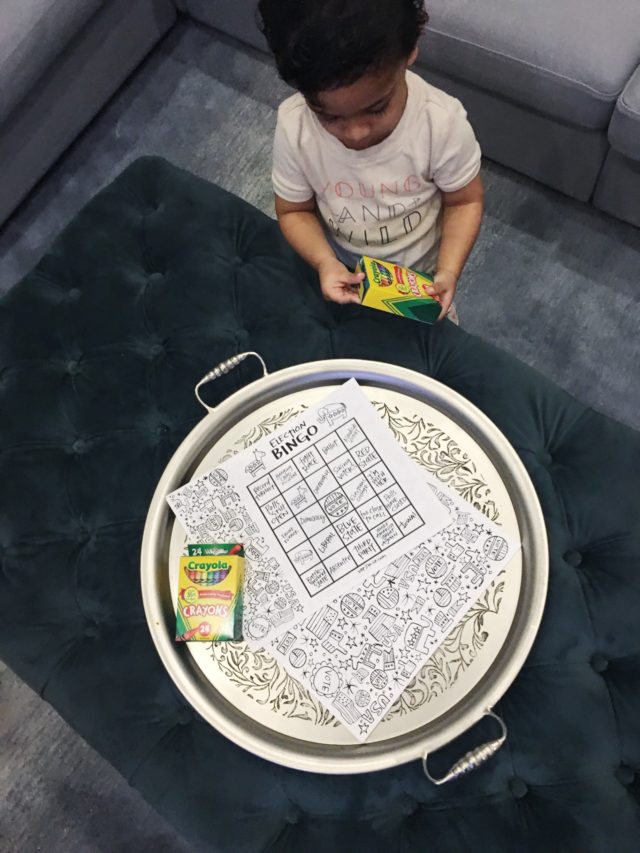 I think it's best to keep it simple with dessert and snacks – just some gluten-free cupcakes from Baked By Melissa and air-popped popcorn with sea salt and olive oil in individual bags. To add a fun touch, I printed these bingo cards and coloring sheets from my friend Laura (she also created the amazing table runners shown above).
Debates and elections are stressful. Coloring = relaxing. And Rho is in heaven with the boxes of crayons we now have on hand.
Are you in the mood to (political) party? What are your election night plans? COMMENT below and let me know!
P.S. – get free shipping on election night swag from Laura's shop using the code HITHAONTHEGO.