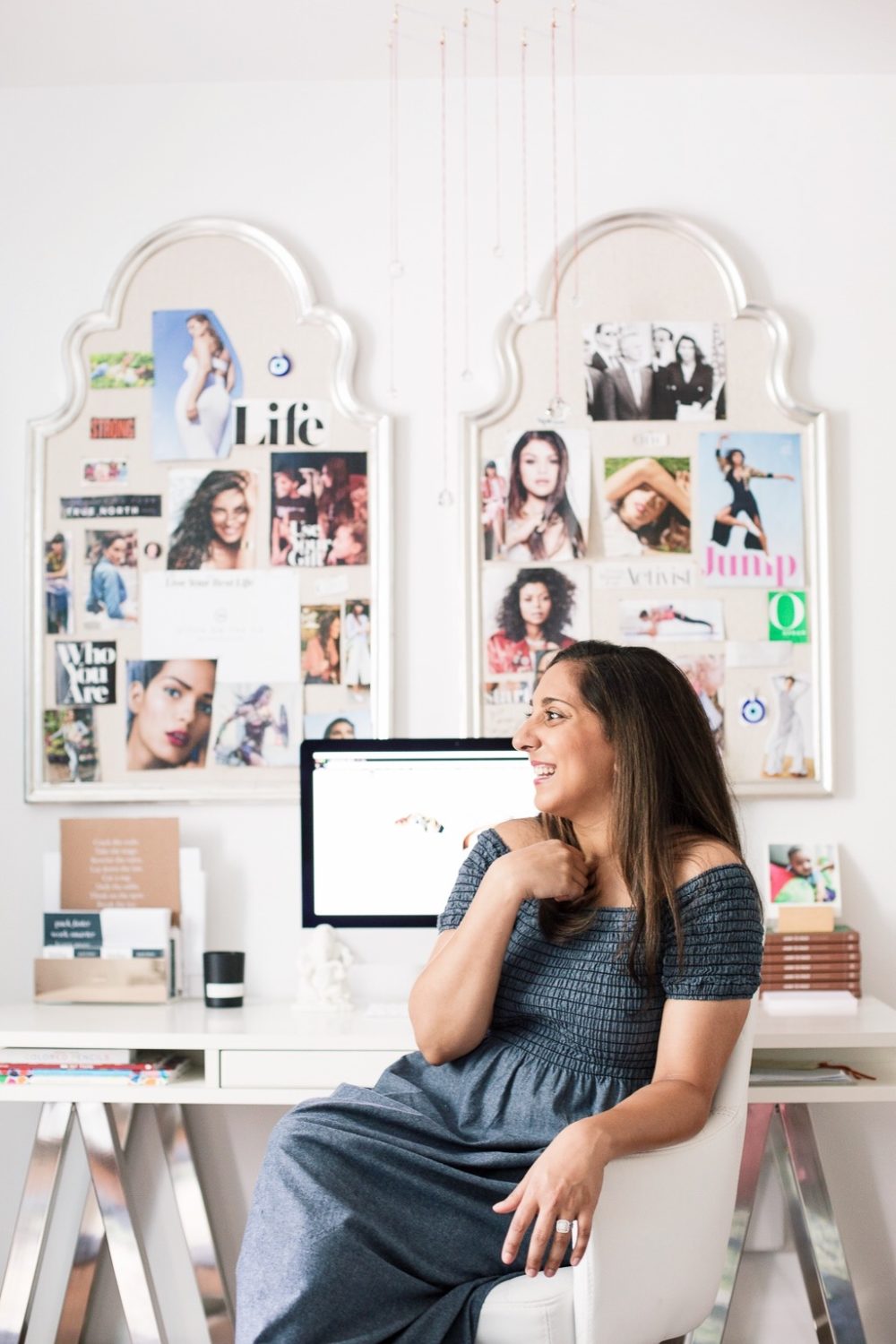 My home office is my sanctuary.
It's where I come to work, naturally. It's also the place I come to read a book at night, or to flip through magazines for inspiration.
And, if I'm being honest, it's where I come when I need to hide from my family for a bit.
I've rearranged this room a few times before (when Mackenzie was working from here, and when I started to photograph content for the blog more). This current setup is perfect for how I'm working right now, whether I'm writing or working on a deck, editing a video, or shooting images for blog posts.
Come take a closer look.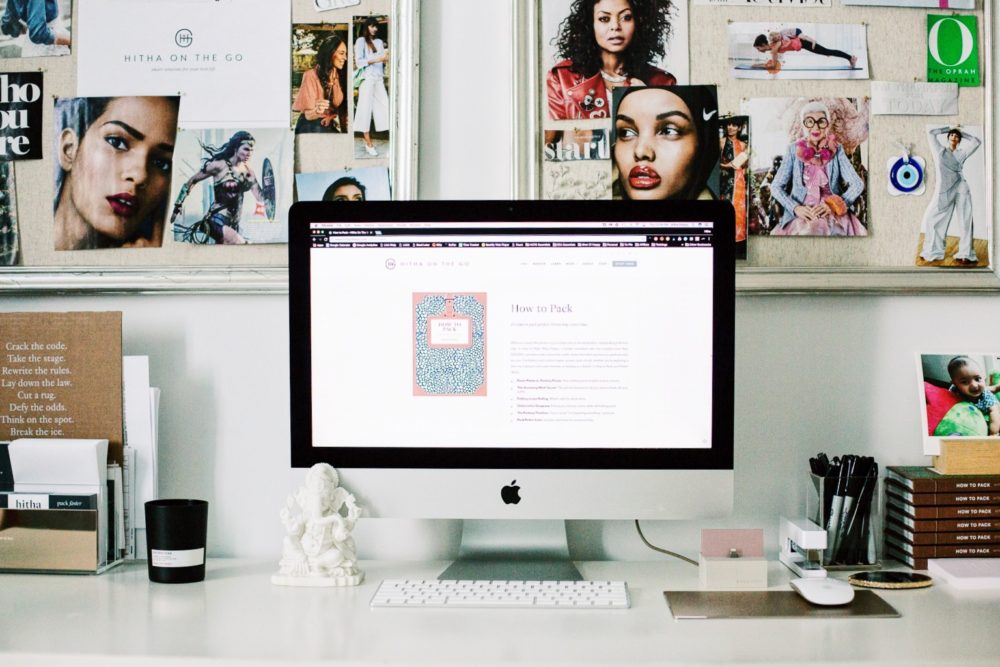 I don't think I've ever had such a large desk before. My desks, in our previous apartments, have been small console tables or mini Parsons desks. Working from this PBTeen desk was an adjustment – a messy one. Recently, I've whittled down my desktop to just a handful of items – my computer and mousepad, copies of my book, a document organizer and a pen cup, and a Ganesha statue.
He is the god for overcoming obstacles – and I could use all the help I can get. I used to use this chair at my desk, but its low height resulted in poor posture and more back pain. This desk chair is sleek, adjustable, and comfortable.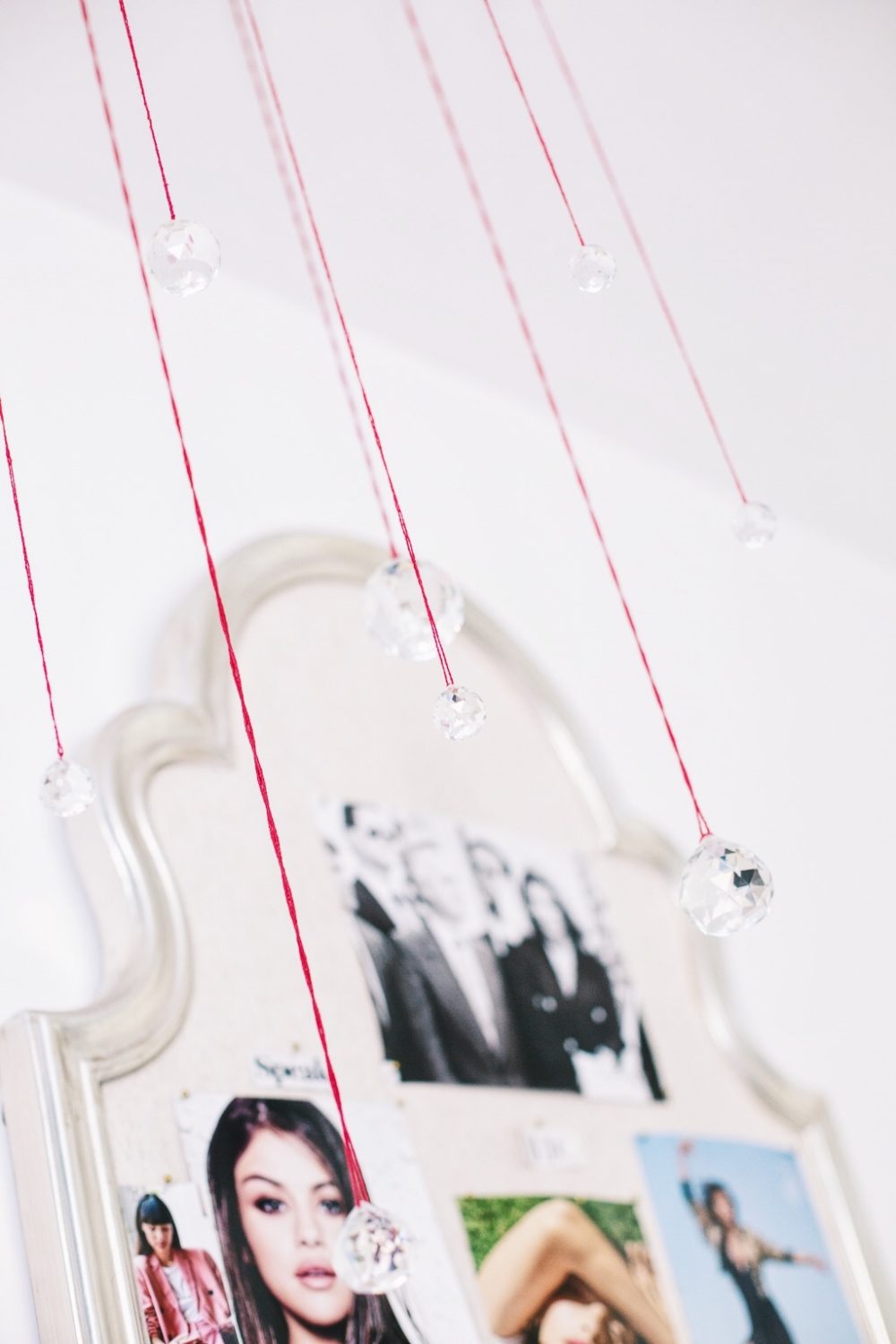 Over my desk, I hung Swarovski crystals with red thread. My college roommate Lisa had this over hers, and it stuck with me (for 14 years!). It turns out that it's a Feng Shui technique to relieve stress and pressure. For me, it's a beautiful touch that, like my Ganesha statue, can only help.
These bulletin boards used to be filled with thank you notes and random posters – basically, a physical junk drawer of correspondence. Right before my birthday, I spent an afternoon flipping through magazines and tearing out images that inspired me – words, photographs, and the people I admire. Having a proper vision board (and a pretty one, at that) has helped me refocus when my mind wanders – or when I happen to click over to Twitter.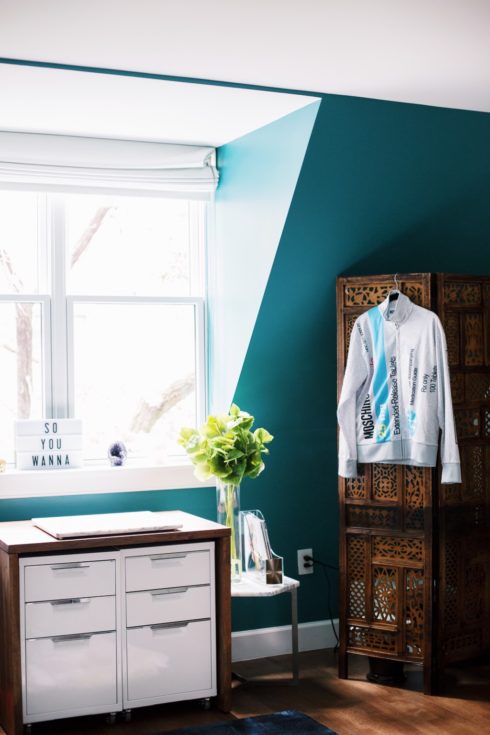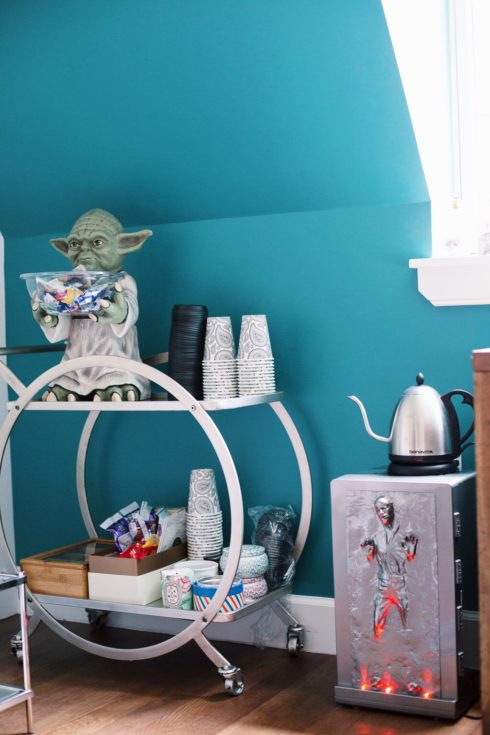 This room divider has been with us since our first New York apartment (our studio!). It acted as our bedroom door, a headboard, and a piece of art.
Now, it's a garment rack // device hider. I hang outfits that I want to shoot for the blog hung on the top, and my printer and scanner are hidden behind the screen. I love that this screen has been with me since I got married and moved to New York, and will always find a home for it wherever we go.
Filing cabinets are a necessity in any office, but I'll admit that I purchased these solely for the wooden table that complemented them. They provide ample storage, yes, but also make for a perfect photography station with the natural light, the requisite marble slab, and easy access for props and SD cards. I shoot the images for book reviews, beauty posts, and other small flat lays here.
Given that this room is a ways from the kitchen, a snack station (especially when Mackenzie was here) was necessary. It was also my opportunity to have a little fun, with the addition of a Han Solo fridge and a place to keep my Yoda candy bowl. This bar cart holds everything perfectly (with the help of some M.Gemi shoeboxes). The kettle was a wise decision – sipping hot tea is a small ritual that helps me stay focused and hydrated.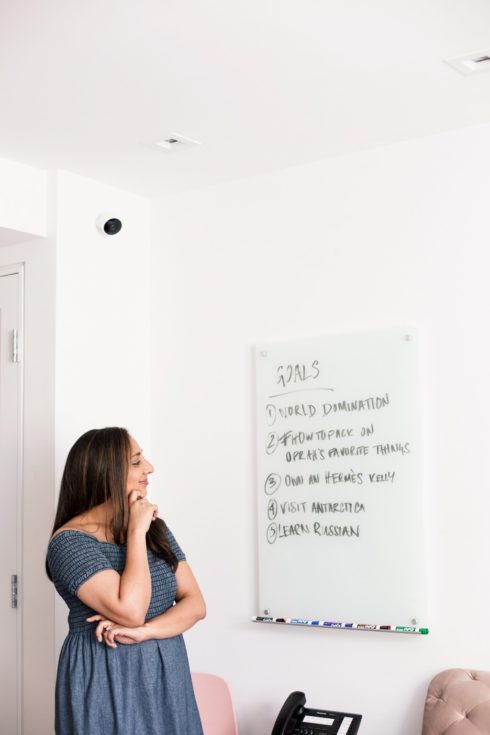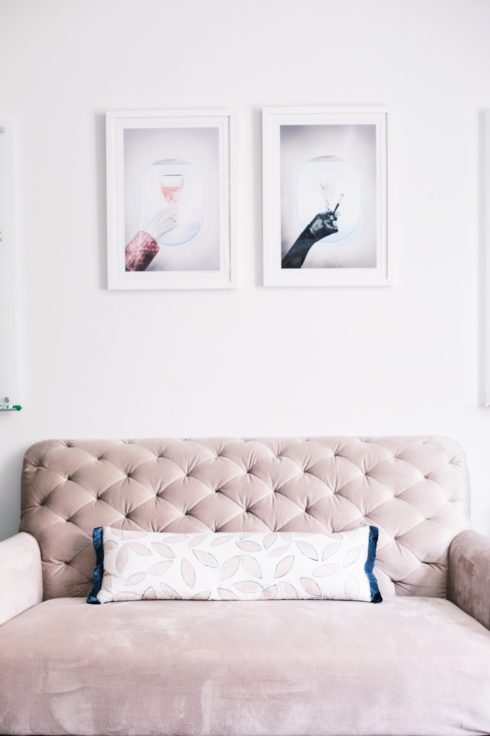 I do my best writing on my laptop, and curled up on a couch. I've always had my eye on this settee from west elm, and finally splurged on it when we moved in. To complement the peony rug and my own impractical wishes, I went with a pale pink velvet. No regrets. The frosted glass whiteboards remain in their original location, where the mini desks used to be. The space between them was empty until Gray Malin released his Bon Voyage collection. I promptly measured the area, and ordered The First Lady and The Glamour Girl. Whenever I walk into the room, they never fail to put a smile on my face.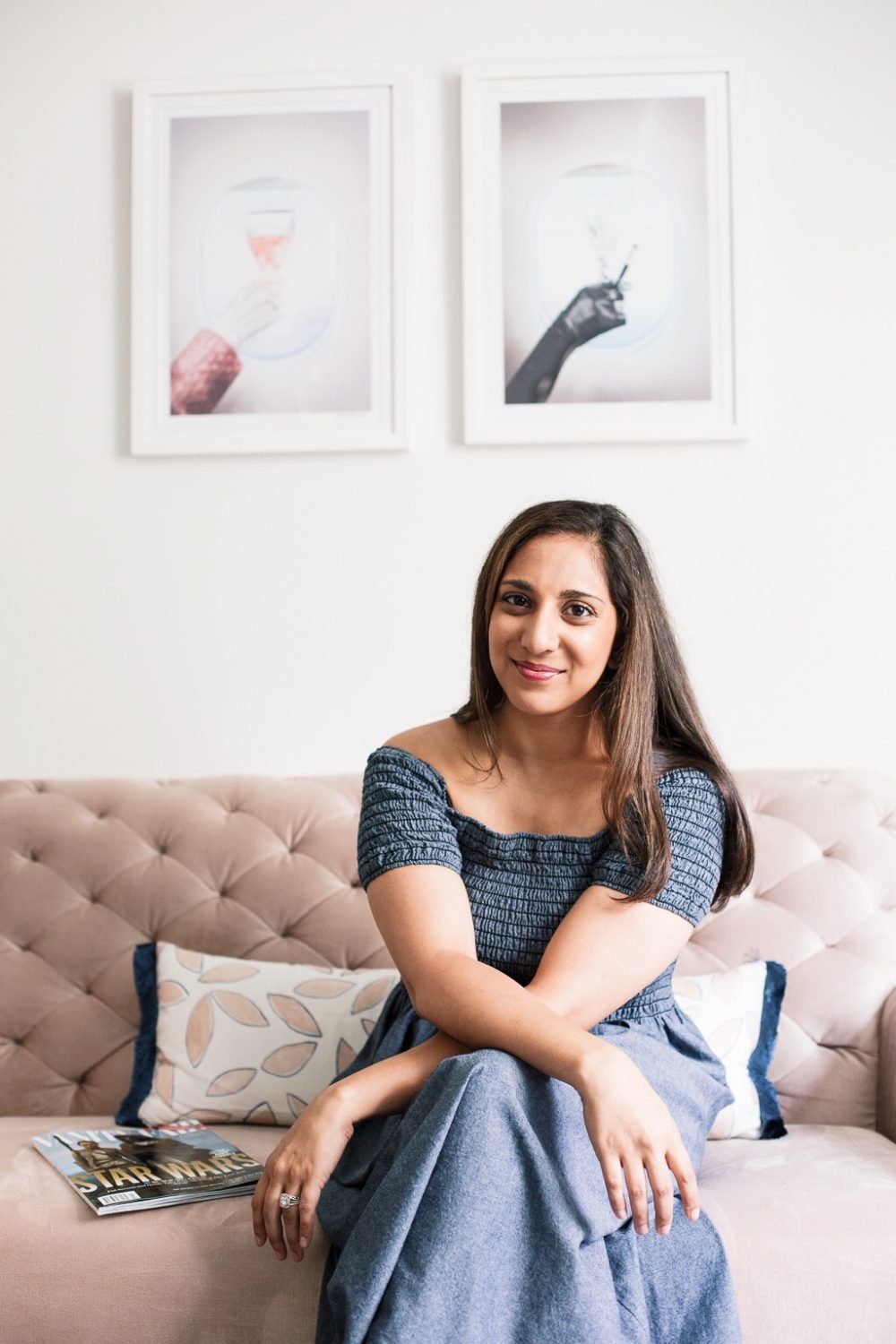 Room Details
photography by Stevi Sesin