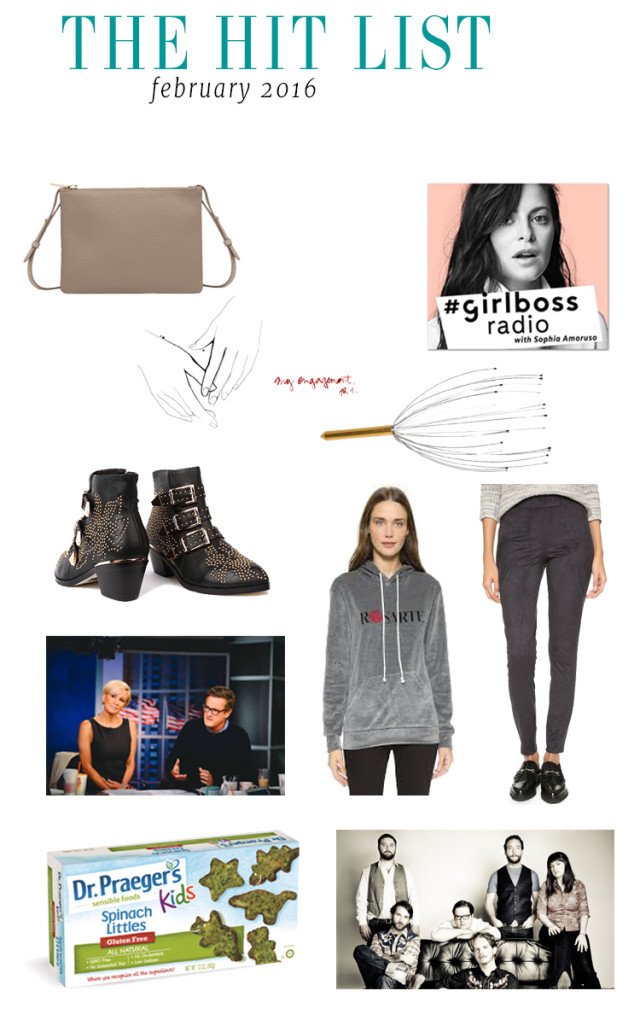 Confession – I barely remember February. I know it involved a lot of politics, very little sleep, and a hefty coffee bill. I'm also certain I lived in my Rodarte sweatshirt (a total splurge, but a GOOD one) and Spanx faux-suede pants. Instead of constantly swapping my bags and shoes, I stuck with these studded boots and this crossbody from Cuyana. The latter is one of the most versatile bags I own – perfect for dinner with friends, weekend park dates with Rho, and popping out to run errands.
While I'm not ready to take the plunge on the real deal Chloé boots, these are a perfect stand-in while I start saving for the OGs.
That is, when I wasn't in my pajamas. Which…was often. It was one of those months.
I basically lived on coffee (Nespresso, I love you) and Dr. Prager's frozen foods, which I originally bought for Rho. The broccoli nuggets, cod fillets, and spinach cakes are now staples in our freezer and make for the perfect last-minute meal when thrown atop a salad or slice of bread and a generous glob of hummus.
February didn't leave me much time to read (other than Garance Doré's engagement story – swoon) or watch television (other than Morning Joe, which we watch 6-7 am every weekday). I did, however, binge HARD on the #girlboss radio podcast. Great interviews, and I find Sophia Amaruso to be more engaging and real in this medium than in her book (which I wasn't a fan of). The Strumbellas are a new-to-me band that I've been playing nonstop around the house – just chill, happy music that you can also play around a baby without fear.
My most favorite (and random!) item this month is this head massager. Getting my head massaged is one of my favorite indulgences, and kind of an expensive one. Enter this baby – I use it every night before I go to bed, and when I'm working from home and need a little brain boost.
I may be using it right now while I finish this post :)
Talk to me – what are some amazing things that you used last month? COMMENT below and let me know!