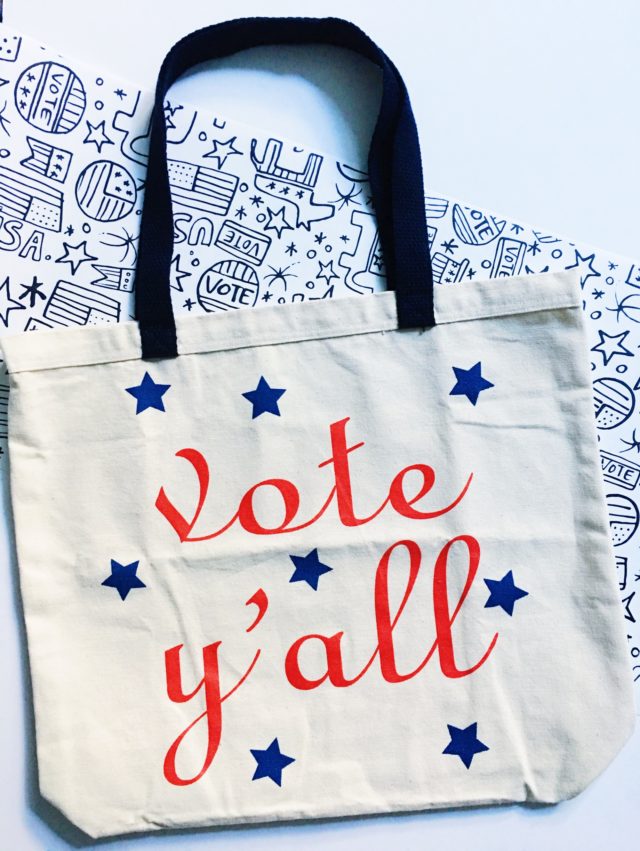 bag // table runner
I f*$#ing love a lot of things. But politics may be a top 3 (right after the Philadelphia Eagles and Taco Bell).
I know. Weirdo.
It began with the 1992 presidential election. I don't know if it was Bill Clinton's charisma, George Bush's gentlemanly demeanor, or Ross Perot's charts.
It was probably a mix of all of those things. And a certain future first lady who's been my hero for over 20 years.
I'm pretty sure I told my parents that we were moving back to India if Clinton lost. #historyrepeating
As time as gone on, my inexplicable love for our political process grew. I truly thought that this would be the field I would pursue professionally, especially after working for then-Congressman (now Governor) Inslee for two summers, including 1 re-election campaign.
Then I realized how much an entry level staffer made on the Hill.
In the end, I ended up exactly where I needed to be professionally. But I continue to be a political news fangirl all the same, and can't-stop-won't-stop reading and talking about this election.
Because you couldn't write this if you tried.
I've decided who I'm voting for (and I hope you have as well), but this post isn't about a specific candidate – good or bad.
Truth is, this is probably the most important election in our lifetime. The next president will be selecting the most Supreme Court justices since Franklin Roosevelt. Our country is deeply divided on a number of issues. And the world's security hangs in the balance of our next president.
The next president has a big job ahead of them. As do you.
VOTE.
Even if you hate both our presidential candidates, vote for the down-ticket candidates. Vote for referendums. Vote for your local offices.
Take a few minutes to check out my favorite resources for news/politics below, brush up on the other candidates running for office, and VOTE.
Want to make sure you're all set for election day? Visit This Is My Country to confirm your registration and you have the right identification.
(stands off my soapbox)
Without further ado, here are my favorite reads/shows/resources on all things political:
This show is…the best. Veteran reporters Mark Halperin and John Heilemann (they wrote Game Change and Double Down) show a side to this election that you typically don't see – vulnerability. I sincerely hope this show wins award after award, and Mark and John get a long vacation once this election is over. If you want to get fully caught up on this race – binge on this.
Who run the world? GIRLS – in this book, where the presidency, chief of staff, and top DC correspondent jobs are filled by women. Written by Nicolle Wallace (Bush 43's communications chief), the books are an addictive tale of running the world, juggling delicate relationships, and a little bit of forbidden love. If you need a palate cleanser from this election and have already blown through The West Wing for the hundredth time, this one's for you.
If you're not following Hallie Jackson on every social platform, you are missing out.
Not only is she a fellow Philly girl (and Eagles fan), she's one of MSNBC's badass road warriors. She's been on the road since last summer (first reporting on Ted Cruz, now Trump) and has been on-air from the crack of dawn to the late hours of the night. What I wouldn't give to read her En Route With…
Read fellow NBC road warrior Kasie Hunt's ERW here.
I admittedly was nervous when Jeff Bezos bought the post. I shouldn't have been.
The Post has provided the most honest, most critical reporting on this election – on both candidates, and both sides of the spectrum. I've also been favoring their US and international reporting over my usual NYT and WSJ. Their apps are also the best designed and most functional – plus have three versions (print edition, classic, and the contemporary WP). They're currently offering a free month trial, which you should definitely take them up on.
If you're a #nastywoman like me…
I've already talked about my addiction to this podcast here and here. So I'll skip the gushing  and tell you, again, to just download it. Enjoy :)
Somebody please give Ezra Klein a Pulitzer for his stellar reporting this election (this in-depth interview was my favorite). Vox has been the first news site I visit each morning, and I full-on giggle and clap when I see a new episode of 2016ish pop up on my Facebook feed. If you like lengthy, in-depth, immaculately researched content, then this site is for you.
Alright – so the podcast produced by Hillary's campaign is obviously biased, but I love the candid interviews conducted with her and her family, with Tim Kaine, and with other key staff members. I'm keeping my fingers crossed for a Huma interview (and re-listening to this one more times than I'd like to admit).
Talk to me – are you still addicted to this election, or are you completely over it? Most importantly, are you ready to VOTE! Let me know below :)