I must admit that Victoria's "Man Behind The Blog" series is how I've stumbled across a number of my favorite blogs.  Fashion Truffles, penned by the lovely Viv, was one of the first – a girl with style, humor, and a non-fashion day job was one I knew I would get along with famously.  We became "blog buds" quickly after Kenny's Man Behind The Blog was posted.  It came to no surprise to either of us when we hit it off at a brunch held by Kat earlier this month, especially when Viv recounted her and Kenny's ways of managing with turbulence (leaving the table in stitches with laughter).  Obviously, an En Route With… feature had to happen.  And here it is!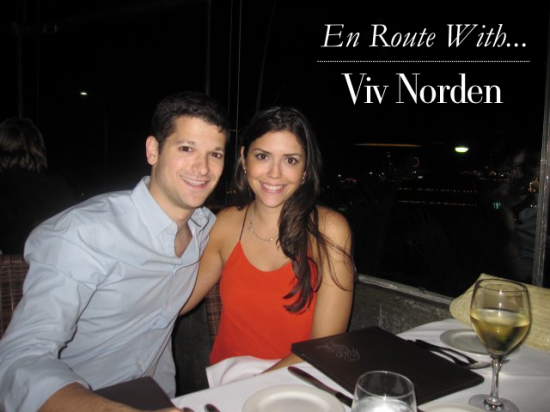 Viv Norden
Financial Accountant | Blogger, Fashion Truffles
My packing style is quite peculiar. I'm an anal list maker and planner so I start a list of what to wear/pack a few weeks before any given trip – no matter how short or long the trip may be (I told you I was anal!). I'm also a really good folder (ask Kenny) so I organize my suitcase just right. My packing lists always consist of a lot of versatile pieces that I can easily mix and match. For example, for our two week trip to Thailand I only packed two pairs of pants, one pair of jeans, and a pair of shorts. All of those could be worn for day or night by pairing them with the right top, shoes, and accessories. Now, what do I tend to overpack? Shoes and bags! Perhaps it's just that I own way too many of them or I'm just indecisive at the time of packing them but I always end up with an extra pair of shoes and a few clutches.
Did I already say I'm a very nervous flyer? I meant it. I usually don't sleep very well the night before a trip and end up getting to the airport with a lot of time to spare. The security lines can be SO long at JFK that it's just worth it to me to get there earlier and be able to relax a little at the gate before boarding. Security lines can be a pain but I have it down by now. Tip #1 – always wear shoes that are easy to take on and off. Nothing worse than a person that takes half an hour to untie their shoes. Tip #2 – always stand in the line with the least amount of children. I always feel bad for mommies with one or two babies! It takes a loooong time for moms to fold the strollers, take their shoes off plus the kid's, and get the little ones to go through the scanning machine. Once I've gone through security I head straight to the gate to check if the flight is on time, take a pill and play some word puzzle game or read to get my nerves under control.
Before we even get into what I do while we're cruising at high altitudes I should tell you all what my drill is once I'm on the plane, before take-off. Again, the nerves play a big part on this! I usually pick an aisle seat in the front of the plane and try to disconnect from the outside world by reading or playing a game on my iPhone. However, if take off is too bumpy then I usually end up holding on to the chair and Kenny's hand until I get white knuckles.  I also practice my really embarrassing breathing exercises (haha, I sound insane, don't I?!) to calm the nerves. Once we're at cruising altitude I start to relax and sleep since I'm so exhausted from the adrenaline rush experienced during take-off. I bet you would all love to travel with me! ;)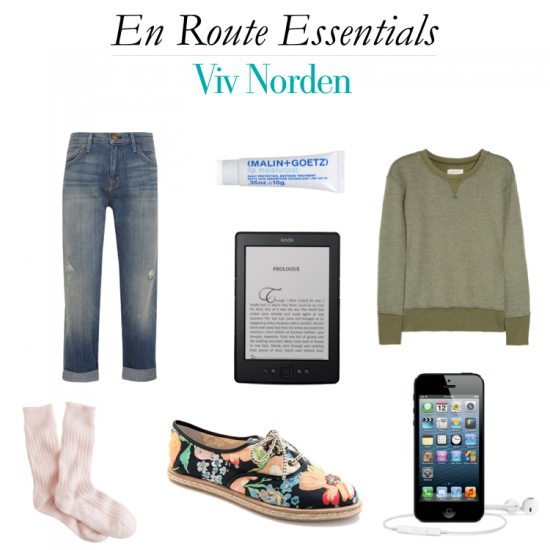 – Current/Elliott boyfriend jeans – Malin + Goetz lip balm – Kindle – – Current/Elliott sweatshirt –
– Corgi cashmere socks – Loeffler Randall sneakers – iPhone –