I'm toying with the idea of making En Route With… a weekly feature .  Between your overwhelming feedback and influx of submissions (e-mail me if you'd like to participate), the excitement around it has me considering to make a more regular-than-usual feature.  COMMENT below and let me know your thoughts!  Today's feature needs no introduction – I'm quite excited to share the travel style of a blogging & business badass (and a good friend) Victoria of vmac + cheese – who is, incidentally, moving to NYC!  Welcome, Victoria.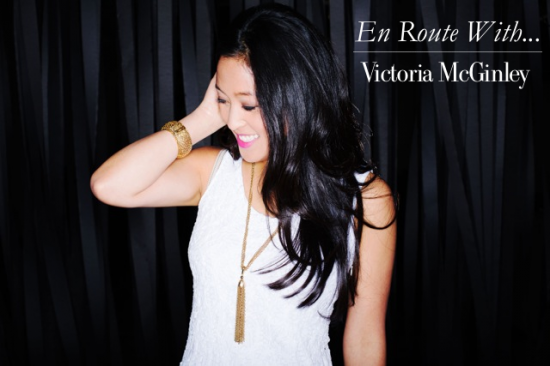 Victoria McGinley
Founder, Vivaleur | Blogger, vmac+cheese | Co-Founder, The B Bar
My packing style is probably in the camp of 'trying hard to be reasonable.' I don't like bringing anymore than I have to (it makes transit and re-packing such a pain), but I also HAVE to have options. There's nothing worse than being stuck somewhere and feeling like you don't have the proper clothing, or something clean and fresh to wear to dinner when you need it. I've found the key is bringing pieces I know I love and mix well with lots of different other pieces and accessories. Traveling is not the time to try bringing that one dress you bought on a whim and don't know if you really love it. I try my best to carry on, though with longer trips, sometimes it's just not possible — I'm picky about the beauty products I bring with me, and not all meet the fluids requirement! If I'm carrying on, I'll pack in a small roller suitcase, and fit lots of my tech items, makeup bag, and camera into my Lo & Sons OG bag. Four days is about the max I could get out of these two. The key is rolling your clothes, for sure! I'll roll everything except denim, and delicate blouses — these I'll fold neatly and set on top to create a flat layer. I can't pack any sooner than the night before. Living out of a suitcase is one of my least favorite things ever.
Depending on the airport and where I'm going, I typically get there about an hour before take off — provided that I'm carrying on and have already checked in! If I need to check a bag, I'll get there 90 minutes before, to give myself a little padding to get the bag onto the plane. It seems like you can never anticipate when the checked bag line will be horrible. If I'm flying through an airport that's notorious for longer security lines, sometimes it's worth it to me to pay for an upgrade that gives me a priority in the security line and in flight boarding. Nothing stresses me out more than carrying on a bag and being among the last to board. It's basically guaranteed there won't be space to put your bag in the overhead bin if you're the last in line on the plane. To me, it's worth it to pay another $25 or $30 to get on the plane earlier, and avoid the baggage carousel when I get to my destination. I love when flights give you the option for a mobile boarding pass. It just makes things so easy! Not having to hunt around for that piece of paper is one less thing to worry about. I also forward all my itineraries to my TripIt app, which keeps me on track as I travel. It's a good idea to also sign up for mobile alerts from your air carrier in case anything changes with the status of your flight.
When I get to security, I'm usually pretty quick. The key is to not look like you're going out to a club or a fancy dinner when you fly. No, you don't have to fly in pajamas (or with a pillow in tow for that matter…I always get grossed out by the pillows people cart around with them during air travel — airports are just so freaking dirty!), but this isn't the occasion for tons of jewelry, and elaborate heels that take you five minutes to buckle on. No one behind you will thank you for taking forever to get all your shoes and jewelry off. If I wear an accessory when I fly, I try to keep it down to a simple bracelet that's easy to get on and off. Ballet flats are perfect for flying because they're cute and comfy, but easily slip on and off. You should also pack all the items you know you'll need to unload into a bin (laptop, toiletries) in an easily accessible pouch. Though I'll tell you a secret — lately I've left my toiletries in my suitcase, and TSA hasn't seemed to notice. I don't know if this is some new policy or just a lacking effort on their part though…hmmm! But I've noticed it in many, many airports, all over the country. If I'm at the airport early enough — and especially if the flight is taking me somewhere for vacation — I'll totally grab a drink before I fly. A Bloody Mary can really hit the spot when you're jetting off on vacation! If I'm traveling for work though, I stick to a bottle of water purchased from the magazine stand, so I can stay hydrated and arrive looking as fresh as possible. Flying is one of the few occasions that I'll really stock up on lots of paper magazines. I'll always buy at least two before a flight!
Often times, west coast/east coast travel necessitates red eyes, so I'll try and nap for a little bit. Otherwise, I'll order a sparkling water and curl up with my newly purchased magazines or my Nook reading device. Sometimes, especially on cross country flights, I'll spring for wifi and work during the flight (you always get the most done on airplanes, I swear!). If my husband is flying with me, sometimes we'll play Trivial Pursuit or Scrabble on the iPad. Mostly though, I just try to relax on a flight, and even let my mind wander a bit. It's a good time out from the hustle and bustle of everyday life, even if you are crammed into a seat next to a total stranger. I hate to say this, but I sometimes think that the 'purchased food' options are better than what you used to be served as a free meal. On United, they have a Tapas box that I think is actually pretty decent — though it is pricey at $8 or whatever it is. If I fly Southwest, it's guaranteed that I'll hate all the snacks they offer (Ritz crackers with cheez whiz in between? No thanks), so I'll try and either eat the airport, or grab a sandwich or wrap and bring it on the plane. It's funny, certain airports are far more reliable as far as good eating options go than others. Some places you know are going to have nothing but fast food.
On the plane, I'm definitely an aisle seat kind of girl. I hate sitting inside the row, as I feel like every time I need to get up I'm super annoying to the people who have to get up with me. I'm also not a huge fan of heights, so I like my view from the aisle just fine.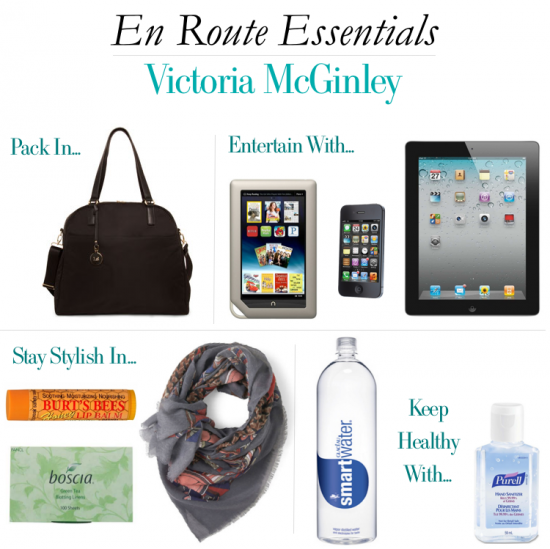 Pack In…Lo & Sons OG
Entertain With…Nook, iPhone, iPad
Stay Stylish In…Burt's Bees, facial blotting tissues, scarf (in case it gets cold)
Keep Healthy With…Smart Water, Purell*
*(after I read this article about airplane germs, I never travel without it, and NEVER eat anything that's touched the seatback tray)  Editor's note – I'm exactly the same way, and I carry several of these sanitizing towelettes to wipe down the tray table and arm rests of my seat before settling in for the flight.  Airplanes. Are. Gross.