You know those weeks that go by too slowly and are filled with too much to do?  That sums up this week, for me.  But I couldn't let the week end without a new installment of En Route With and I'm thrilled to be featuring Lauren of The Pear Shape as this week's feature.  I think Lauren travels more than me,  in her day job as a consultant and has a lot of wonderful tips to share in how to travel well.  Take it away, Lauren!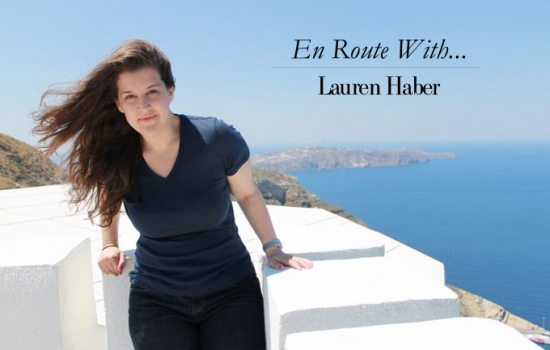 Lauren Haber
Technical ERP Consultant | Blogger, The Pear Shape
Being a consultant means that I basically travel for a living. I'm in an airport every Sunday and Thursday flying back and forth to customer sites, meaning packing for these trips has become an art. When it comes to work travel I am a minimalist packer: 2 pairs of pants, 2 shoes, 4 shirts, and undergarment essentials and that is it. No fluff here. I swear by my Swiss Army carry on suitcase and never, ever check a bag. I am inherently a folder, not a roller, and swear by packing cubes. Everything has its place and stays organized even in my hotel room throughout the week.  My secret packing tip: Those items that can't get wrinkled (think J.Crew silk blouses) are left on the hanger and put in one of those plastic bags that come with dry cleaning. The entire dry cleaning bag of clothes gets gently folded into the top of my suitcase. This keeps everything clean, wrinkle free, and ready to be hung once I arrive at my hotel.
If I got to the airport at the recommended "2 hours ahead of time" I would literally never see my apartment. I swear by knowing the airport. If it is my home Charlotte airport, I know it is efficient and arrive 60 minutes before my flight departs. Any airport I am unsure about, I arrive 90 minutes ahead. TSA agents will typically pull you to the front of the security line if you are somehow too late and are going to miss your flight.
My best travel tip has to do with how you load the conveyor belt in the security line. Always, and I mean always, load your carry on before your personal items. It takes them longer to screen the bag and by loading it first, your personal items like laptop and jewelry stay closer to you. Also, never leave your stuff on the conveyor belt and walk through the x-ray scanner. Always wait for it to go through fully. These tips avoid having your stuff swiped! Trust me, it happens.
My inflight essentials are pretty minimal. When you travel as much as I do, you quickly realize that carrying a bunch of stuff will result in a sore back and slower pace. I always buy a magazine for daytime flights, and for night flights I download a television episode beforehand just in case I can't sleep on the plane. Water bottles are unnecessary as the flight attendants will always provide water. Snacks are great to have but can also be purchased in flight if you're feeling snack-ish. Also, aisle all the way! Window seats feel very claustrophobic and sitting closer to the window is usually a little colder. There is nothing worse than being freezing on a flight. To keep myself warm on the plane I travel with an over sized cashmere or wool scarf. It keeps me warm both on the plane and doubles as a lounging blanket in my hotel room after work.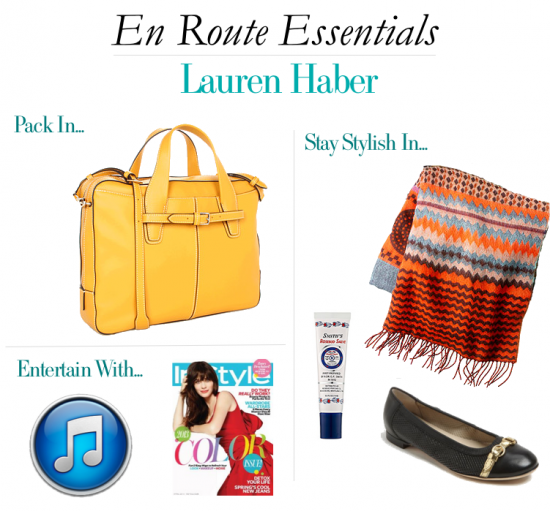 Pack In…Tumi Carlisle
Stay Stylish In…scarf (doubles as a lounging blanket in the hotel room), flats (my absolute must-have at the office, and the best flat ever), lip balm (doubles as a cuticle cream)
Entertain With…TV episodes from iTunes, a magazine
Thanks for sharing, Lauren!  Talk to me – which one of Lauren's tips was your favorite?  I'm going to have to try that clothes-in-dry-cleaner bag trick!  For more travel tips, be sure to subscribe to my newsletter as well!