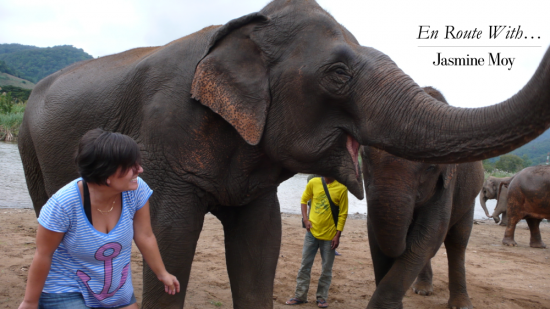 Jasmine Moy
lawyer | freelance writer
I'm going to start this all off by saying I'm a Virgo, Leo rising. I am your classic planner/over-thinker. I generally start by making a list. It allows me a certain amount of daydreaming about what my trip will look like. I start to obsessively check the weather reports and think about my activities: will I need sneakers? Sports bra? Rain poncho? If so, I'll pull them out and put them aside. The week leading up to a trip a little pile will start to accumulate of stuff I plan to bring. This is where I'll mention that I only use a carry-on, no matter how long the trip, see more on that here. I've gone up to six weeks on one Osprey backpack, which the guy at Patagonia called a "long weekend" camping backpack. It always fits in the overhead, even when stuffed so tightly I worry about ripping the seams. I also update my offline travel apps (get the currency converter current, download a map or two).
There are certain items I always, ALWAYS pack: my camera (Panasonic GF1), my Macbook Air (unless I'm headed somewhere real rural), moleskine soft cover notebook, some powdered laundry detergent in a ziploc, baby wipes (I'll also say that baby wipes are just essential to keep on you at all times, especially if you're traveling somewhere with limited running water, places where you're peeing in holes instead of proper toilets, etc.), bug spray, sunglasses, one pair of navy Cynthia Steffe slacks that never wrinkle, a chambray button-down, a white linen oxford, a couple v-neck heather short sleeve t-shirts, a white tank top, a black tank top, a sheer silk floral top, a navy pair of shorts, pair each of ballet flats and flip flops, and a scarf. After that I'll usually pack a skirt or dress or two. Swimsuits and pareos or sweaters and socks, depending on climate. I take an almost unimaginable pride in wearing everything I've packed, so I always under-pack and get clothes washed than carry around extra stuff I never ended up needing.
I put aside an airpline outfit separately. I'm obsessive about being comfortable on an airplane. I'll wear leggings and a yoga top, because wearing an underwire bra on an airplane is my worst nightmare. I top that with a super soft henley and the scarf. I keep cashmere socks, a dream essentials eye mask and earplugs in my purse, along with a good, thick night cream and this Caudalie spray which smells amazing and wakes up your skin a bit. Baby wipes stay in my purse as a quick way to clean my face and otherwise freshen up.
I'm also notorious for not wanting to wait at the airport for even 5 minutes more than I need to. I tend to leave later than I should and pray for short security lines.  I've got global entry, which sometimes gets me through a pre-check line. I've also got elite status with a couple airlines so that helps me get through as well. If you're really panicked, people at the front of the line will let you through if you're just about to miss your plane. Although I've cut it close a few times, I've only once had to run through the terminal, movie-style, to catch my plane.
I usually make it to my gate a few minutes before boarding begins. I hate wasting money on airport food and drinks so I keep an empty plastic water bottle on me and will fill it once I'm through security. A lot of airports have these nifty designated machines that fill them and there's something really satisfying about watching the "number of bottles filled" number eek up by one. Sometimes I think to throw an apple and some almonds in my bag as well. If I'm forced to hang out at an airport, I'll find the nearest bar to grab a beer to keep me company or I'll curl up near an outlet and just fuss around on the internet.
On the plane, I'm a window girl, all the way. I'm short, so I have the ability to kind of curl and contort and make myself comfortable once I have a wall to lean against. I also like the view, and have a well-behaved bladder so I often won't get up once during an entire flight. Conversely, if I have to get up, then I like the be the one climbing over someone rather than having someone climb over me. I always have the New Yorker with me, which I usually read on my phone, but I bring the paper copy with me to save battery. Depending on how long the flight is (and how early it is) I sleep on the plane (though never well). I keep an emergency Ambien tucked away for red-eye flights or long-hauls where I'm trying to stave off the jetlag. Truthfully: I think airplanes are mostly uncomfortable (this is all based on the presumption of flying coach) and the air is stale and being unconscious for as much of it as possible is my goal.
I've never liked airplane food. I'll pick at the roll, maybe pick around for veggies, and I drink water like it's my job; planes are so dehydrating. I'm also always flying somewhere that food is a real draw so it's best to arrive famished and ready to discover all the deliciousness, wherever the destination!