I had every intention to get this up yesterday afternoon, but a bout of food poisoning rendered me unable to do ANYTHING.  Thankfully, the team at the Four Seasons Philadelphia took excellent care of me with room service deliveries (best chicken noodle soup EVER) and turn down service.  I'm nearly recovered, and glad to be introducing Jamie, the creator of High Heeled Traveler, to En Route With.  It's rare to find other blogs that meld fashion, travel, and lifestyle topics well, and Jamie pens one of those few.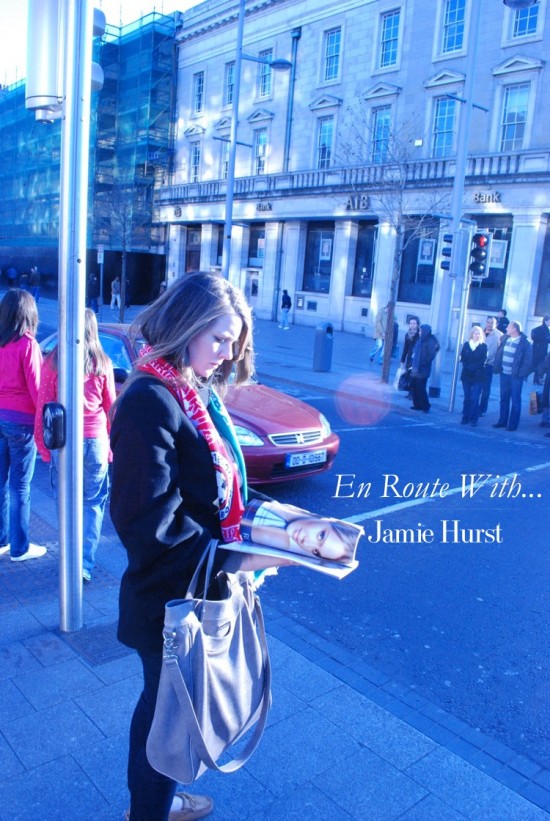 Since I travel for a living (for the blog and magazine) I have to be ready to go in a moment's notice if a travel opportunity arises. I've left within hours before. Other times I've had a trip planned for several months. In either scenario my packing strategy is usually the same and it starts with general wardrobe building in my everyday life.
When I'm out shopping I look for pieces that easily go together and can be muilti-use or mixed. For instance, I have a favorite oversized chambray shirt that I can bring on any trip. I could wear it as a cover up on the beach, with jeans in the city, or under a sweater on a chilly hike in the mountains.  I'm a minimalist packer and try to get everything into one bag and a tote no matter the length of the trip. I usually pack jeans, silk shirts, cotton t-shirts, and one or two little black dresses (one cotton or jersey and one silk or satin). I also pack a sweater, jacket (leather is good for casual day to night) and a pashmina for the plane ride. Then a pair of sandals, boots, or flats, a pair of heels, and a pair of Minnetonka moccasins no matter what. I would say that I also pack workout clothes, but I'd be lying.
When I'm getting ready to pack, a day or two before my trip (if possible), I feel pretty confident about my life strategy but then as I'm laying out clothes on the bed deciding what to bring, I usually have some sort of breakdown about how I have nothing to wear. Then my husband finds me wallowing in all my clothes, clutching my shoes. After an admirable performance, I end up packing the same exact things every time.  I also always use the same suitcase. This helps when deciding how much will fit in there. I'm a Briggs & Riley loyalist. I've had the same bags for about seven years now. I never worry if my suitcase it going to make it.
For the airport, too, I have steadfast habits. Years ago, my husband and I used to have a long distance relationship. He lived in DC and I lived in NYC. Every other weekend I would take the commuter plane down to see him. I established my routine then.  I like to arrive an hour and a half early, more or less. It depends on the airport. Some are more efficient than others. Like Meg, I choose the security line with the most businessmen and try to get through that as quickly as possible. (Though one time I did have an incident. You can read about it here)
Once through security, I go to the magazine stand and pick out something new to read. Then I belly up to the bar for a drink and chat it up with fellow travelers. Back when I was flying every other week, I met a guy and a girl at the airport bar; we were all strangers and ended up really hitting it off. They later got married! Airport romance!   If it's a morning flight, I treat myself to coffee and some sort of pastry instead of going to the bar.
On the plane, I usually have all these ambitions for work or reading the magazine I just bought. But once the engine starts I pass out. I usually sleep the entire time, no matter how long the flight is. On the rare chance I'm awake when the refreshment cart goes by, I like to get coffee and a bag of peanut M&Ms.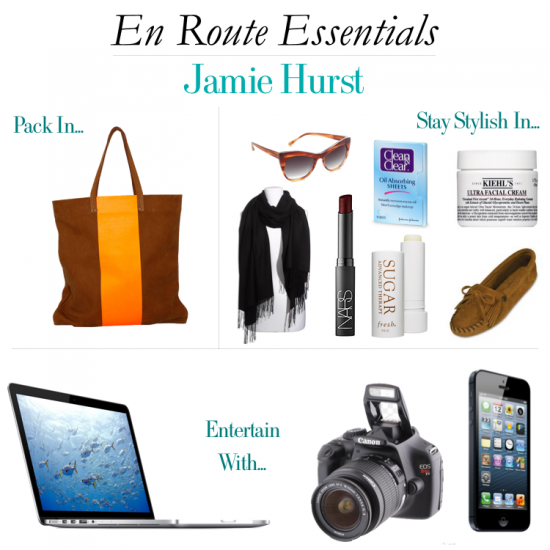 Carry on in…Clare Vivier t0te
Stay stylish in…a pashmina from my husband from Pakistan (similar), Minnetonka Moccasins (like bedroom slippers), sunglasses, and my go-to beauty items – red lipstick (in Vesuvio), lip balm, moisturizer, oil blotting tissues, mints and/or travel toothbrush
Entertain with…laptop, camera, and iPhone – always in tow!
Thank you for sharing your travel routine, Jamie!  What was your favorite tip from Jamie?  Mine was to visit the airport bar more often!  Chat with me in the comments below.  Also, it's official – En Route With… is going to be a weekly series.  Thank you SO much for your sweet feedback and comments on the series.  Let me know if you or someone you know would be a good feature for En Route With.