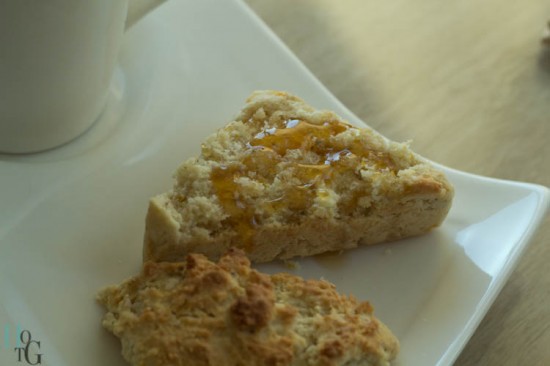 One activity on my NYC bucket list is to go for high tea.
And in nearly two years of living here, it has yet to happen.
I adore high tea.  When I lived in London, it was a monthly ritual for my mother and I.  We'd venture into Central London to Fortnum & Mason for an afternoon sipping Darjeeling and nibbling on crustless sandwiches, miniature desserts, and my established favorite – scones.
The speed at which I could inhale the buttery, crumbly scones from the 3-tiered tea tray was embarrassing (to my mother).  To me, it was heaven.
The weekend my husband and I had planned to venture to the West Village for afternoon tea at Tea & Sympathy – well, our trip didn't happen.
But in an effort to enjoy our newly replenished stock of DAVIDsTEA, I whipped up a batch of blood orange scones to accompany our Chocolate Chili Chai (me) and Cocoa Canela (him).
Hot out of the oven and drizzled with honey, the scones took me straight back to those afternoons in London with my mom (except this time I could inhale the carbohydrate-laden goodies with gusto, in the comfort of my sweatpants and home).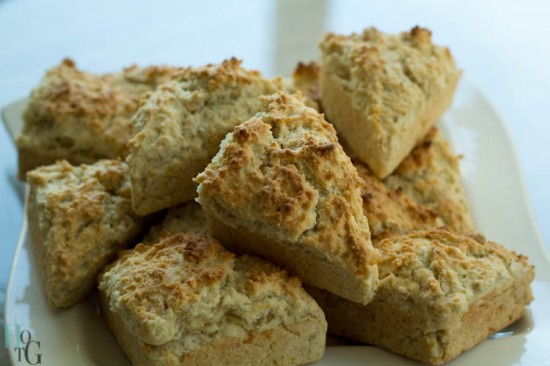 Blood Orange Scones
makes 10 small scones
Ingredients
2 1/2 cups of flour
1/2 cup of sugar
2 tablespoons of baking powder
1/4 tablespoons of salt
1/3 cup of grapeseed oil
1 cup of almond milk
Juice and zest of 1 blood orange
Directions
1.  Preheat oven to 400 degrees Fahrenheit.  In a large bowl, stir all the dry ingredients together
2.  Add the oil slowly, using your hands to knead in the wet ingredients to dry.  Add milk in three parts, kneading with each addition.  (NOTE – do not overknead!)
3.  Add the juice and zest of the blood orange, and knead lightly.  Add extra flour if dough is too wet – the consistency should be sticky.
4.  Spray a scone pan with PAM and add batter to it (or separate in two parts, and pat into a circle 1/2″ thick.  Cut each circle in 6 wedges)
5.  Bake for 15 minutes, or until the tops are golden and the sides are firm.  Remove from oven and allow to cool (while eating a hot one straight from the pan).
I'd love to know – what's your favorite tea-time snack?  The crustless cucumber sandwiches are a close second for me.