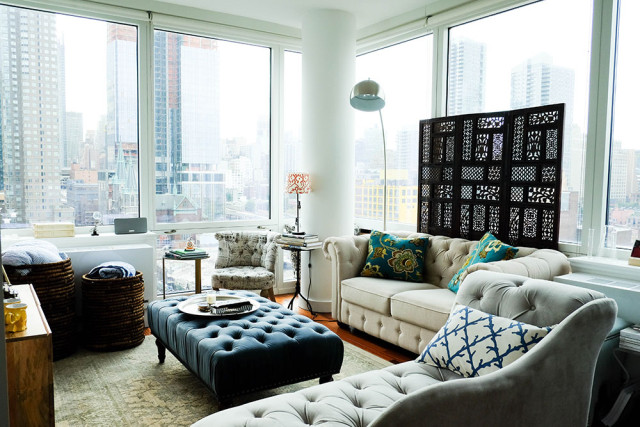 Rho is on the move these days (rolling and scooting everywhere, and this close to crawling). And while part of me delights in every new change, another part of me is urging time to slow down.
It was time to baby-proof. And just in time, World Market approached me to partner with them in honor of their NYC flagship opening.
Kismet, no?
I had the opportunity to get a sneak peek at the store over a month ago, where I focused my attention on giant baskets, jewel-toned ottomans, and side tables that could stand a few baby shoves.
Also, items that could hide their fair share of baby-related spills.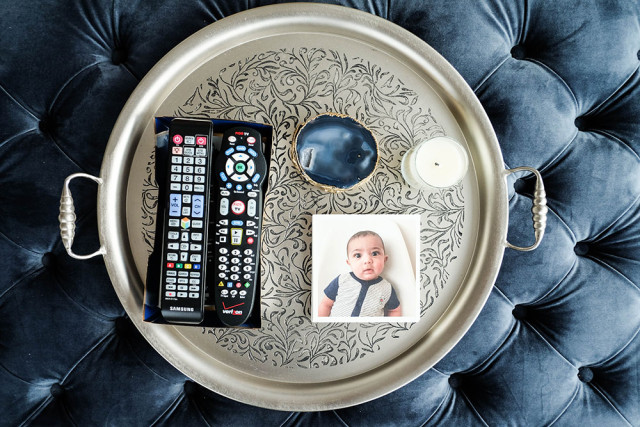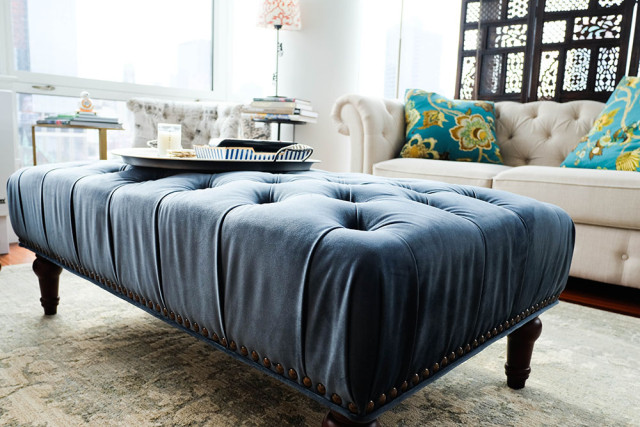 The first item to go was our heavy, sharp-edged coffee table. In its place came this tufted blue ottoman that's light enough for me to move to the side on my own. We needed a tray for the essentials (remotes, coasters, baby pictures) and this silver beauty fit the bill. Before Rho wakes up, I push the ottoman to the side, place the tray on the round table, and spread out a large quilt for him to roll and scoot around.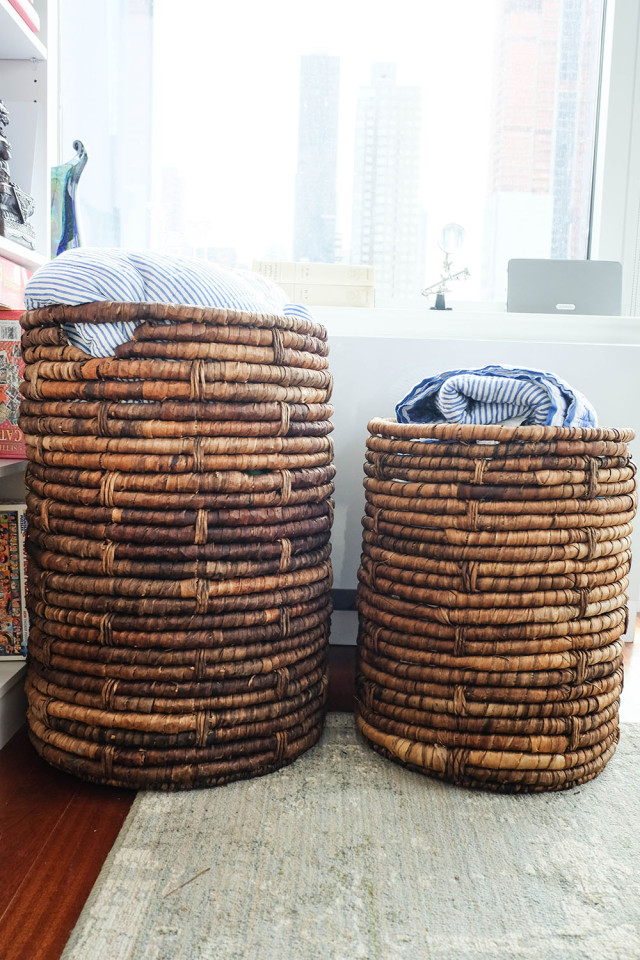 Rho's blanket-turned-playmat and toys kept taking up more and more space, so these baskets were an incredible find. The large basket holds all of his (and our) blankets, and the smaller one holds his toys, burp cloths, bibs, and all that jazz. While one of us does Rho's bedtime routine, the other scoops up his toys and blanket and returns the living room back to normal.
These baskets = why our living room still looks like adults live here. ACES.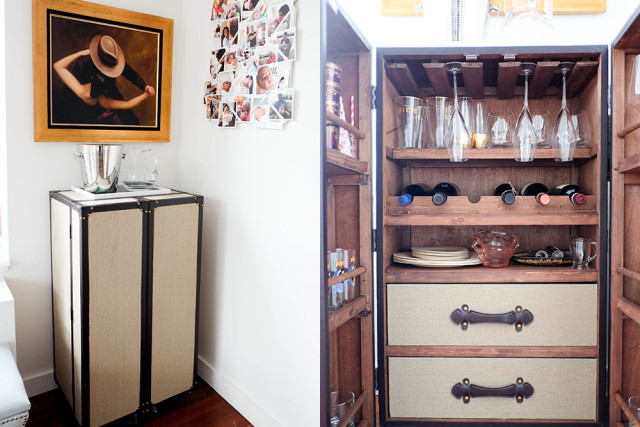 While I had my eyes on this bar cart, it just wasn't practical for when Rho starts walking and decides to play 'break all of Mommy's glasses.' This wall is also an awkward width, which eliminated most of the cabinets I had my eye on.
Enter this bar cabinet, after what seems like hours of Amazon stalking. It has the perfect amount of storage for our glassware, wine, and other entertaining items (like this cheese slicer and wine chiller). And it's a beautiful piece that adds to the jetset vibe of our place.
Best of all – my booze and glasses are safe.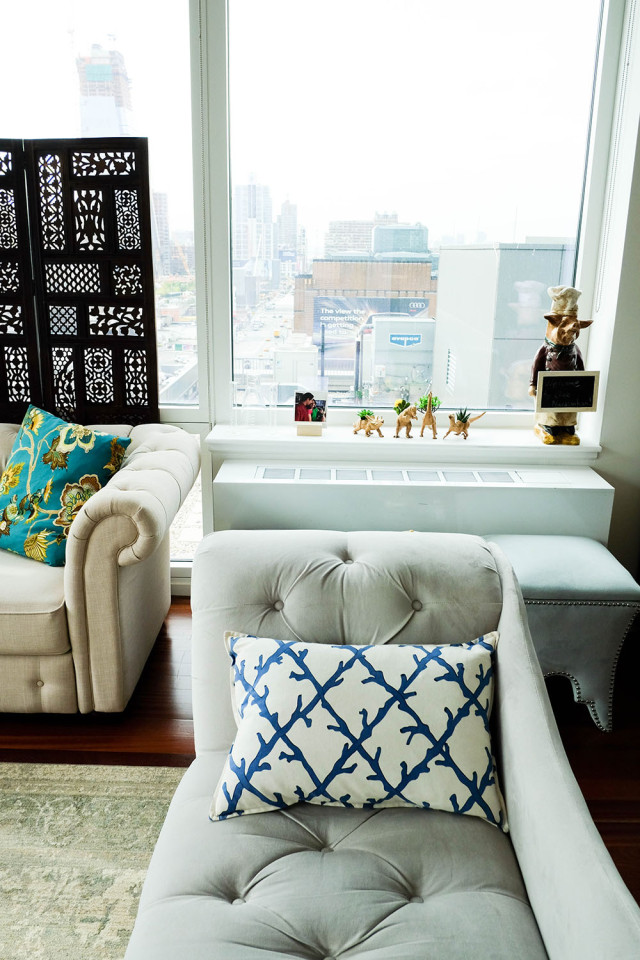 Rho has taken over the living room during the day, which meant moving our office setup into the bedroom. The chaise (last seen here) helps divide the room into living and dining sections and offers more seating for visitors.
Namely, grandparents.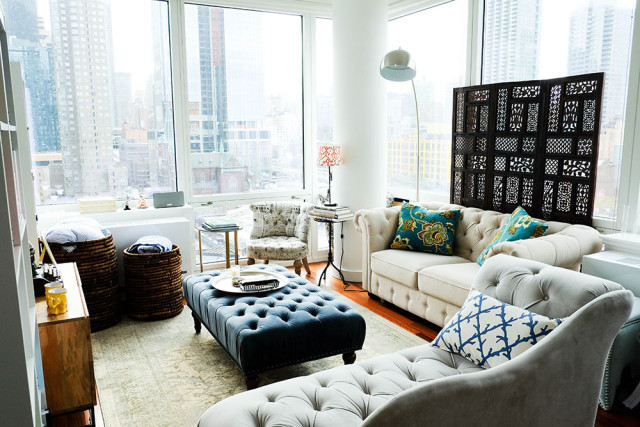 Because sharing is caring, here's a 15% off coupon for you to use at the Chelsea flagship store. Happy shopping!

How the room used to look, and more peeks at our apartment.
Special thanks to World Market for sponsoring this post. Thank you to supporting the brands that make Hitha On The Go possible!