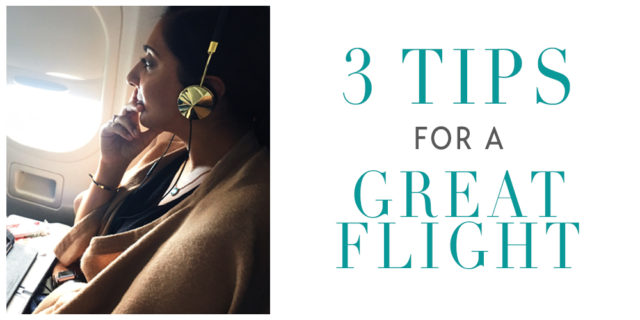 This post is in partnership with Delta. All opinions are my own.
I've always loved flying.
And a good thing too, given that long-haul flights to India was the norm while I was growing up.
I would find endless amusement in the tiny cups and soaps available in the airplane bathroom. While I'd make a fuss about eating meals at home, I'd happily tuck into an in-flight meal (and eat the entire thing). And the 'call flight attendant' button? I'd resist the urge to press it for another cup of water, a visit to the cockpit, or for an extra cookie snuck from first class.
I was a weird kid. And apparently a charming one, since I never had a problem getting those extra cookies.
An in-flight experience is a lot different now, with the onset of portable electronics and disappearance of tiny individual soaps in bathrooms.
But I still love the journey of a trip – especially when it's spent 35,000 feet above sea level. Here are my three tips for a phenomenal in-flight experience, every time.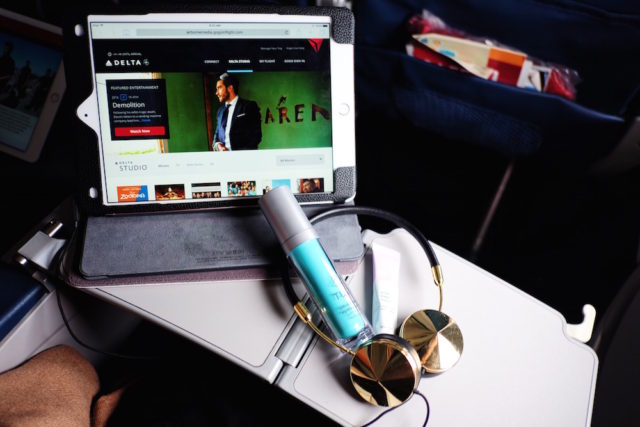 WHAT TO WEAR – FASHION AND BEAUTY
Even for the shortest of flights, I'll prioritize comfort slightly over style for my in-flight outfit.
Loose-fitting pants. Breathable fabrics. And the all-important compression socks.
Some of my go-to outfits are a matching set from Zara (right now, they have this cozy camel pants and sweater pair), silk joggers and a soft t-shirt, or a button-front jumpsuit that's easy to slip off – even in the tiniest of spaces. Sneakers, ballet flats, or my bulkiest shoes for the trip finish my look.
I top my in-flight outfit with a (matching, usually!) draped trench or this warm cape to stay warm.
And did I forget compression socks? They are the BEST. Truly.
I typically fly with no makeup on (the only exception being when I'm running straight to a meeting from the flight), applying eye cream first and finishing with an emollient moisturizer slathered all over my face and neck and hands.
While face mists do little to rehydrate your skin in-flight, I'll spritz this spray over my face every hour I'm awake to protect my skin from recirculated airplane air – and the free radicals that come with it. I'll also reapply lip balm, which is necessary given how much water I drink.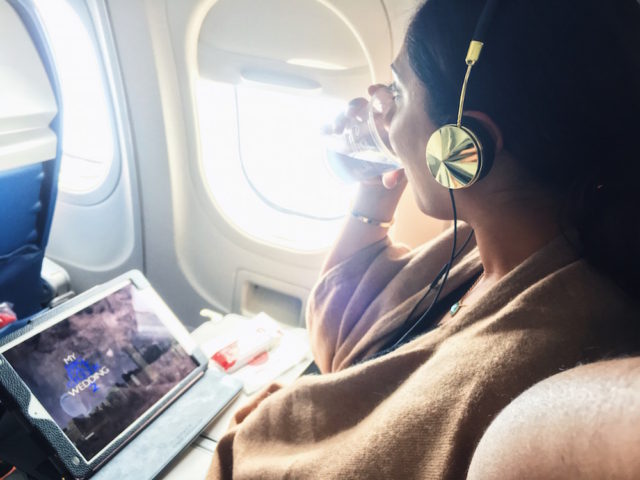 WHAT TO EAT AND DRINK
Give me all the water. And then give me some more.
In addition to the two glasses of water I request from the beverage cart, I also make sure to drink a huge bottle of water for every 2 hours I'm in the air.
Pro tip – save your bottle and ask the flight attendants to refill it during long-haul flights.
I've also taken to fasting during shorter flights, as I've found myself mindlessly munching on gummy bears or salty chips due to boredom (and not actual hunger). Sipping hot water with lemon is a great way to mix up your water intake while detoxifying your body.
Plus, it doubles as a hand warmer on those exceedingly cold flights.
My one exception – Delta's Biscoff cookies. And I'm apparently not the only one.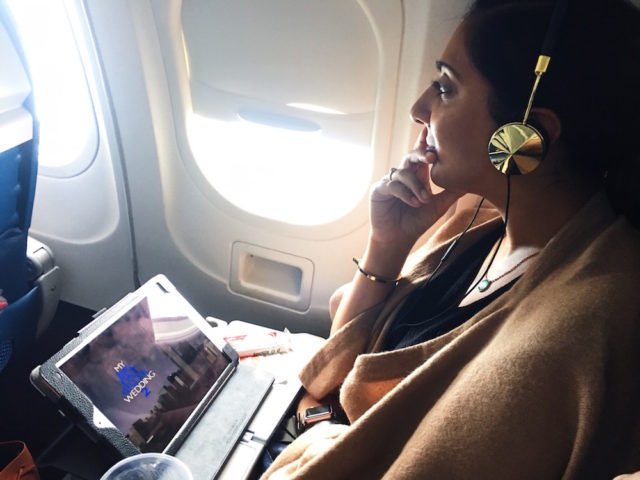 WHAT TO DO
One reason I love my time in-flight is because it's my only time to truly unwind. I may try to get ahead on follow-up e-mail (Gmail Offline is a lifesaver), but I largely treat this as time to reflect and relax.
While I always have several new books downloaded on my Kindle, I'll often forget to download a show or movie to my iPad.
Those are the times when I typically hate all my book options and the flight has no entertainment units – not even those communal televisions.
Thankfully, there are now solutions for this personal issue of mine – in-flight entertainment APPS that bring you the movies and shows, for free, straight to your own device. Specifically, I'm talking about Delta's new Free In-Flight Entertainment selections, powered by the GoGo Entertainment app..
I'm a new Delta convert, mostly because of location (our new home is closer to LGA and JFK than to Newark). I was quickly won over by…everything. Their planes are in great condition (even those tiny puddle jumpers), their app is beautiful and easy to use, and the service is great for everyone.
Even me, a lowly SkyMiles member with a couple thousand miles to my name.
If I hadn't been a Delta loyalist before, their Free In-Flight Entertainment completely won me over. Like the rest of their digital offerings, the movie and show web pages are lovely and easy to navigate. The GoGo Entertainment app (which can be accessed in the chance your plane doesn't have headrest entertainment units) works brilliantly – great video quality and sound. And even though the options are limited, they're diverse enough to fit every need.
Which is key to know when we travel with Rho next.
SHOP MY TRAVEL ESSENTIALS

What are your tips for a great in-flight experience? Do you have a travel uniform that you swear by? Comment below and let me know!