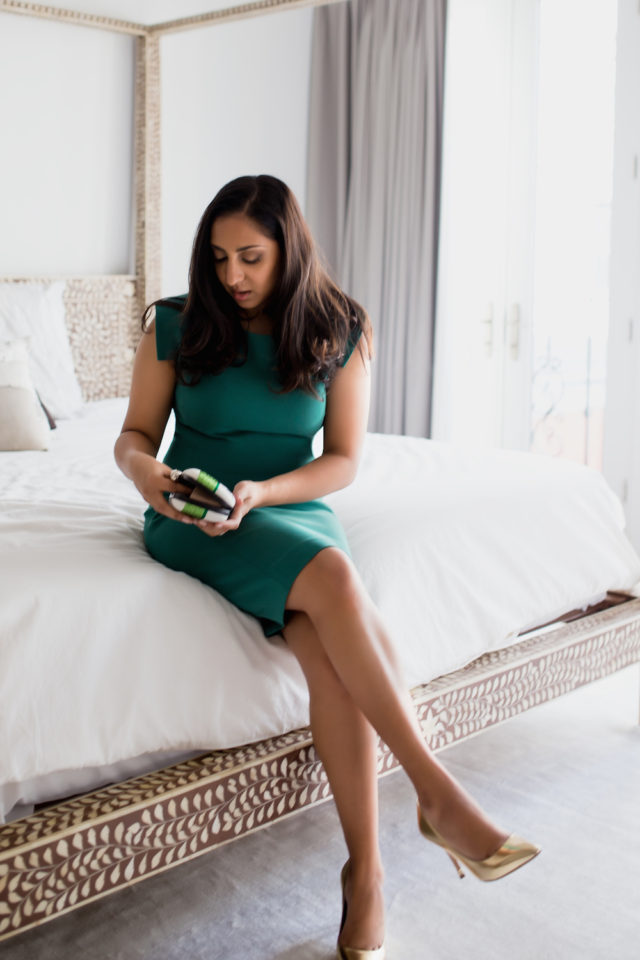 In partnership with MM.LaFleur, who provided photography and styling for this post.
We have all been there.
Standing in front of your closet, just staring. What about this top? Damn, these pants are dirty. What if I end up grabbing dinner tonight? Why can't I just stay in my pajamas, and in bed?
Oh, have we been there.
Here's the truth – you know exactly what you love and what looks great on you. But your closet and your mind are probably not optimized to help you find those tried-and-true favorites.
I know. I've been there. Ohhhh, have I been there.
How and what I pack has actually been the biggest influence on my personal style in the past few years – simple, classic pieces that can handle my getting on the ground with Rho to running out the door for a big meeting.
And while I could write a book about that (oh wait – I did!), I've digested my style philosophy into three easy tips that will streamline your getting dressed routine.

wearing the Foster pant
Tip #1 – One Life, One Wardrobe
Fact – I wear a lot of figurative hats. As do you.
But each hat definitely does not require its own wardrobe. A few select pieces, maybe.
But if the bulk of your closet is filled with single-purpose pieces (a dress you wear twice a year for big reviews, or multiple pairs of shoes reserved for big nights out), you may need to Kondo your closet. Like, now.
My personal rule is that a piece must fit two of my 'roles' – stretchy pants that can be worn at home with a sweater or a blouse/blazer combination for a meeting, a draped top that works with dressy sweats as well as it does with a pencil skirt.
And unless it's crazy comfortable or makes me feel like a million bucks (i.e. have worn before, will definitely wear again), I don't buy or keep.
Extra clothes, particularly the difficult pieces that you keep meaning to wear (but never do), clutter your closet and your mind. When you're looking for a work outfit but stumble onto a sequined skirt or a small clutch, it distracts you from the task at hand – to get on a stylish, comfortable outfit and get out the door.
I'm not saying you have to throw out everything you haven't worn in the past year. But carefully edit your closet and rearrange items so your most versatile, favorite pieces are the ones you see first or reach for easily.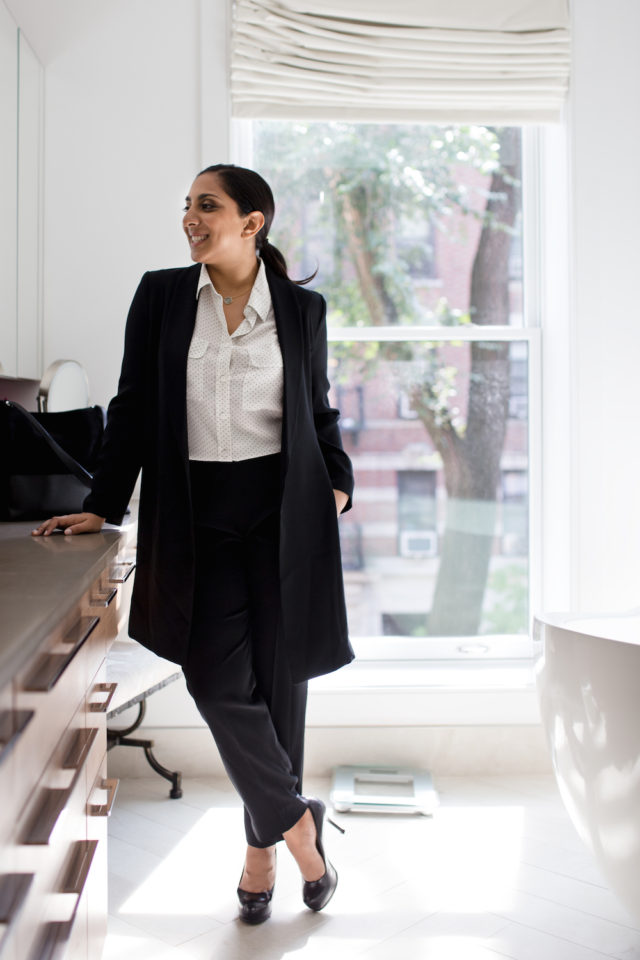 wearing the Nakamura trousers and the Dietrich jacket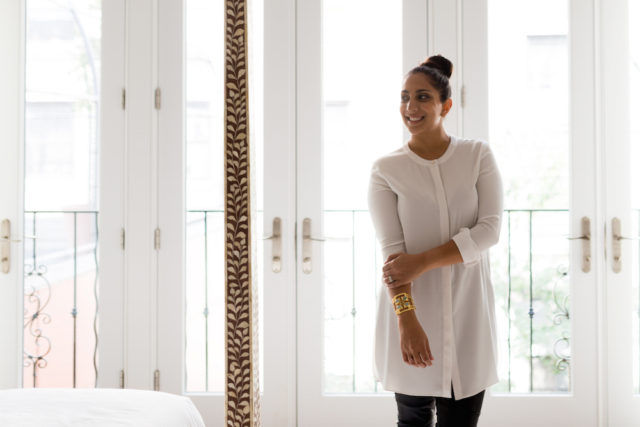 wearing the Austen tunic and Minerva earrings
Tip #2 – Keep It Uniform
Decision fatigue is one of those things you don't believe is real – until you actually read about it.
"Decision fatigue refers to the deteriorating quality of decisions made by an individual, after a long session of decision making."
Reducing the number of decisions I make in the morning has done wonders for my productivity – and sanity. I have three breakfasts I choose from (a smoothie, an egg-in-hole, or Greek yogurt with berries and granola). I do one of two workouts (a ride on my Peloton or a full-body workout from Aaptiv). And I have a uniform, based on what I'm doing that day.
For days I'm working from home, it's a simple top and jeans or dressy sweatpants. I dress it up a bit for meetings/working from Neuehouse days – either leather pants and a long top (the perk of working for yourself!), or a suited look if I have more conservative meetings. When I need to feel like a million bucks, it's a dress. Always a dress.
When I'm really on top of my game, I'll review the next day's calendar the night before and pick out my outfit, shoes, bag, and jewelry. I'll even swap out my bags and have it ready to go.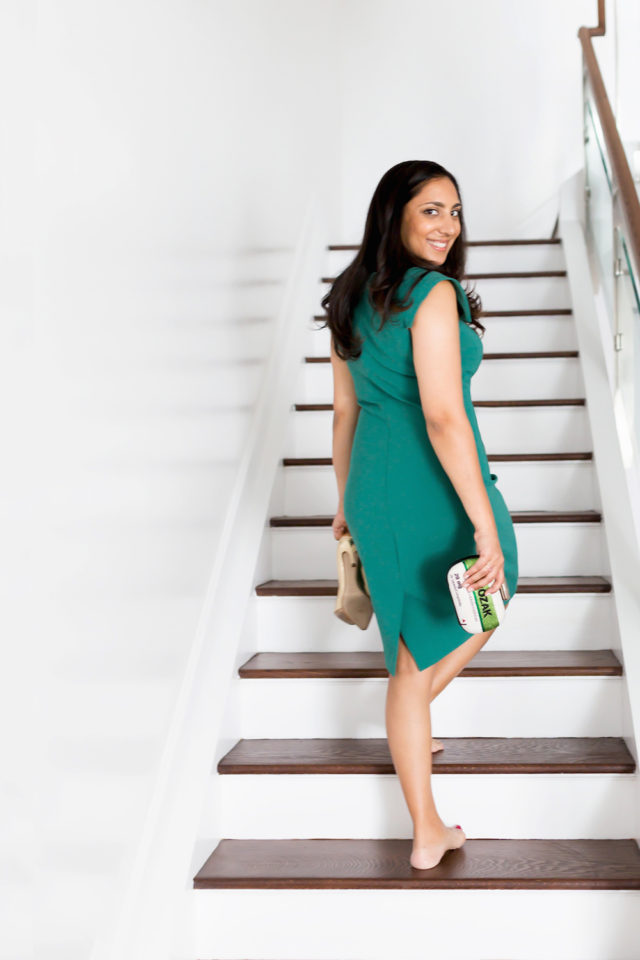 wearing the Sarah 6.0 dress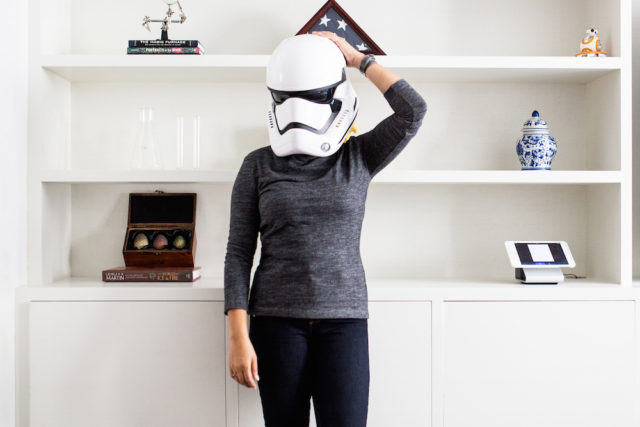 wearing the Winfrey top (and a Stromtrooper helmet)
Tip #3 – Invest In Classics, Save On Trends
Becoming a mother has taught me a lot of things.
Like how I don't have time to shop. And that kid's classes are expensive.
Shopping used to be an enjoyable hobby. Now, it's become purely utilitarian – replace old classics with high-quality new ones, and add a trendy item here or there.
If I can have the clothes come to me with easy returns? Day made.
MM.LaFleur does this the best, with their Bento Box and at-home styling services. Their stylists are committed to making sure every piece you buy will be worn, loved, and complement what you already own. Depending on what I need (a single piece or 5 new fall outfits), my stylist Caroline is ready to help – online, over the phone, or in-person.
It goes without saying that my closet is filled with a lot of MM.LaFleur. But I also swear by Everlane for casual pieces (t-shirts, knits) and Old Navy (for trendy items, jeans, and workout clothes).
I've even started to shop for Rho this way – we have a Rockets Of Awesome box arrive every quarter, and I fill out any gaps with Old Navy separates and pajamas.
What are your go-to tips for getting dressed fast? COMMENT below and let me know!
SHOP MY FAVORITE MM.LAFLEUR PIECES