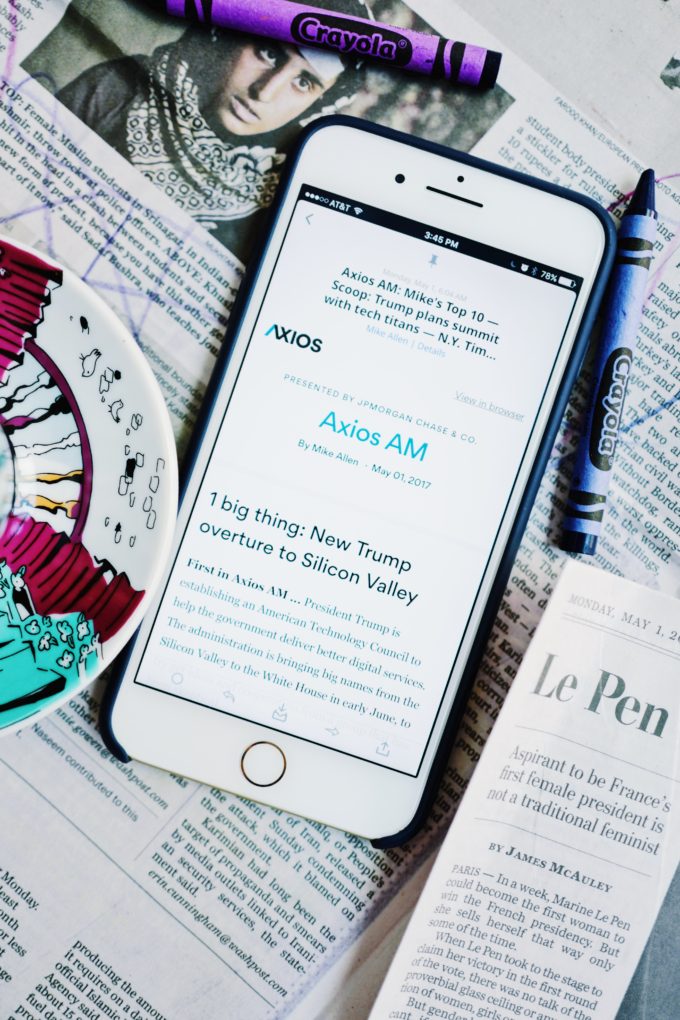 In a perfect world, I would read the newspaper, cover-to-cover, while sipping a latte as my son played quietly with his toys.
My life is far from perfect. Most mornings are spent getting Rho to eat breakfast with a mix of toys, books, and Moana. My coffee is usually drank cold, as I've usually forgotten about it.
And that newspaper? It's usually Rho's canvas for his crayon drawings.
It is what it is. And I'll take quality time with my kid than knowing everything that's going on the world.
But I do like to stay informed. And I do, with the help of these three newsletters (which I end up reading in the subway, or during a break between writing and e-mails).
They're quick. They're well-written and curated. And they don't leave me into a rage monster (which happens after I log into Twitter).
Axios has gotten a rough time from the Crooked Media guys, but I respectfully disagree with them. I find their political reporting to be some of the best right now – respectful to the office of the Presidency and the powers of Congress, but critical of leaders on both sides of the aisle when appropriate. I'm informed (without being pissed off) after reading Axios AM and Vitals (which is focused on health care policy). Their 'stream' on the mobile website is equally excellent, with the TL;DR shown for every article and a smooth 'read more' option. I'll check the stream during my e-mail breaks to catch up on articles I skipped that morning.
Published by Fortune, The Broadsheet is 'the dish on the world's most powerful women.' But it's not nearly as obnoxious as the tagline would presume. The Broadsheet provides thoughtful analysis on the state of women in both the public and private sector, with special emphasis on the corporate and tech worlds. They do an excellent job of curating articles from around the web, beyond the ones published on Fortune. I confess, I'll put on an Elmo video on YouTube for Rho so I can make another cup of coffee and read this particular newsletter.
PolarNews isn't quite as consistent about its delivery as Axios or The Broadsheet, which is a shame because it's my favorite. Each e-mail presents 2-3 issues (a mix of politics and business) and a conservative and liberal take on each issue. I make it a point to read all four linked articles every day, even if the issues aren't of personal interest. I love this concept and the way the PolarNews team curates the news, and I hope they're able to be more regular with their delivery on a daily basis.
These three (four?) newsletters take all of 15 minutes to read. I still read The Economist Espresso every morning and flip through our paper Washington Post on good days. But quickly scanning these e-mails (and related links) helps me feel more informed and more capable of making my own opinion than Twitter alone.
But I still love you, Twitter. I do.
How do you keep up with the news without losing your mind? COMMENT below and let me know!
P.S – some other ways on keeping up with the news. And if you like these newsletters, I think you'll like my #readwithhitha one (delivered every other Monday).