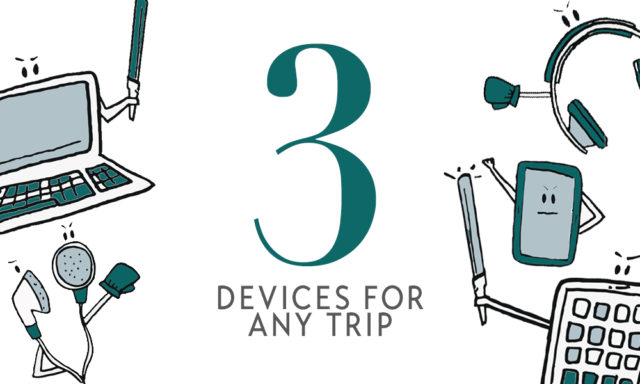 I love a math formula. I also love packing.
And when these two random loves collide, I'm a very happy traveler. And an even better prepared one.
I've shared my favorite packing formulas before  – for your shoes, bags, and even accessories.
And now, I'm bringing my love for numbers to your gadgets.
While Einstein postulated that E=mc squared, I believe that E(lectronics) = 5 essentials = 3 variable + 2 standard.
Depending on the trip, you're going to pack a:
Which one you pick depends on two factors – the type of trip, and the duration of your travel time.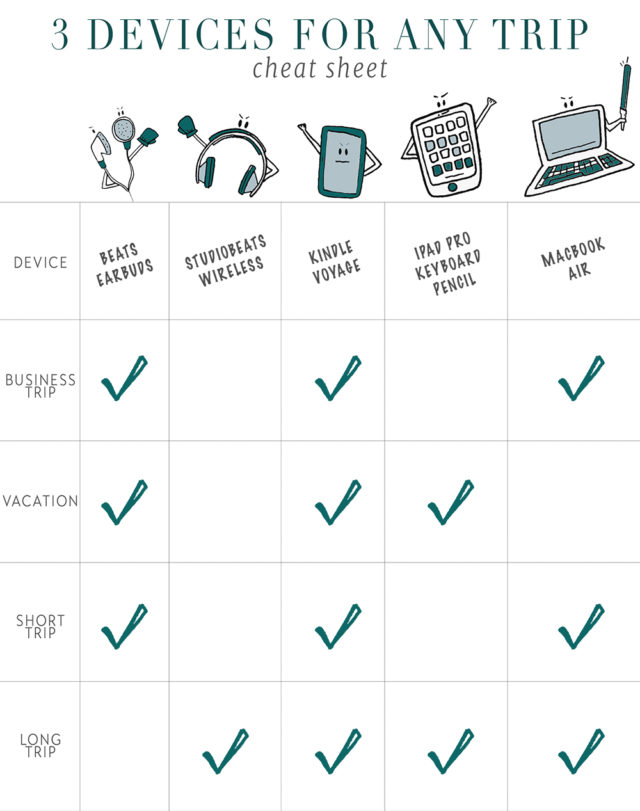 Download this cheat sheet here
Over-the-ear headphones vs. earbuds
I'm a fan of my earbuds, and will usually stick with them.
That is, unless I'm on a long flight. Giant, noise-cancelling headphones are my only savior (along with some movies or an unwatched season of The Americans).
Multimedia Tablet vs. eReader
Confession – I bring my Kindle Voyage everywhere – in my bag when running around the city, on virtually every trip, and even when I'm walking around my home. I'm completely addicted to it.
I'll do everything on my iPad – work, watch shows, read magazines – except for read books. When I'm in the middle of an addicting new novel, I'm on my Kindle. And because it's so tiny, I keep it tucked in my in-flight essentials pouch.
Laptop vs. Tablet
Even though I'm able to do nearly everything on my iPad Pro that I can do on my laptop, I still prefer to bring my MacBook Air if I'm going to be working on a deck, designing elements, or the like.
Aka, any time I'm not on vacation. But when I'm traveling on a long-haul flight, I'll typically leave my laptop in my bag and keep my iPad on hand. Once when the battery is dead or the shows are watched will I swap it for my computer to work.
Charge It Up
Regardless of the trip (a quick train ride to PA, a long haul flight to Australia), I will always pack a portable battery and a multi-USB plug adapter.
It's a small investment (in space and in money) that pays off huge.
Remember that 15 hour flight to Australia with no in-seat power or entertainment? I was totally fine, and it's because I followed this electronics formula to a T.
And, you know, wine.
How do you edit down your electronics for travel? Got any tips or tricks for doing so? COMMENT below and let us know. Sharing is caring.
P.S. – how to pack your electronics with ease.
Illustrations by Laura Palmer
Download the 3 Devices For Any Trip Checklist!
Just enter your e-mail address below, and we'll send it to you shortly.