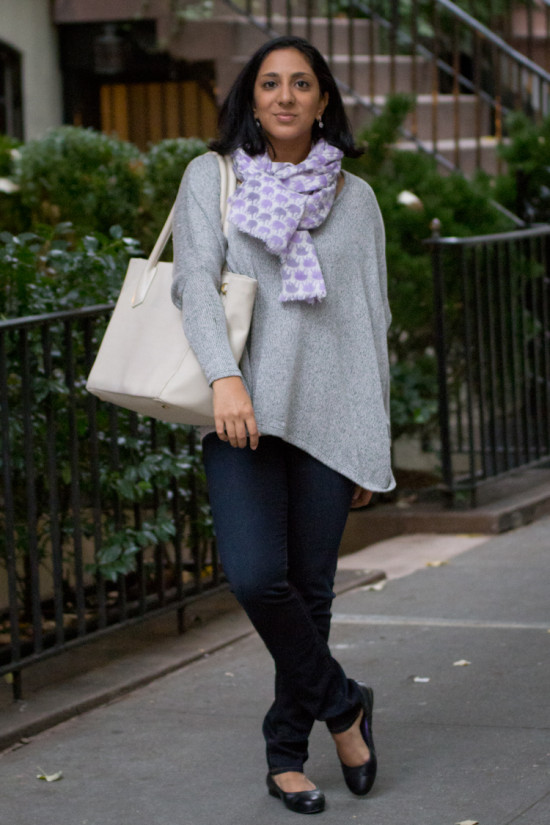 – NastyGal sweater, J Brand jeans, Julie Vos scarf c/o,
Chromatic Gallerie flats c/o, Dagne Dover tote c/o –
Pigs are flying (well, I wish they were).  I finally managed to get an outfit post up, after a long hiatus.
But I have a good explanation.  I promise!
I've wanted to refocus the purpose of outfit posts for a long time now.  Putting up personal style posts for the sake of showing off my outfits was never something I intended to do.  And after two years of including such posts on a regular basis, I was feeling a little burnt out by it.  I want every post on this blog to be purposeful, and posting random pictures of outfits I wear didn't quite meet that criteria.
I've also fallen off the workout wagon this summer and fall, and don't feel great.  Which manifests itself into any pictures I attempted to take over the summer.
Forthcoming outfit posts will be focused on two categories – travel style and work style.  Both categories feel authentically me (if I'm not traveling or heading to a meeting, you can find me in ratty Adidas track pants and a overwashed American Apparel tee – nothing that needs to be shown on le blog), and serve a purpose for you as you navigate the style challenges in those spaces.
So, travel style.  I stick with a uniform of skinny jeans, a loose top, flats, scarf, and a highly organized tote.  I wore a variation of this outfit here, when I flew out to India.  I wore this exact outfit on Sunday night when I flew out to Frankfurt.  And you can believe I'll wear it again next month when my husband and I fly to Shanghai for our long-awaited vacation.
I have to thank Roxy for sharing this sweater with me – I promptly purchased it after posting her ERW feature, and get compliments constantly whenever I wear it when I travel.  Crazy comfortable, and flattering for disguising the post-flight bloat.  This outfit also works for "time-of-the-month" days and "I have to leave the house but don't want to get dressed" occasions.
I'd love to know – what is your travel uniform?  Do you opt for stylish comfort, or one or the other?  COMMENT below and let me know!
Disclosure – I know there's a lot of gifted items in this post, but these are all items that I wear constantly and would have purchased on my own.  The flats?  Feel like walking on air.  The bag?  Genius design and my go-to bag for long days running around the city as well.  The scarf?  The softest, warm without being stifling piece that I can't get enough of.  All are up and coming brands that I'm thrilled to partner with and support – I hope you do the same!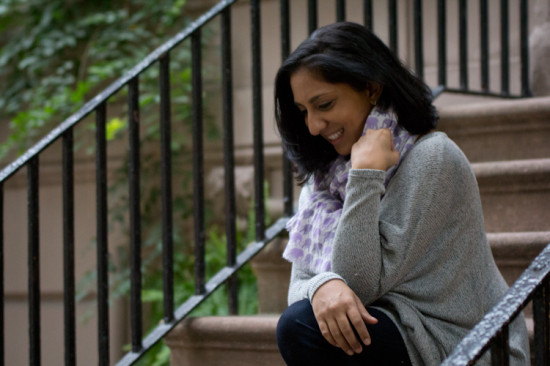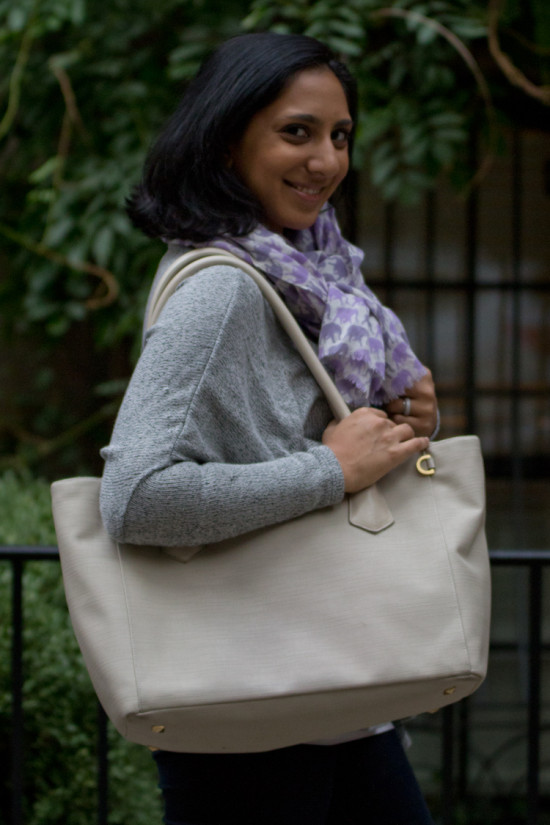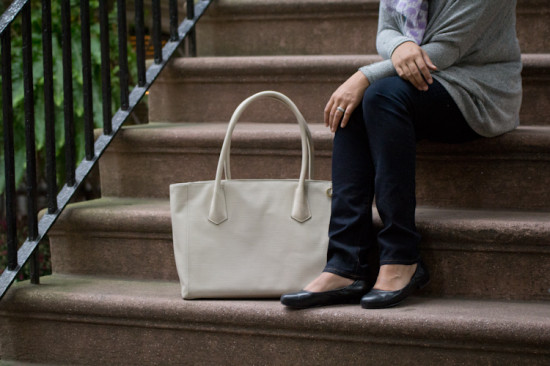 Photography by Victoria McGinley