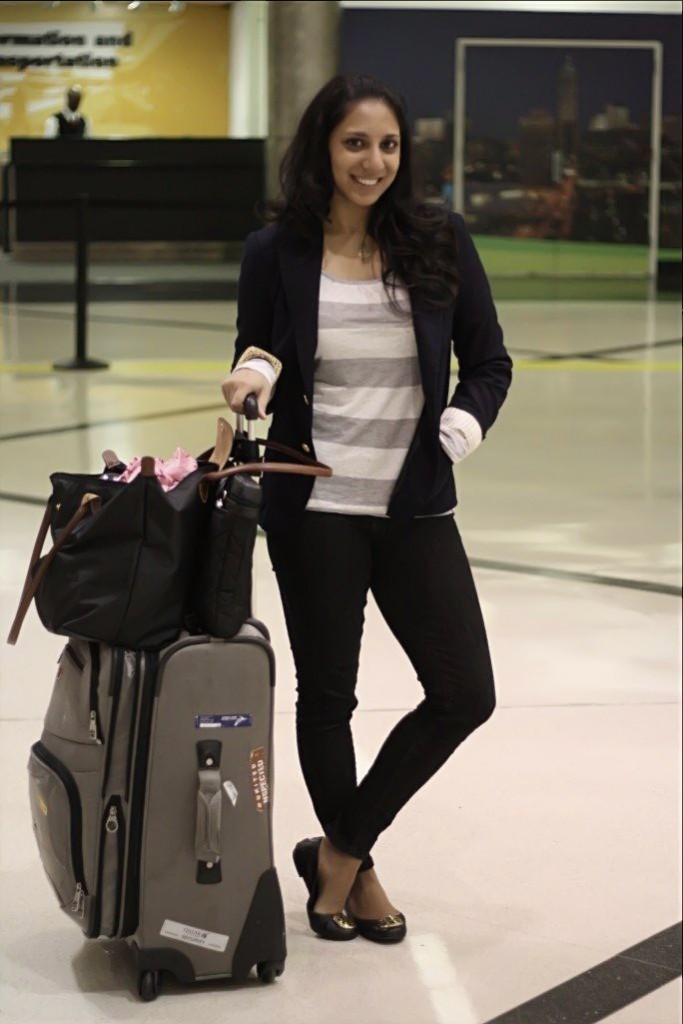 Rugby Ralph Lauren blazer, White House Black Market jeans,
Target long-sleeved t-shirt, Tory Burch flats, Coach watch, Jewelmint bangle
Like everyone, there are things in life that I dread – horror movies, airports without a Starbucks or Dunkin  Donuts, a dying  battery on my phone or iPad.  At the top of the list, however, is terribly long travel days – like Sunday.  Though my flight wasn't until noon, I woke up and headed to the  Atlanta airport  with my husband for his 8:15 a.m flight (mostly because I'd miss him during the week, and also because I needed outfit pictures – sad but true).
Though I had only two flights to board, one was a 7.5 hour journey to Frankfurt, and I'd also have a 6 hour layover in Washington Dulles.  Toss in the weather change between Atlanta and Frankfurt, and this outfit was the result – my trusty skinnies, Tory Burch flats, and Rugby Ralph Lauren blazer, paired with a wonderfully soft striped shirt I picked up at Target a few days before.  Please excuse the dark circles and frizzy hair – it's a casualty of wedding season, perpetual air travel, and 3 hours of sleep the night before.
I'm in Germany for the week (Frankfurt until Friday, and then Berlin for the weekend).  If you have any recommendations in either of those cities, leave them in the comments below!