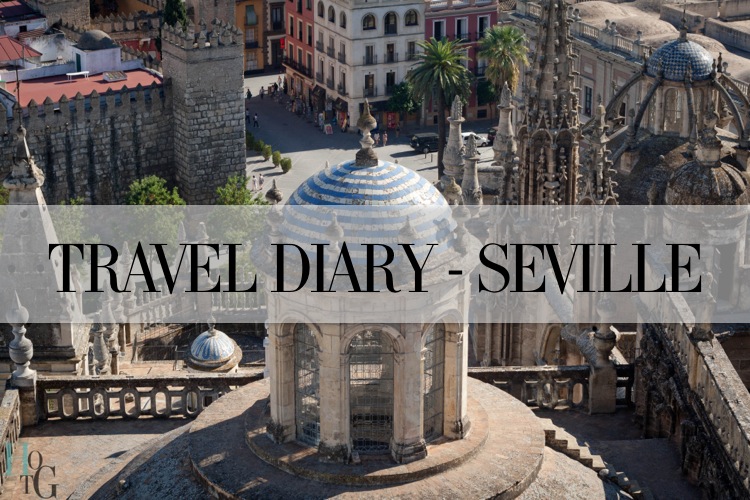 Our trip to Spain last week was a whirlwind – already entrenched in my regular routine, I can't believe I was eating my weight in chorizo and manchego a week ago.
I love visiting Spain.  The people are warm, the history is fascinating (albeit dark), and I can't argue with stopping into a Zara every few blocks.
The first stop in our Spanish holiday was Seville.  Friends rave about it, but never mentioned specifics as to why they loved it so.
After visiting, I completely understood.  And I can't explain it either.
Here's what we did in our too-short trip to Seville.
We traveled to Seville via Renfe, Spain's train system.  Easy, fast, and clean – I highly recommend it.  We arrived right on time and hopped into a taxi.  Our hotel, the AC Hotel Ciudad de Sevilla, was a bit away from the middle of the city, but it was free with Marriott points.  It did, however, sit next to the beautiful Parque de Maria Luisa and boast a rooftop pool.  After showers and e-mail check-ins, we ventured into the beautiful park.
We meandered through the expansive park, snapping pictures and eating ice-cream.  It was filled of families and couples enjoying the beautiful day and the park's monuments, lily ponds, and exotic birds (peacock sanctuary, anyone)?  The Moorish influence can be seen in the Mudejar Pavilion and the Plaza de España – both worth visiting.  They're also conveniently on the way into old town Seville, where we headed next.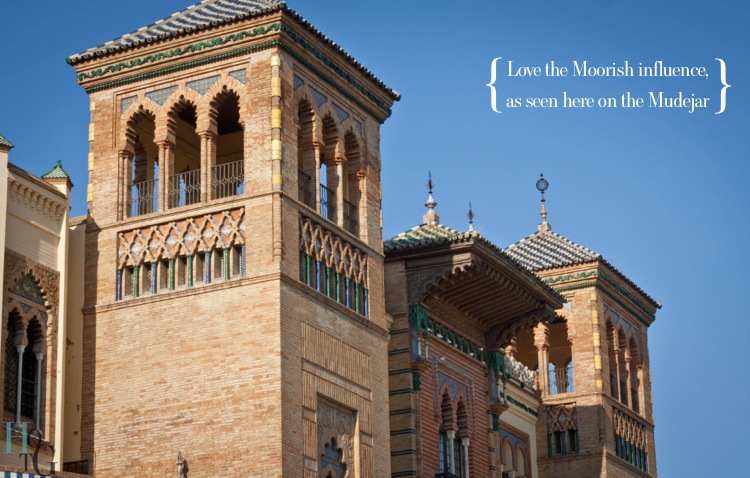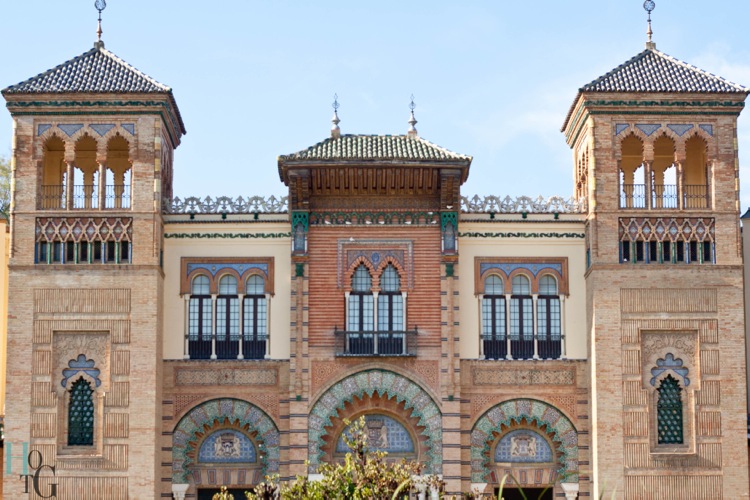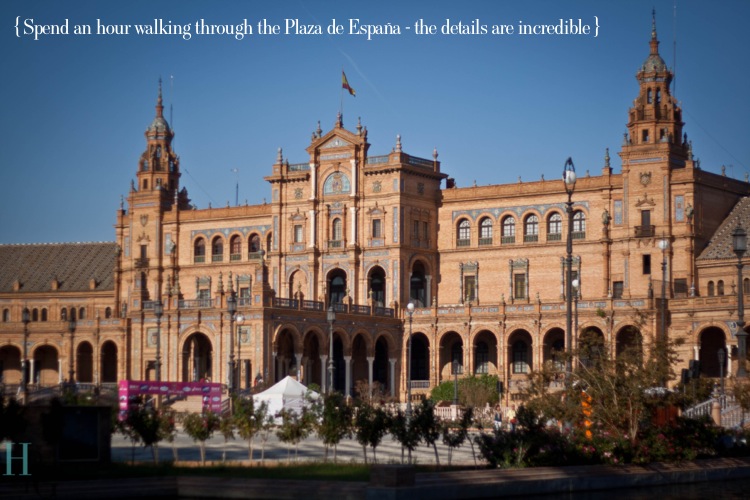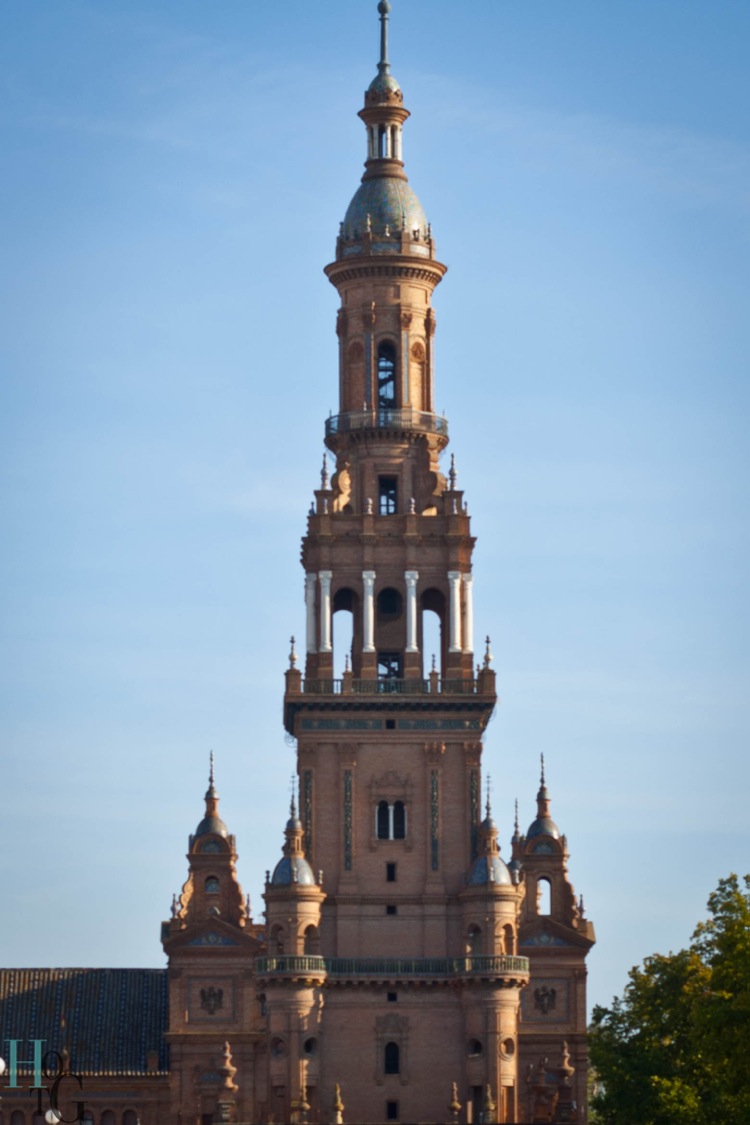 One of our favorite things to do when traveling is do a food crawl, of sorts.  Rather than sitting down for a single meal, we stop at a number of restaurants to share a couple of small plates.  It's a great way to try out numerous restaurants, and to see the area.  It's also convenient when you're lost and need directions (which happened rarely with us – my husband is a great navigator).  We ate our way through Old Town to this theater, where we purchased flamenco show tickets for the following night.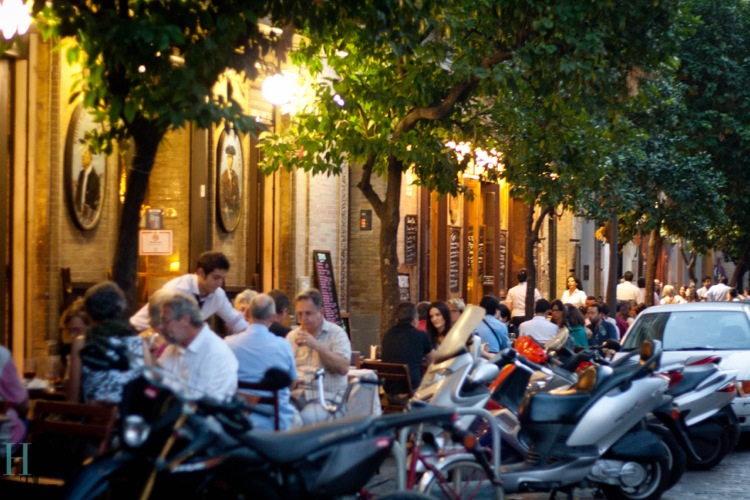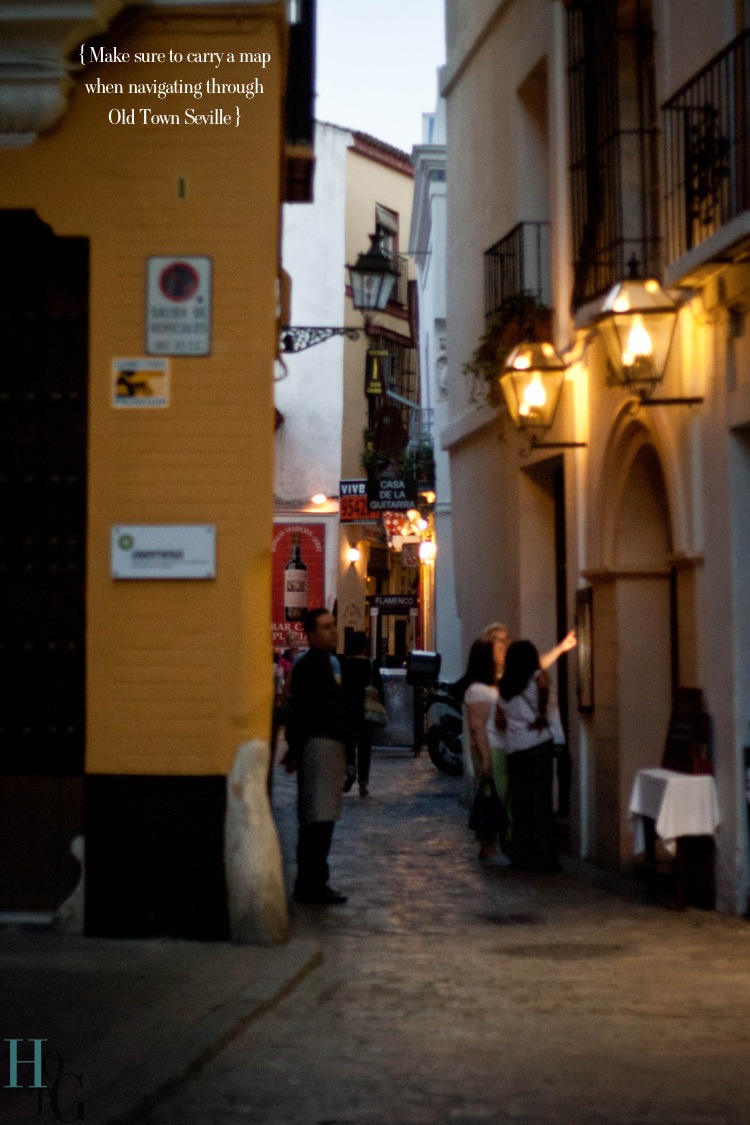 Jetlag hit like a brick the next day.  While we had every intention of getting out of our room early to see the sights, it just didn't happen.  We did, however, fuel ourselves on tapas at Abaceria Cardenal Iludain, just around the corner from our hotel.
Our first stop was the Catederal de Seville – one of the biggest attractions in the city.  And with good reason – the cathedral's complex is huge.   We spent time wandering inside the cathedral, including seeing Christopher Columbus' tomb.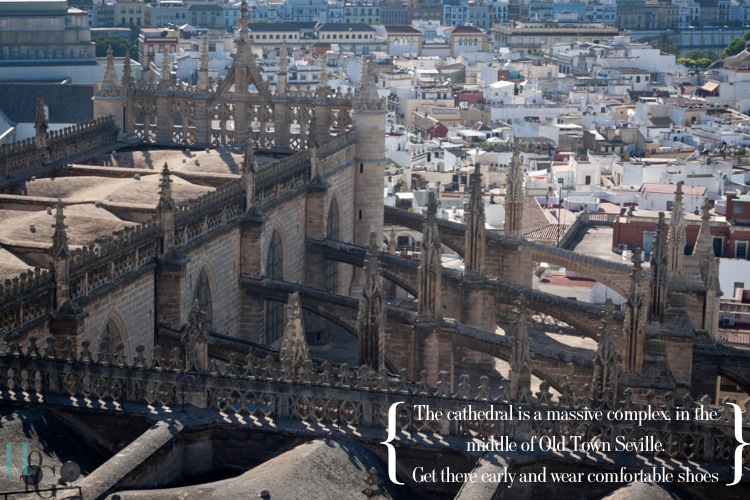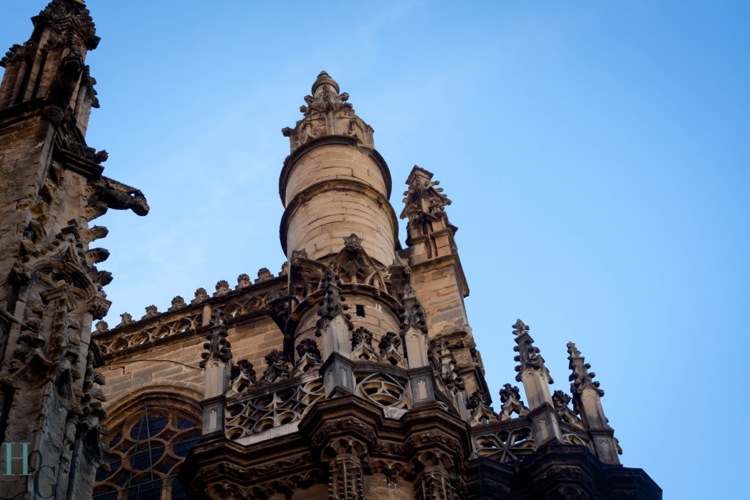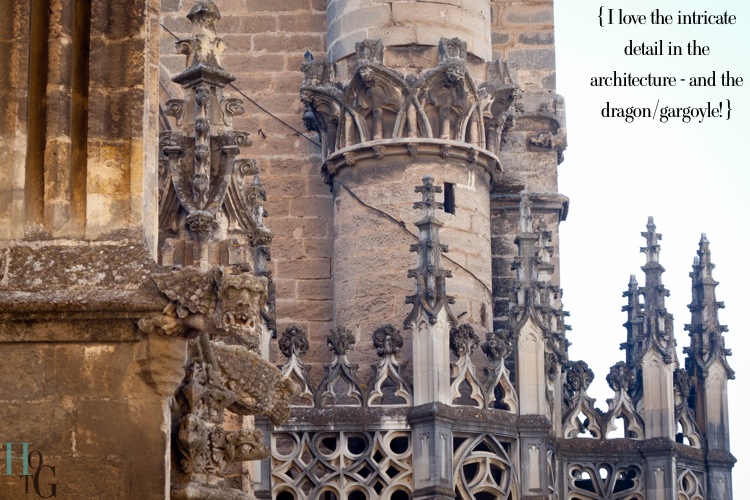 We then ventured to the Giralda Tower (it's a part of the cathedral), which boasts the best view of the city from all angles.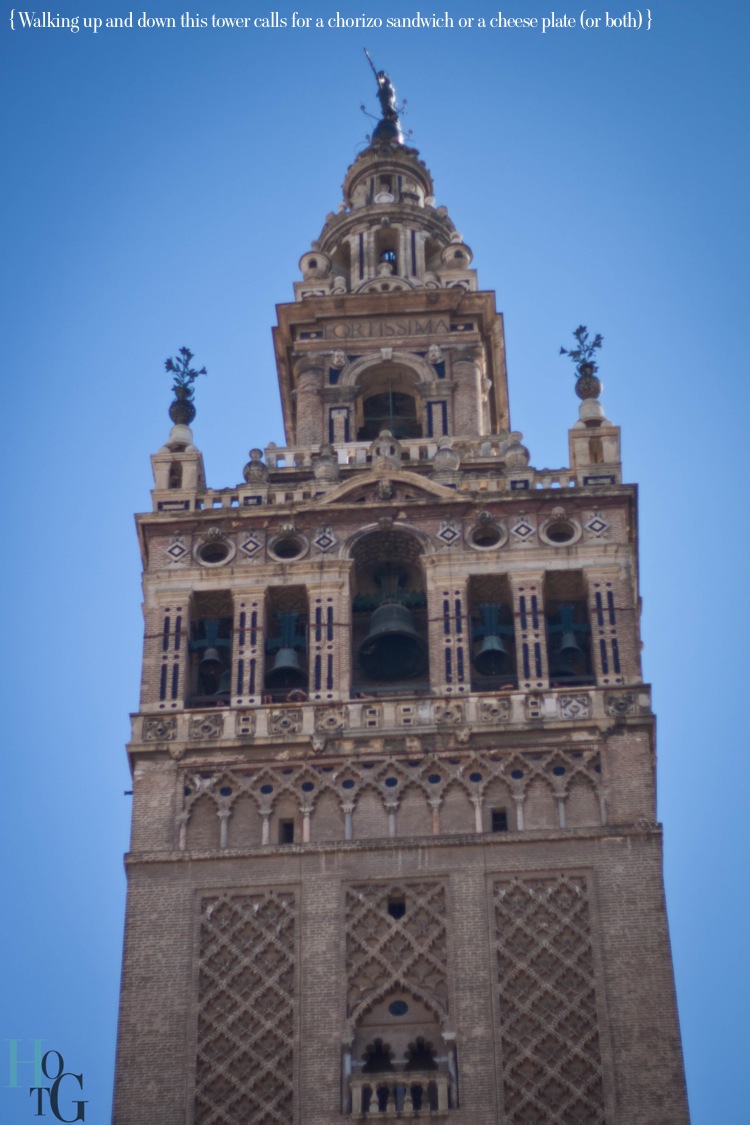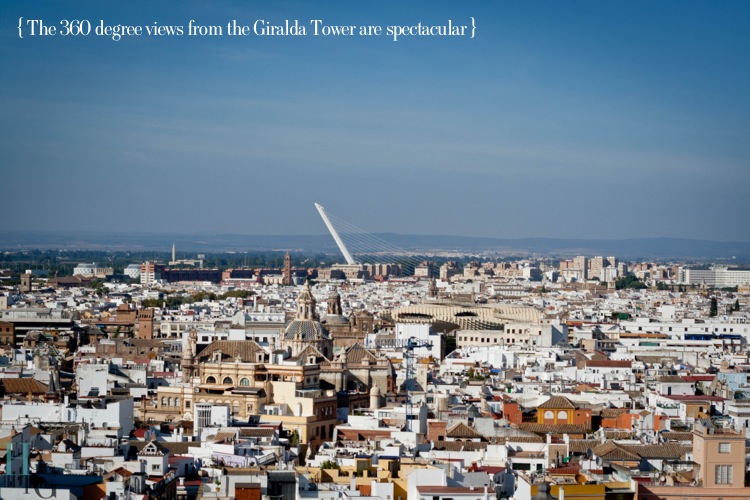 Sadly, we missed the last entry to the Alcazar by a mere 15 minutes.  In any case, it's another reason to return to Seville.
Not hungry, we camped out at a nearby Starbucks (don't judge – I couldn't find any charming local cafes) and read our respective books.  My husband continued to make his way through the Song Of Fire And Ice (i.e. Games of Thrones) while I was glued to J.K Rowling's new novel (a great read).  When hunger struck, we made our way to a tapas place we missed on the previous day's crawl, and sat down to a lovely meal of paella and dessert.
We then went to my highlight of the trip – a flamenco show.  The line starts 30 minutes before the show starts, so get there early to snag a front row seat (we didn't).  While the singer was a bit on the screechy side, the guitarist and dancer were extraordinary.  The show was too short, but exhaustion hit as soon as we walked out, and we hopped into a taxi back to our hotel.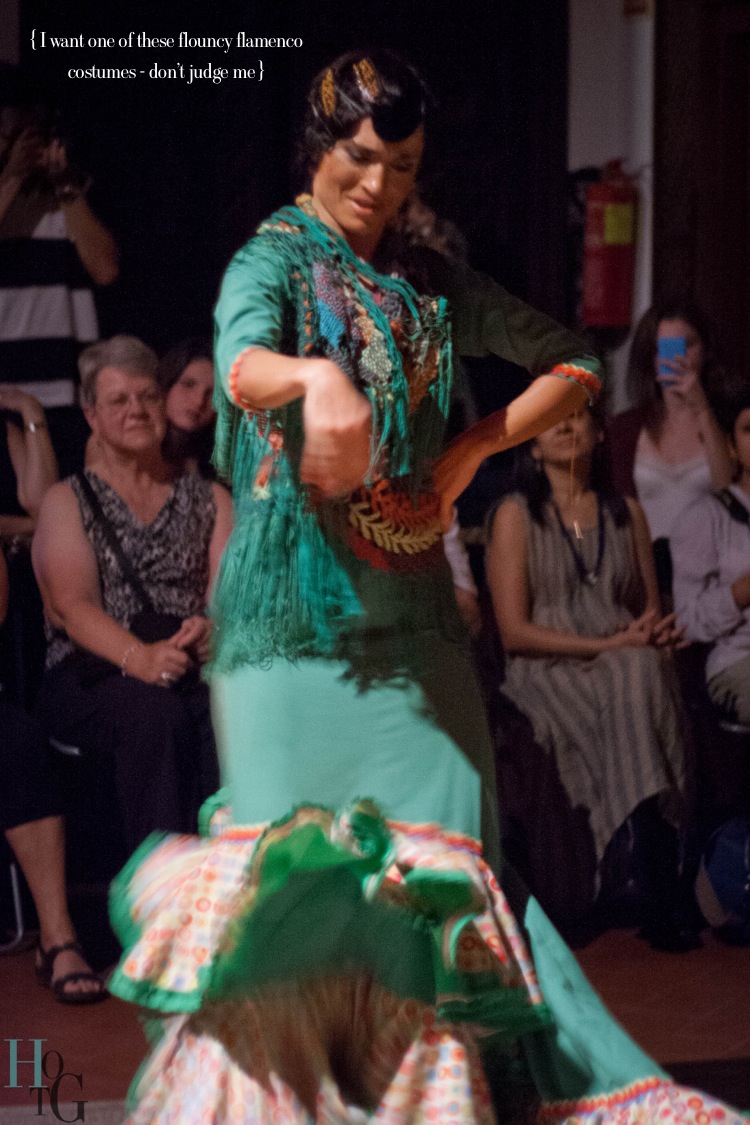 The next day, we left for Madrid – and to the work portion of my trip.  Nothing to report on Spain's capital city – I spent most of my time at the Feria convention hall, and my husband continued to make his way through Book 2 in Madrid's cafes and restaurants.
Barcelona, on the other hand – that was one fantastic weekend.  And for another blog post.