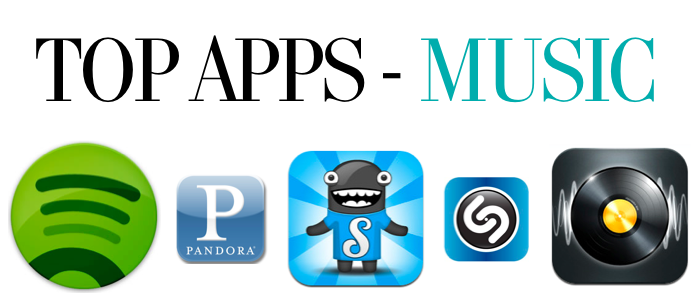 When we got married, one of the toughest adjustments my husband and I had to make was…noise.
If you know me personally, you are aware that I am anything but quiet.  I'm loud, and I like my environments to be as loud as me.
The husband, on the other hand, would prefer stone-cold silence.
Our compromise – music.  These apps saved our lives – and probably saved our marriage, too (just kidding…kind of).
NOTE – these apps are necessary for traipsing through NYC during NYFW.  Spotify is especially necessary, for subway rides.
Spotify is WAY better value than buying music on iTunes, the $10/month Spotify Premium account lets me download thousands of songs onto all my devices.  Currently playing my movie score playlist while working, and the new Bloc Party album the rest of the time.
When I'm in the mood to listen to a specific band/genre, I click on Pandora - and usually to my Movie Scores station (honestly, it's the best music).  My other favorite stations are The Veldt and Bloc Party for walking around the city, 80′s Hair Bands for getting ready, and 90′s Boy Bands any old time.
When I don't know what I want to listen to, Songza is my jam.  I love that you select your mood before picking your music type.  The system has never failed to pick the perfect station.  My hands down favorite, however, is the Vintage Cocktail Party station.  Warning – you will sing.  And dance.
Love the song that's playing, but don't know what it is?  Shazam to the rescue.  It's how I discovered one of my current favorites – The Veldt by deadmau5.
A new discovery is djay - which allows me to indulge in my secret dream of becoming a DJ.  And it's only $0.99 on iTunes right now.  Go download and play with it, immediately.