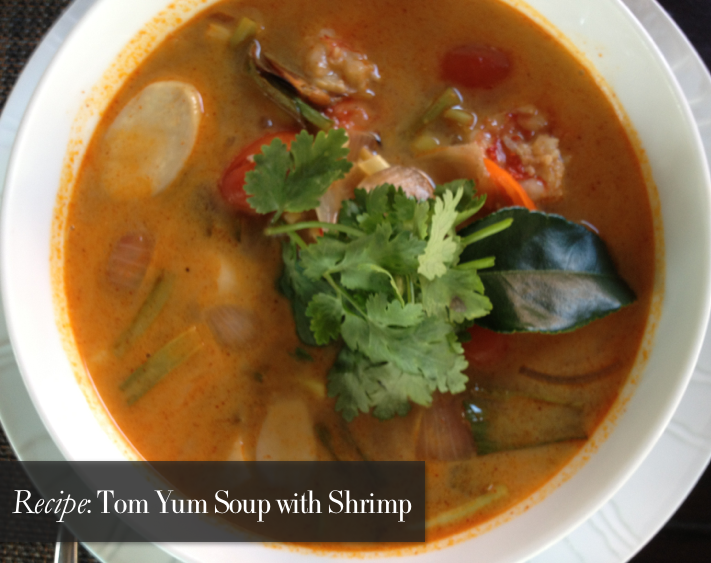 One of the highlights of our Thai vacation was the cooking class.  Being a Thai food fanatic (we order it weekly), I could not pass up the chance to learn how to make my favorites dishes.
It was awesome.  A couple of surprises came up during the class – I discovered how quickly Thai food cooks (win), and that my husband is an excellent cook (double win).
Given the chilly weather that's plagued the Northeast (and a lot of the country – snow in Dallas?!), I figure this soup recipe would be the perfect one to share first.  It's incredibly simple and so flavorful.  The splash of coconut milk is optional, but highly recommended.  Make this in bulk – you won't regret it.
Tom Yum Soup with Shrimp
serves 1
Ingredients
350 mL of vegetable stock
10 grams of galangal (swap: use 1 inch of fresh ginger and 1 clove of garlic, both sliced)
1 stalk of kaffir lime leaves (swap: add two stems of basil + additional tablespoon of lime juice)
5 grams of fresh lemongrass, sliced on bias (there's no real swap for this)
3 jalapenos (for extra heat, add the seeds and pith)
3 pieces of shrimp, raw
5 grams of mushrooms of your choice, sliced (I recommend white button)
1 tablespoon of fish sauce
1 tablespoon of lime juice (or to taste – I like a little more)
1 tablespoon coconut milk (optional, but recommended)
Chopped cilantro, to garnish
Directions
1.  Bring the stock to a boil.  Add galangal (or ginger/garlic mixture), kaffir lime leaves, lemongrass, jalapenos, and mushrooms
2.  Bring soup to simmer and add the shrimp, cooking until pink.
3.  Add coconut milk, lime juice, and fish sauce and let simmer for 10 minutes.
4.  Garnish with cilantro and serve.
If you don't have an Asian grocery close by, I recommend ordering from this online shop - it has all the ingredients mentioned above.  Order in bulk, chop the vegetables, and freeze them for future uses.
Coming up soon – my recipes for pad thai, green curry, and peanut sauce!  I'd love to know – what's your favorite Thai dish?