Thanks to your votes, I'm sharing with you one of my all time favorite travel tips - only pack 3 pairs of shoes.
"What?!?" you ask.  Yes, that's right – just THREE pairs of shoes.
It's quite simple, really.
During a typical business trip, I'll pack my travel sneakers, a pair of heels, and a pair of flats (either ballet flats, ankle boots, or sandals, depending on the weather).
During a tropical vacation, it's the aforementioned sneakers and two pairs of sandals – one dressy and one casual.  I may swap a pair of sandals for a ballet flat.
For this recent vacation, I bent the rules a bit and allowed myself an extra pair of shoes.  I packed these Rag & Bone ankle boots, Ferragamo flats, Dolce Vita sandals, and my travel sneakers.  It was a three week trip with two different climates.  Another pair was justified.
Don't believe me that three pairs are all you need?  I'll prove it to you: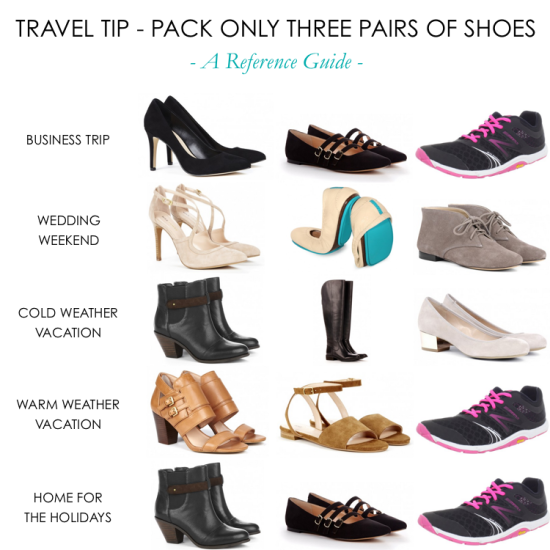 { 5 comments }