Confession #1 – I am a Bravo show junkie.  Housewives, food shows, real estate…I love it all.
Confession #2 – If a Bravo person writes a memoir, I will most likely purchase and read it.
There are a bunch that have come out recently.  And here are my favorites.  They all make for perfect summertime reads – but I advise to keep What Remains for a rainy night in…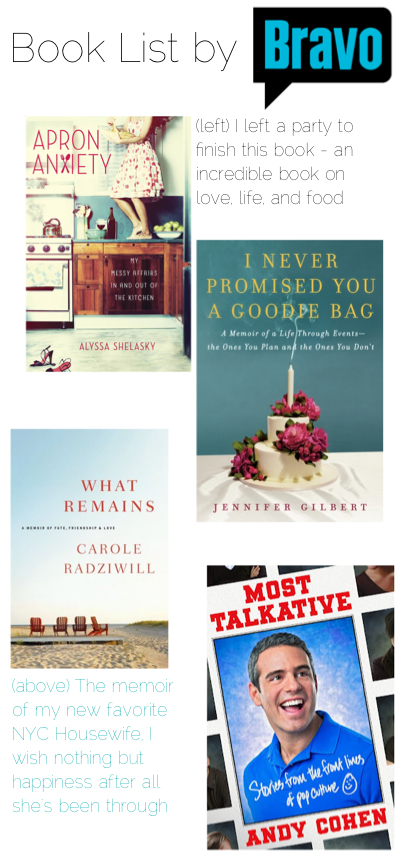 Apron Anxiety – While she's not a direct Bravolebrity, Alyssa Shelasky's tome of love, life, and the pursuit of finding her way through the food world involves one of my favorite Bravo personalities, who she dubs "Chef".  I've had the pleasure to interview Alyssa before, and her book reads as if she's telling you the whole story over a steaming bowl of fresh pasta and a (few) glass(es) of wine.  The recipes are fantastic (THE pasta is delectable), and the story is addictive.
I Never Promised You A Goodie Bag - I wish Jennifer Gilbert was made a permanent cast member of Real Housewives of New York City – I always enjoyed her quick wit and easy grace in handling all the crazy that was Jill, Ramona, and Kelly.  After reading her book (on my iPhone during spare moments in Russia, no less), I wish even more that she was added to this new season (which I love, but more on that later…).  Jennifer suffered a hellacious start to her post-college life, but her tenacity and grace in bouncing back and becoming one of NYC's top event planners is nothing short of inspirational.  Hey Bravo, if you're looking for a new show to replace the Atlanta Housewives (so over them), I suggest throwing one in Jennifer's and Save The Date's direction…
What Remains - Time for Confession #3 – A large part of my 60s obsession is with Jackie O and Lee Radziwill.  So when the new NYC Housewives were announced, I immediately downloaded Lee's daughter-in-law's memoir, and immediately inhaled it.  Her heartbreaking story of the loss of her husband, best friend and her husband within weeks of each other is tear-jerking, but also incredibly hopeful.  I've already deemed her my new favorite Housewife, and can't wait to see her aptly tame the crazy this season.
Most Talkative - You can't be a Bravo diehard fan without adoring the executive on the front line, Andy Cohen.  When waiting in some airport, I quickly devoured his funny stories of celebrities and poignant musings on coming out.  He dishes on everything you've wanted to know about your favorite Bravo personalities.  Read with your favorite cocktail and pick your own word to play the WWHL drinking game (assuming you're of legal age, of course!)
What are you reading this summer?  Share in the comments below – I have some long flights, and need to stock up on my Kindle app.
{ 3 comments }