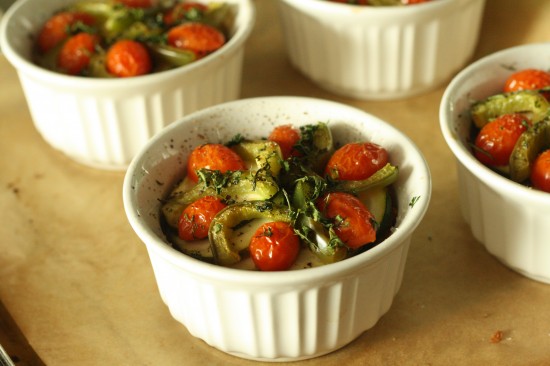 My favorite dishes to make are ones that are quick to prepare and use up my fresh produce right before it spoils (a peril of the on-the-go lifestyle).
Quinoa ratatouille is just that – a gold medal winner, in my book.  It's also damn tasty, healthy (vegan AND gluten-free), and a perfect way to use summer produce.  I used tomatoes, bell pepper, and zucchini, but you can swap in whatever you have on hand.
Tiny Chef Rat not included.
Quinoa Ratatouille
serves 4 as a side dish, or 2 very hungry people.  Adapted from here
Ingredients
1 cup quinoa, dry
2 cups vegetable broth
1 container cherry tomatoes, sliced
1 large zucchini, sliced
1 green bell pepper, chopped & sliced
2 sprigs of fresh rosemary
Sea salt & freshly ground black pepper, to taste
Olive oil
Directions
Preheat oven to 350 degrees F
Rinse quinoa, and cook in rice cooker/stovetop with vegetable broth
While quinoa is cooking, chop vegetables to same size
Brush olive oil in 4 ramekins / 1 baking dish, and place on a baking tray
Once quinoa is cooked, spoon into ramekins / baking dish.  Arrange vegetables on top in design of your choice
Sprinkle tops of vegetables with salt, pepper, and olive oil.  Snip rosemary on top of vegetables
Bake in oven for 30 minutes
{ 1 comment }