Thank you for the great comments on Wednesday's post – it really makes me happy to read your comments to my posts. I also loved the questions about the brown duffel shown in the photograph.  Great luggage can often be expensive (and if you travel a lot, worth it!).  But given that I'm all about a steal, it inspired me to put together a Splurge or Steal post on travel essentials. Let's dive in!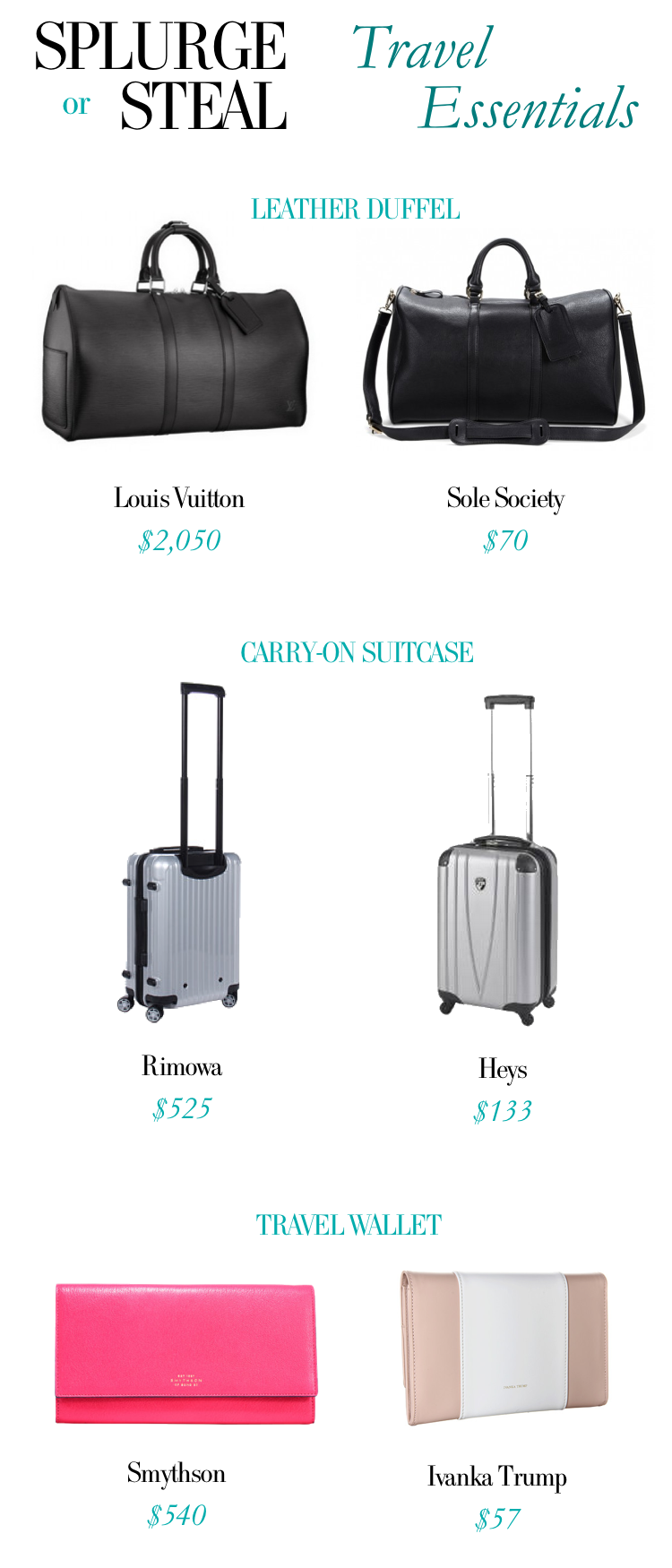 DUFFEL – SPLURGE // STEAL
SUITCASE – SPLURGE // STEAL
TRAVEL WALLET – SPLURGE // STEAL
While real leather is preferable for a duffel (it'll hold up forever and ages beautifully), it can be a strain on the budget.  It's no secret that I'm a huge fan of Sole Society, and I couldn't endorse this faux leather duffel more highly.  It feels like the real deal, but is a mere fraction of the price of the classic Louis Vuitton version.  I'm itching to add a Rimowa to my  luggage collection (this one in particular), but my Heys four-wheeled spinner has held up beautifully for the past two years (and 200,000 miles) it's accompanied me.  When it comes to travel accessories, no one does it better than Smythson. But this Ivanka Trump travel wallet offers the same organizational features as its splurge counterpart, with a fraction of the price.
You may be wondering why I haven't included a tote in this.  For me, there's no comparison to Lo & Sons totes.  And I have a special surprise for you on that front…on Monday.  (But my newsletter fans will get the goods later today, so be sure to sign up!)
Talk to me – what are your travel essentials?  These are mine, and I also throw a warm scarf (Julie Vos makes some of my favorites) and noise-canceling headphones (stay tuned for a splurge or steal on that front as well).