It's no secret that I get obsessed with a certain topic, and read obsessively about it (see my other reading lists for examples).  My obsession with Indian literature and memoirs has been an amicable on-and-off again relationship that has resumed once again.  While there are a number of books written about India, these are my absolute favorites.  Download/purchase them immediately, and let me know what you think – and please share some of your favorites!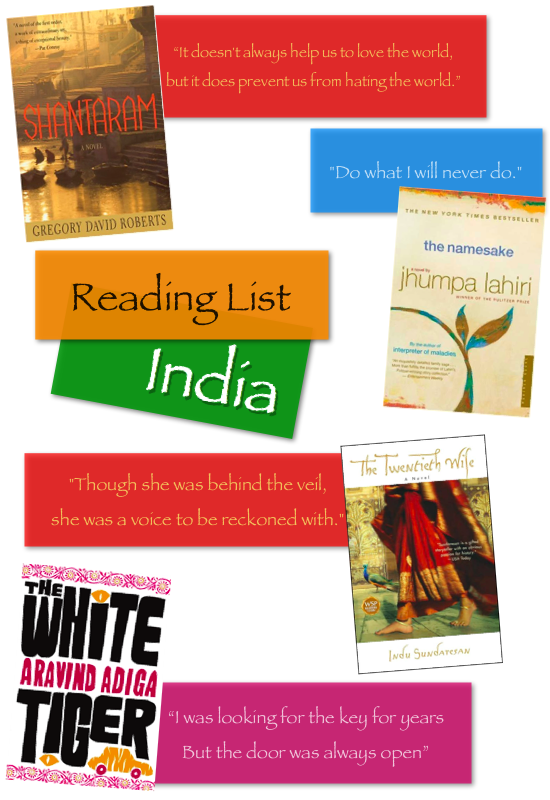 Much of my on-off again with Indian books was around reading Shantaram (over 1000 pages!).  However, once I got through about a quarter of the book, I couldn't put it down.  I don't want to divulge too much, but it paints the reality of India's poor in a beautifully heartaching way.  Read it.
And in case you need another reason – Johnny Depp is rumored to play the lead in the film.
While this book is more focused on the experience of first and second-generation Indian-Americans, it makes the list for its beautiful writing and its poignant story.  For me, it's an incredibly personal book – the experience of Gogol's parents and my parents are one and the same, and the book shed a lot of light on the struggles my parents overcame before I entered the picture.  The movie is equally well-done – it left my entire family sobbing during the film.
I've never read a book quite like this one – and I don't think I ever will.  The 2008 Booker Prize winner is a self-narrated, rags to riches story – but with a cruel, class system, murder, and one witty protagonist.  Like Shantaram, it glimpses into the world of the poor in India, but in a humorous, shorter tome.
Historical fiction junkies – here is your book.  The tale of the stepmother to Shah Jahan (who built the Taj Mahal), Mehrunnisa's tale is one that engrosses you from the first chapter.  There's war, conspiracy, murder – and yes, romance, which makes it the perfect beach/vacation read – for both men and women.
This wraps up India Week on Hitha On The Go – I hope you enjoyed reading these posts as much as I did writing them. I'm back in New York next week, and happy to be Hitha-In-One-Place for some time…