A few things I'm obsessed with this month…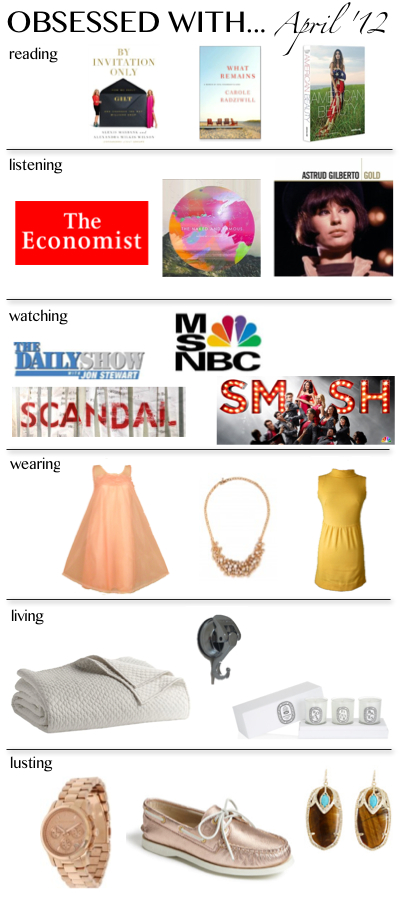 As a major Gilt fan, I'm very excited to read the story behind the site – By Invitation Only was just released yesterday.  What Remains is the memoir of Carole Radziwill, daughter-in-law of Lee Radziwill (sister to Jacqueline Kennedy Onassis) and the newest Real Housewife of NYC – the book is compelling and heartbreaking all at the same time, and fully worth reading.  Curling up with a cup of tea and a glossy photography book has been my favorite afternoon break, and I love the portraits in Vogue photographer Claiborne Swanson Frank's American Beauty.
My husband is an avid reader of The Economist, but I have a hard time reading it every week.  Listening to it on the iPad version is much, much easier.  The Naked and Famous is a recently discovered band, and their album Passive Me, Aggressive You is one I've been listening to on repeat.  Sunny days call for bossa nova, and there's no one who does it better than Astrud Gilberto.
I've outlined my love for The Daily Show here, and am still as addicted as before.  MSNBC has been playing in the background during my work-from-home days.  I'm newly addicted to Smash (way better than Glee) and Scandal – total brain candy goodness.
My vintage kick has resurged with a vengeance – I blame you, Mad Men.  Whether it's nightgowns or yellow clothes from the 60s, I've been buying it up like its my job.  I've been wearing this necklace (in silver) nonstop – it goes with everything.
As spring has arrived, so has new bedding from west elm – loving the Lexington quilt and shams on my bed.  These suction hooks are holding up my pots and pans above my stove, making my teensy kitchen even more functional.  I've stocked up on these Diptyque mini candles and placed them throughout the apartment, making my home smell delicious.
As always, I have a wish list (ahem, husband – birthday is in a few months).  Having no rose gold items, I'm looking to stock up with them in a big way – this Michael Kors watch and these Sperry topsiders are a nice start, I think.  And how gorgeous are these Kendra Scott earrings?  It's the perfect piece of jewelry for summer, in my opinion.
What are you obsessed with this month?