One tweet.
That's how I met Virgin founder and billionaire Richard Branson.  Because of one tweet.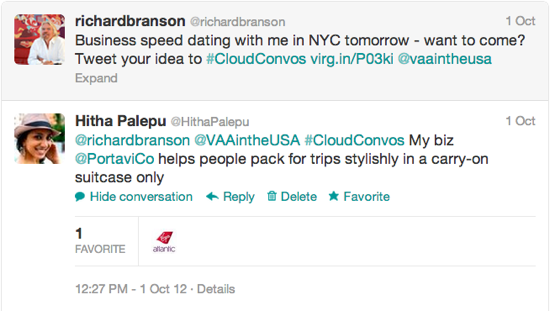 Sir Branson and Virgin Airlines were hosting a contest, where five winners would get five minutes each with the Virgin mogul and his panel of entrepreneurs.
I tweeted the above message on Tuesday afternoon, and promptly forgot all about it.
That evening, via Twitter, I found out that my humble Portavi made the cut.  And promptly exclaimed "Are you sh!%ing me?!" in the cab, on our way to dinner.
I thought it was a joke.  My husband thought I was crazy.
But it was, indeed, real.
So on the rainy, gloomy day that was Wednesday, I made my way down to the Financial District, where Virgin had set up an Upper Class bar in the middle of Wall Street.  Four other entrepreneurs waited behind the setup, eager to meet the Virgin founder.  The Virgin team scuttled about, preparing for the #CloudConvos event and for their boss's arrival.
After waiting (what seemed like an eternity) in front of The Setai hotel, I gingerly walked up the slick stairs to the Upper Class bar, where Branson and the two other entrepreneurs were sitting (with champagne and snacks, no less).  A microphone was handed to me.  Show time.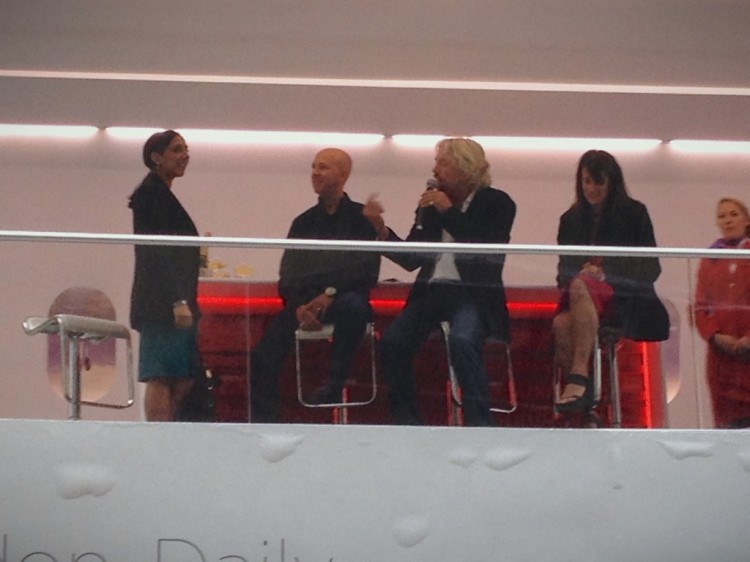 I asked my questions.  I got some great advice.  I pitched a partnership – to which he said yes.
Time will tell what a Virgin-Portavi partnership will be, but it was an incredible experience.
And that, dear readers, is the day I met Richard Branson.
It was a good day.