Did you sign up for the Portavi Company newsletter?  If not, you're missing out!  I featured some of the things I packed on my recent Puerto Rico vacation, and am sharing them with you all here.
Here's what I packed in my lovely Send The Trend beach tote (mine's sold out, but I love this one)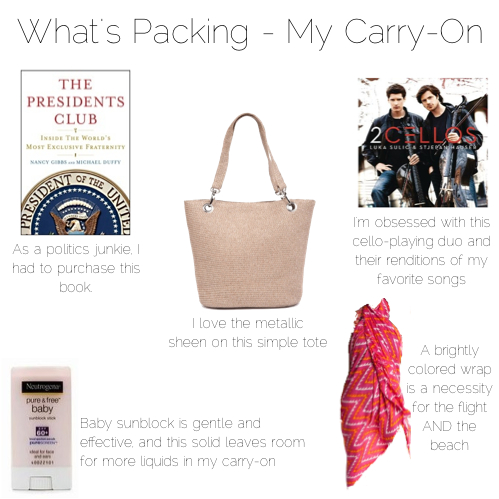 I'm fully obsessed with the book President's Club – the history of relationships between then-current and former presidents, starting from Harry Truman.  2Cellos is a new favorite musical duo of mine – I love their string renditions of my favorite songs.  A bright wrap is a must for a beachy trip, and I've been wearing this pink and orange scarf from Sir Alistair Rai nonstop.  Baby sunblock is easy to apply, incredibly effective, and the solid form doesn't count against the liquid allotment in my suitcase.  These items + multiple mojitos = one happy Hitha on the beach.
I love items that have multiple uses, and this argan oil does just that.  I keep the big bottle (1.7 oz) at home, and the mini version is a mainstay in my Ziploc bag of liquids.