If you're a frequent reader of my blog, you know that most of my outfit posts are shot by the talented Lydia Hudgens.  In the year we've worked together, Lydia's also become a close friend and a workout buddy (both of us are newly addicted to Holly Rilinger's Flywheel class).  A California native, she jets between NYC and CA often.  In fact, she's headed back to California now, thus being a great time to feature her travel routine.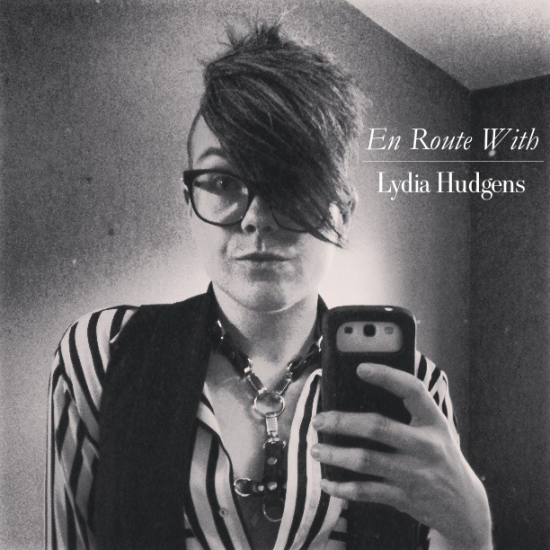 Lydia Hudgens
Photographer
I'm always an overpacker. ALWAYS. I tend to travel with the biggest bag, plan a dozen or so outfits & then wear about zilch of them. I usually bring about four pairs of workout clothes, numerous jeans & shoes, etc. etc. & it's a hassle & a half. I'm learning though! This time I literally planned EVERY outfit, picked things that I could mix & match & am proudly only bringing a pair of doc marten boot heels (which are literally my favorite pair by the way, I can actually WALK in them & have spent days pounding away up hills in SF & have never had an issue), flats & one pair of chucks! Took notes & made plans as to what to bring this time around, very virgo! No real boots (huge step & milestone for me since I basically live in them) & am only bringing two jackets & layering pieces to wear over the top of everything. Layering is key in SF & since I lived there for over 7 years, I'm used to the weather & it's best to be prepared! I'm typically a folder & normally just grab whatever bag I have – which is a rolling suitcase that really should be replaced sometime soon but is so ugly & outdated that it usually stands out & is easy to spot when it's time to grab & go. This time I'm traveling with my bag, my camera backpack (that stores my laptop & all my equipment) as a carry on & a purse. Doesn't sound like a whole lot but the camera backpack is pretty hefty and since I'm working the majority of my trip in SF this time around, I need to have everything on me. I also used to work for a gym in SF so I'll no doubt be hitting up the gym quite a bit while I'm in town. Those who know me know I'm an avid gym goer (& FLYWHELLLLLLLL girl) so I can't have a vacation without sweating.
I like to be early. Actually if you know me, I'm early regardless of where I am going. I don't like to be in a rush or hassled or stressed out in any way possible. It's weird but maybe it's the punk kid in me but I still get a little weirded out going through security – plus there's always the shaved head to consider ! But generally they are super nice to me & I do feel like being as outgoing & generous & forward as possible is always the best policy. I normally camp out right next to the gate & either play around on my laptop or read a book (WOOOO – new kindle so you know that'll be my plan of attack this trip!). I usually always visit the ladies room right before, just because I hate using the small bathrooms.
I used to bring my laptop & try to work but usually get nothing done. Reading is always a better policy for me & listening to music, or trying to take a nap – & I'm normally always at the window. I like having something to lean on & look at during the flight & yes, usually snapping away with my phone, the photog in me has a genuine love for clouds. Although admittedly I'm TERRIFIED of heights so I always close the window as we're taking off & usually close my eyes. But I like knowing I can see the ground first ! I usually just drink water & typically bring my own snacks, generally protein bars or fruit or nuts.   A comfortable pair of shoes, boyfriend jeans (LOVING my J.Brand from Otte), & a large drapey cardigan (my favorite that I own in numerous colors is from Aritiza it's seriously amazing, super soft & comfortable but has a structure to it that works amazingly well with casual outfits & dressier ones too) that can be used as a blanket if necessary & usually some kind of circle scarf. I normally like to wash my hair the day before I go somewhere, since I hate bringing a ton of hair products with me & my hair usually can last about 4-6 days without washing as is. Thank goodness for Tim @ Arrojo & his skills – this time around I'm getting a hair cut & a blow out ;) I also always pack my own moisturizer in small sample pots so it's easier to take on my carry on just in case I need a  little touch up (love LUSH's Gorgeous) or face wipes to freshen up.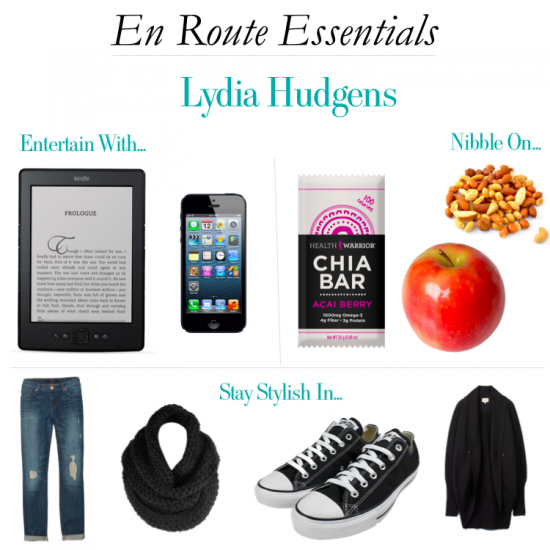 Entertain With…Kindle & iPhone
Nibble On…Health Warrior Chia Bars, fruit & nuts
Stay Stylish In…J.Brand jeans, a circle scarf, Converse sneakers, Aritzia sweater
Thanks for sharing your travel routine, Lydia!  Hope you have an amazing time in San Francisco.
If you travel a lot (or a little!), I'd love to feature you in this series.  Shoot me a note if you're interested in sharing your own En Route With story!   If you like my travel posts, be sure to sign up for my newsletter as well.