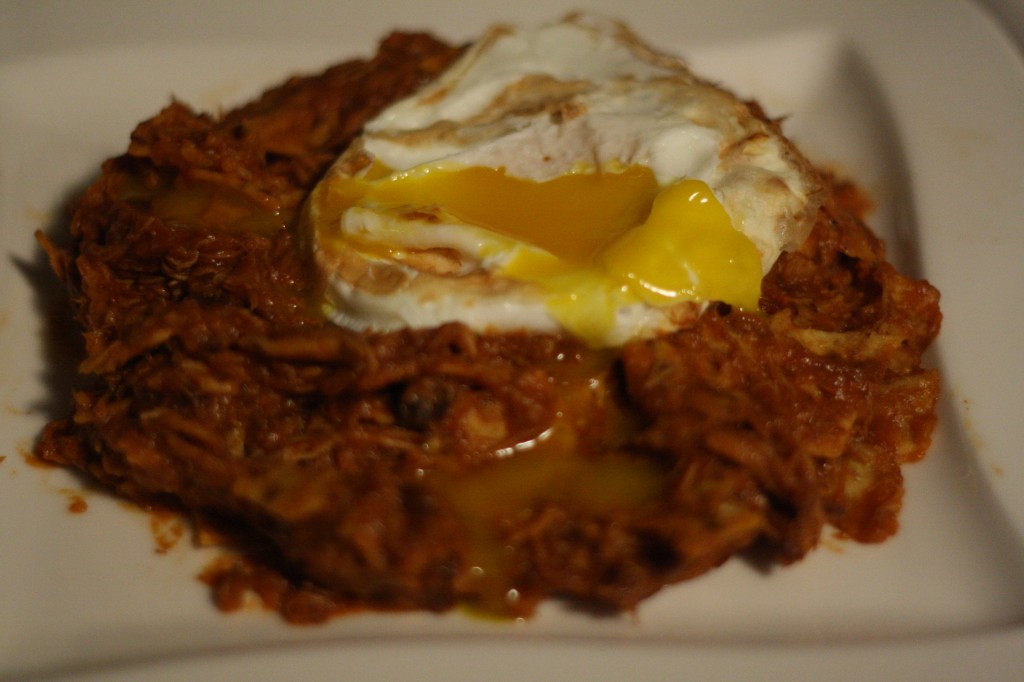 Chilaquiles.  My go-to meal on many occasions – breakfast (especially when hungover), lunch, or dinner.  Or, after a night out at the bars (back in my single heyday – most of my friends' kitchens have endured the wrath of me whipping these up at 3 a.m).  My recipe isn't the most authentic, but it is the most simple – and you can get most of the ingredients at a convenience store.
It's stupidly easy to make, and beyond delicious.  And while it's not the most visually appealing dish, it's never around for long enough to stare at…so…
…here you go.
Chilaquiles (serves 2)
Ingredients
1 1/2 cups of tortilla chips
1 1/4 cup of salsa
Optional:
1 cup shredded chicken
Shredded cheddar cheese
Sliced avocado or guacamole
A fried egg (or two)
Directions
Heat a medium sized pan on med-high heat with a thin layer of salsa poured into it.
Place a layer of tortilla chips on top of the salsa, and cook until slightly mushy.
Add another layer of salsa and chips, and cook until mushy.
For layer 3, add the salsa and chips, and cook until mushy.  Move around the chip and salsa mixture and break the chips in bite-sized pieces.  Add cooked shredded chicken in this layer.
Continue to move around and break for additional salsa/chip layers, as needed.
Top with cheese, guacamole or avocado, or a fried egg.  And enjoy!