My goal with You Need To Know About… was to expand the content of my blog beyond my usual topics (travel, style, etc).  Current events and politics are two passions of mine that I've blogged about sparingly.  And while I'm not looking to change that drastically, I do plan on introducing news stories that I think you really do need to know about in this series (not too often – one post every few months or so).  Also, if you just want to see a gorgeous woman take down two old fuddy duddies, with grace and intelligence, then keep reading!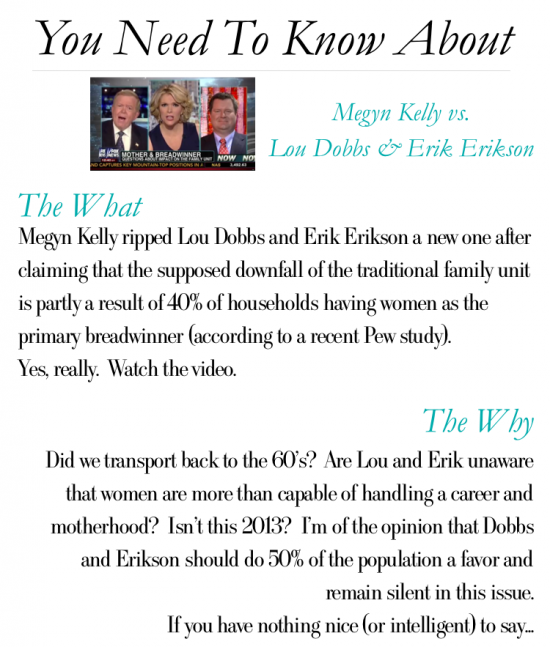 Let me kick this off by saying I'm not a Fox News fan.  If I watch a news network, it's MSNBC, and only Morning Joe or Hardball at that.
So color me shocked when Sheryl Sandberg shares this link on her Facebook page.  It's none other than Megyn Kelly, questioning conservative pundits Lou Dobbs and Erik Erikson, on some disarming statements they made.
In a nutshell – a recent Pew study states that women are the primary breadwinners in 40% of American households today.  Compared with the 11% in the 1960s, it's a drastic change.  A good one, some would think.  #leanin
{ 4 comments }